New 'Star Wars' Darth Vader Movie Will be Told in Mixed Reality 
"You are the visitor in this story that is happening in and around you."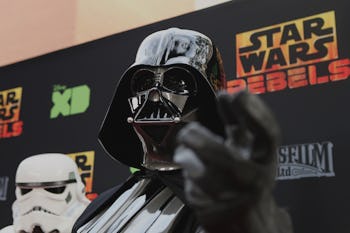 Getty Images / Matt Winkelmeyer
At the Star Wars Celebration expo in London today, Lucasfilm announced it is creating a new original story focused solely on Darth Vader, but it's no silver screen movie, animated TV show, or extended mini series — its a virtual reality experience.
Well, virtual reality might be imprecise in this case, given that Industrial Light & Magic's xLab is known for making mixed-reality media that combines elements of virtual and augmented reality. You might remember xLab as the same people making real life Star Wars holograms of C-3PO and R2D2.
Fans were given very little information about what the actual story would be about beyond its main character and his infamous villainy. But, the studio is taking the effort very seriously with some big names to back story.
David S. Goyer is heading up the mixed reality writing team bringing his experience as a major creative contributor to super hero films and TV series such as Man of Steel, Flashforward, Batman Vs. Superman, and all of Christopher Nolan's Batman movies.
Lucasfilm creative executive Pablo Hidalgo says the film/game/interactive experience will contribute to official series canon, but will be unlike any other piece of media to come out of the Star Wars universe.
"You are the visitor in this story that is happening in and around you, and to a certain extent you might even have some effect on," Goyer said. "You can pick up things, you can open things. You can push things, you can walk. You can touch characters."
The story will take place in what the creators are calling a "persistent" world, which will continue to cycle through day and night after the "visitor" has gone through the story for the first time. Anyone who has played Animal Crossing might be familiar with that concept of a world continuing on after the system has been shutdown, but this sounds as though its a modification on that idea.
If nothing else, it will certainly be a new experience for Star Wars fans.
"The difference between cinema and television and VR — particularly with the fidelity that [the xLab] team is working on, is that you really feel like you're there. The sense of presence isn't just a buzzword," Goyer said. "And it's surprisingly very emotional. It can make you sad, and make you lean in, and make you feel for a character in a way you haven't before. In a way that you can't really do in any other medium. And it can scare you."
No word on what platform its being developed for — Oculus, HTC Vive, or xLab's own hardware — but Goyer says it's coming in a year or two.