Jeff Bezos Plays "Starfleet Official" in 'Star Trek Beyond'
The Amazon and Blue Origin CEO has IMDB credits.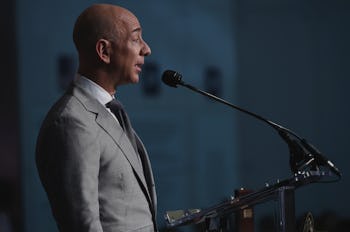 Getty Images / Win McNamee
It's clear Jeff Bezos, founder and CEO of Amazon and the commercial space company Blue Origin, has always had ambitions to fly among the stars, and next week the world will see him live out a version of that fantasy when he makes a cameo appearance in Star Trek Beyond.
The movie opens on Friday and thanks to some sleuths on IMDB, which Amazon and Bezos subsequently own, it was revealed that the Amazon founder's movie credits appear at the bottom of the cast list as "Starfleet Official.
IMDB isn't the most reliable source of information for these things, given that actors have been known to submit false information, and certain details tend to slip through the vetting process. But, The Associated Press on Friday further confirmed the cameo via producer J.J. Abrams and director Justin Lin.
"He was awesome," Lin says. "It was like a president was visiting, you know? He had a big entourage. But it didn't matter because he was so into it. He had to wait around all day because it was one day we were shooting like three different scenes and, it was also credit to Jeff because … he just nailed it every time."
Bezos has publicly talked about his love for space in the past; he did buy and operate a commercial space flight company after all. He was also a big Trekkie as a kid, so his appearance in the new movie must be a dream come true.
"We would fight over who got to be Captain Kirk or Mr. Spock, and somebody played the computer too," Bezos said back in May recalling his childhood. "It was really fun. We made little cardboard phasers and tricorders. Good days."
At that same May event during an interview conducted by Martin Baron, executive editor of The Washington Post – which Bezos also owns (are we noticing a theme yet?) – he said that Amazon's Echo home assistant device was even inspired by the science-fiction series.
It's unlikely, but maybe Bezos will even be in the Starship Enterprise when it goes down.