Kanye and Big Sean Tease 'Cruel Winter', But Will It Ever Come Out?
Fonzworth Bentley, Big Sean, and Kanye West revive 'Cruel Winter' hopes and rumors.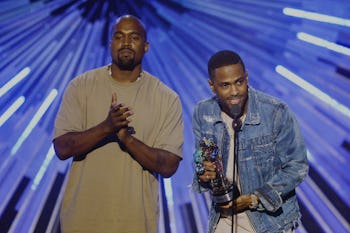 Kevork Djansezian/ Getty Images
Kanye West may be up to something, but when isn't he? This week, 'Ye was seen in the studio with Big Sean, via Snapchat, getting hyped off his own rhymes (which include "Yeezy might have to go and put his Louis on" and "Pray for me, I'm about to hit the Ye button/ I don't want say nothing wrong"). The sessions could be for Big Sean's Dark Paradise follow-up, which he's currently working on, but, of course, Fonzworth Bentley had to come and revive our hope — and rumors — of a G.O.O.D. Music compilation, Cruel Winter. Bentley took to Instagram to post a photo of the same session with the cruel yet hope-inducing caption: #CruelWinter
Sadly, but surely, there's much reason why we can't believe Cruel Winter is actually (finally) happening when all we want to do is believe Cruel Winter is actually (finally) happening. Before we get our hopes up, yet again, let's relive the three most emotional times since 2012 we were played into believing a Cruel Summer sequel was underway. Away we go:
When Q-Tip left us hanging on a question
How it all started: When asked about his absence on Cruel Summer, Q-Tip answered with a question — a very unfair question: "If there's a Cruel Summer, then there's got to be a Cruel Winter, right?"
When Travis Scott's pawned his hope for Cruel Winter onto us
While walking down the red carpet at the 2013 BET Awards, Travis Scott told MTV News that Ye still go all the way hard about Cruel Winter, so you just never know…He might just drop that shit out of nowhere, man." The final dagger was when Scott continued to say, "Until I hear 'Ye be like, 'It's not coming out,' then that's when I can say it's not coming out."
Scott at it again
During an interview with Semtex in 2013, Scott claimed the first single off Cruel Winter would be a collaborative song with him and 'Ye titled "I Got Bands." "It's the first single off Cruel Winter. Kanye seen a vision for that shit and we just applied it and made it happen," he said. ("I Got Bands" was featured on Scott's EP Owl Pharaoh, as "Bandz" which features Kanye West and Meek Mill.)
Travis Scott had people talking about Cruel Winter last year when he posted an illustration of him and Kanye West on Instagram with the caption, "We got something we been plotting for years now that's about to surface."
Push T and Common were kind enough to kill the rumors, putting a lot of us out of own self-inflected misery but it's safe to assume that now, after this week, 'Ye can be the only one who can kill Cruel Winter dreams, or better yet, make them come true.