Drake's New 'View From the 6' Single, 'Pop Style,' Features Jay-Z, Kanye
The Throne returns for Drake's latest. Also, it's not the only thing he released.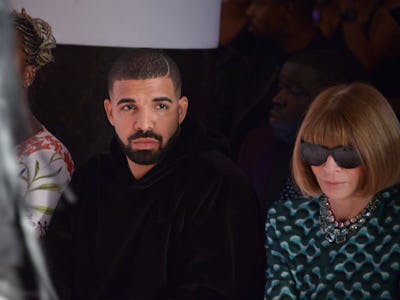 Drake has just put out two new singles: "Pop Style," featuring Kanye and Jay-Z, and "One Dance," featuring Nigerian singer Wizkid and Kyla. While both of the tweets, fitted with iTunes Store linkouts, bear the hashtag #VIEWS, no tracklist has been released from Drake's forthcoming Views from the 6, so it's not a sure thing these songs will appear on the record. What we're relatively more sure of, though, is that it's coming out soon.
Though the pair of songs don't have much in common, stylistically — "Pop Style" is a somewhat mid-tempo mic pass between three huge stars, while "One Dance" is an uptempo, autotune Drake affair — the releases symbolize the latest deliberate, and market-savvy drop from Drake. With "Pop Style" and "One Dance," Drake is showing two sides of his personality, which have both earned staggering amounts of critical acclaim — drawing both from the moody sensibility of If You're Reading This, It's Too Late and the inescapable "Hotline Bling" on the respective tracks. After spending a few years drawing in more audiences with eclectic releases, Drake is driving the point home. He couldn't be more right to do it.
Face it: Drake will never be out of the news, and he's kept his name in the spotlight ever since Nothing Was the Same came out three years ago. He's never going away, so let's just embrace the Drake-based monoculture with open arms. Views is out soon.