Jaime Lannister's Leather Jacket To Be Focal Point of 'Game of Thrones' Season 6
Daaaamn Jamie, back at it with the  💯  💯  👌 👌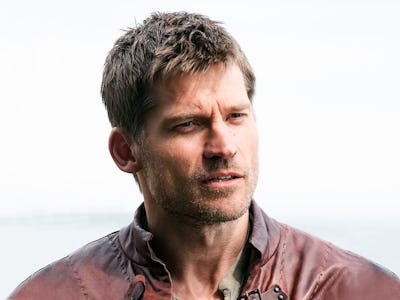 HBO
EW's new set of exclusive Game of Thrones photos is formatted as a slideshow to spite you and there's nothing particularly new or revelatory from a plot perspective. However, it does provide a key clue about what the show will be focusing on in Season 6.
Behold:
That's right. The biggest will "Will __ return?" hypothetical has been answered in the photoset; Jamie's buckle-heavy leather jacket is back in action.
This jacket is the perfect packaging for Jaime's "redemptive renegade" character arc. It's the kind of jacket that can salvage even the most heavy-handed plot twist or grating character development and essentially render it a 'push.' "But that leather jacket, tho!" you'll say. If I had a jacket buckle for every time a Game of Thrones fan forum is going to print that phrase, you might as well start calling your man "Zendaya Coleman.". Jaime Lannister thrills in this polished chocolate shell, a coat that flirts with being a duster without actually committing to it, establishing a tension one could argue is not unlike Jaime's relationship with his sister Cersei.
See what I did there?
With a new season approaching with a boatload of question marks, here's one answer you can take solace in. You can buy this jacket at AmericanLeatherJacket.com. If you're on the hunt for a look that's savage, but oh-so-smooth ATSDT, salvation is a few clicks away.