Kit Harington, Please Stop Lying About Jon Snow
'Game of Thrones' Season 6 is nearing. Why is the actor playing so many head games?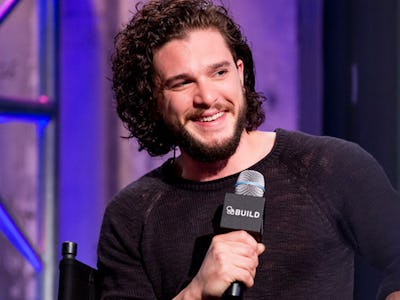 The below article contains spoilers.
Game of Thrones has always been a show that keeps a tight leash on its spoilers. Less than three months away from the Season 6 premiere, Harington recently reasserted to Digital Spy: "People didn't want me to die, but he's dead. So there you go, everyone has to get used to it."
You know nothing, Jon Snow.
Now, we fully understand that Kit Harington's life is a matter of restrictions, contractual stipulations, and annoying fans swarming him with trivia and questions he cannot possibly answer. Still, at this point it's starting to get a bit ridiculous, given that the Season 6 teaser features an upright standing Jon Snow as its primary image, so now might be the time for this bit of misdirection to be redirected as a more meaningful tease. We'd take a "Wait and See" or a "No Comment," but doubling down on this technicality — which even people without knowledge of the books have seen past — is pointless.
Jon Snow's death coincided with the return of Melisandre at the Wall, in search of a new king to support. A reanimated Jon Snow — whom she already failed to seduce once — sounds like just the ticket. And let's not forget that the order is known for occasionally bringing back the dead as was the case of Beric Dondarrion, who was revived six times back in Season 2.
Between that and the leaked set photos of Jon Snow wearing a very recognizable house armor, it's categorically safe to say that the twist toward which other cast members have alluded is Jon's unofficial transition from lowborn bastard to a representative of House Stark. He will finally march down south of the Wall, free of his oath as a Man of the Night Watch, one that does not extend duties beyond the grave. (And while there's still more to Jon Snow's parenting, we can say that one of his parents is very much a Stark. Cough.)
It's an exciting storyline that does not require this much poorly executed subterfuge to titillate fans. It feels like a pat on the head of very involved fans who've already been getting plenty of those lately.