Hulu's Strangest Korean Crime Thriller Might Just Be Your Next Comfort Show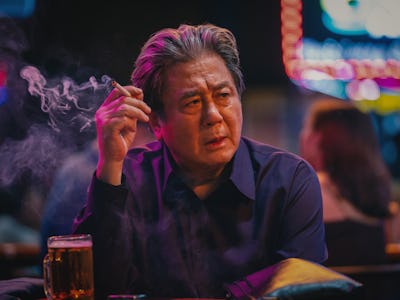 Hulu
If you know anything about South Korean media, it's that the majority of the region's most popular projects typically fall into two distinct camps: the brutal, bloody action thrillers, or the chaste, slice-of-life dramedies. Oldboy is one of the defining entries of the former, and one of the strongest explorations of corruption and violence in the criminal underworld. It also signaled international success for its star, Choi Min-sik, who's been a constant in conspiracy thrillers and gangster dramas ever since.
His eclectic choice of roles, however, still manage to subvert expectations at every turn, and his latest — as Cha Moo-sik in Disney+/Hulu series Big Bet — feels like a direct reflection of that.
Moo-sik is a difficult character to define. As the kingpin of a billion dollar gambling franchise, a checkered past and unchecked temper inevitably precede him. But there's a casual charisma — even, at times, a gentleness — to Moo-sik as well, which forces us to reexamine our attitude towards this type of anti-hero.
We first meet Moo-sik at the peak of his long scramble to the top: he's spent 30 years carving out a lucrative gambling empire in the Philippines. Now, at the ripe age of 60, he's become the most powerful casino operator, and most well-connected ex-pat, in the region. But when he's convicted as a suspect in a massive murder case, it seems as though the sins of his past may have finally caught up with him. Ironically, Moo-sik doesn't seem phased by any of it — not the towering list of accusations, not the reporters hounding him for answers, and certainly not the threat of a tarnished reputation. As we'll eventually learn, Moo-sik has been down before. This new threat barely registers on his radar, because it can't be worse than where he's been.
With Moo-sik's future in jeopardy, Big Bet flashes back to his past in South Korea. It's through this decade-spanning, patchwork narrative that the series establishes Moo-sik's complex character, and explains just how he defied his impoverished upbringing to become a kingpin in present day. His father (a brief, but brilliant Kim Roe-ha) was a violent convict who ran an off-the-books gambling den out of his home between stints in jail. Moo-sik gets his first taste of the game from him, but he learns the true meaning of hustle from his mother, a hard-working woman who pretty much raised him on her own. But Moo-sik's first gambling empire implodes when the National Tax Service comes calling, forcing Moo-sik to abandon his life in Daejeon and put down roots in Manila. Moo-sik puts it all on the line to redeem his grim prospects. He takes odd jobs as an enforcer — collecting various debts, brutalizing henchmen with nothing but a screwdriver (exhilarating stuff, truly) — before gaining enough clout and capital to return to the casino business.
It's a spectacular showcase for Choi's range: The sporadic violence feels like a direct nod to his claim to fame, and there are plenty of quieter moments that draw exclusively on his gravitas. It's almost enough to distract from the meandering, almost casual plot, or from the mystery that continues to surround Moo-sik going into the second season.
At first glance, Big Bet feels like any other gangster drama. It touts itself as a tautly-paced game of cat and mouse, taking major cues from films like Nameless Gangster, Casino, and Heat. In reality though, the stakes of the series are surprisingly low. Big Bet enjoys bursts of explosive violence here and there, but there are just as many wholesome moments in between, moments that would feel right at home in a slice of life like Hometown Cha-Cha-Cha.
This isn't necessarily a bad thing. Because Big Bet was conceived as a two-season affair, the show is allowed a lot of space to breathe. The first season sets up a flurry of interconnected subplots, most of which are driven by the supporting cast. There's the hapless Mr. Jung (Choi Hong-il), a Korean businessman that finds himself hemorrhaging money at one of Moo-sik's many casinos. There's Moo-sik's would-be rival Tae-Seok (Squid Game's Heo Sung-tae), a thug with a bad attitude and a dangerous desperation to prove he's top dog in Manila. There's Ko Young-hee (an exquisite Lee Hye-young), a voracious high roller whose billion dollar fortune puts a major target on her back. And then there's Oh Seung-hoon (Son Suk-ku), a Korean agent sent to keep tabs on expats in the Philippines.
A lot of these threads eventually come to a head in the second season, and more still that will make life difficult for Moo-sik moving forward. But even as the series ramps back up to Moo-sik's eventful arrest, it still doesn't feel like much of a reckoning. The threats to Moo-sik's life, to his legacy or to his empire don't carry the weight that they should. Given all that he's gotten himself out of in the past, each new challenge reads like a puzzle Moo-sik will inevitably solve. There's a chance that he'll eventually come up against a force he can't talk his way out of — but until that happens, the interpersonal will continue to overshadow the practical.
I'd hesitate to label Big Bet a "comfort show" — that is, a feel-good series with slow, steady development and a cast that feels like family. The series is still punctuated by conspiracy, murder and manipulation at every turn. But director Yoon-Seong Kang continues to place an emphasis on his characters and their relationships above all. It's an interesting mix, one that kind of undermines the tension and tone that could really elevate the series. While the aimless plotting can test the nerves of anyone looking for a plot-driven thrill ride, it's the ensemble and their assured, colorful performances that make Big Bet worth the watch.
Big Bet Season 2 is streaming now on Hulu.