Ralph Fiennes dominates this underrated 2022 culinary thriller
The world of high-end dining gets thoroughly roasted in this 2022 thriller.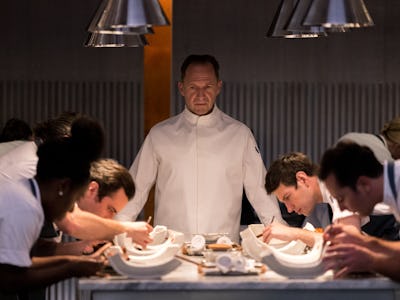 Few subjects excite filmmakers like a chance to take a shot at the rich. That's been true since Hollywood's earliest days, and not much has changed over a century later. It's an understandable obsession, because there's not much that audiences seem to love more than sitting back and laughing at the misfortunes of the world's elite.
Few recent movies have taken such specific shots at the rich and oblivious as The Menu. The Mark Mylod-directed thriller is set in the costly world of high-end dining, and features everything from monologues about Taco Tuesday knife fights to jokes about the suffocating weight of student debt. And at its center is an unforgettable performance from Ralph Fiennes, in a strange and compelling role you can now witness on HBO Max.
The Menu follows Margot Mills (Anya Taylor-Joy), an escort hired to accompany an obnoxious foodie named Tyler (Nicholas Hoult) on a once-in-a-lifetime boat trip to Hawthorne, an exclusive restaurant run by the reclusive world-famous chef, Julian Slowik (Fiennes). As The Menu's opening minutes reveal, Hawthorne's private island locale makes it one of the most expensive and exclusive restaurants in the world, which means only the wealthiest and snobbiest are actually able to dine there.
Unfortunately for Margot, she soon realizes that Slowik's plans for the evening are far more sinister than anyone could have expected. With the help of his dutiful team, including his unbending maitre d', Elsa (Hong Chau), Slowik slowly pushes his guests into a culinary-themed nightmare. Along the way, he makes time to throw out well-aimed jabs at his elitist guests, which include a snobby food critic (Janet McTeer) and a trio of financial bros that Elsa is all too happy to knock down a peg.
The Menu's script, penned by Seth Reiss and Succession writer Will Tracy, keeps the film moving at a delightfully brisk pace while packing in clever lines and visual gags. Fiennes, in particular, is given plenty to do. Not only does he get the best lines, including a speech about the cost of an obsessive life that's equally terrifying and heartbreaking, but The Menu gives him the chance to draw out the severity of his character's mental disintegration.
Opposite Fiennes, Anya Taylor-Joy turns in another reliably plucky performance as Margot, despite her character not being deeply explored. She especially shines during one outburst that lets her unleash her full fury at Hoult's self-obsessed, narcissistic foodie. However, of all of the film's supporting cast, it's Hong Chau who makes the biggest impression. She commands your attention from the moment she shows up, and the more ruthless Elsa becomes, the more fun Chau seems to have.
The Menu isn't quite as realized or exacting as recent social thrillers like Get Out or Parasite, requiring a few leaps in logic that are too ridiculous to accept. However, those who buy in will likely find themselves wrapped up in its thrilling, absurd, and bitter tale. It's a film that, as Fiennes' Slowik says, pits the world's "givers" against its "takers," and it doesn't leave much room for hope or sweetness to exist in the margins.
It's ultimately for the best that The Menu adopts such an acid-tongued approach. In doing so, the film makes the case that revenge isn't always best served cold. Sometimes it can be spread out across several blood-soaked courses.
The Menu is now available to stream on HBO Max.