The Most Shocking Ending of the Century Cemented an HBO Murder Mystery as a Masterpiece
A wicked combination of source material, trusted talent, and stylization created the best murder mystery HBO ever made.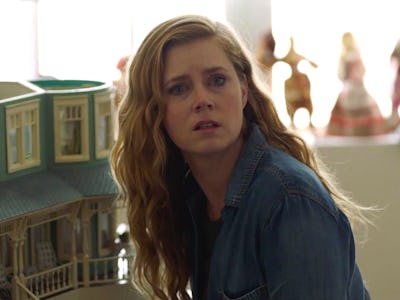 HBO
2018 was possibly one of the best years for experimental television. The year after Twin Peaks: The Return, more and more movie directors were willing to make the jump the small screen, with miniseries and "prestige TV" rippling their way through pop culture.
Sharp Objects was the platonic ideal of this era of stylization and experimentation. Five years ago, its Southern Gothic murder mystery reached a psychological climax in its final episode. But the film's coda hit the entire series like a thunderclap, cementing its role in TV history forever.
Based on the hit book by Gone Girl author Gillian Flynn, Sharp Objects had a veritable dream team of creatives. Created by longtime TV veteran Marti Noxon and produced by Blumhouse's Jason Blum, the series was truly set apart from the rest of Peak TV by late director Jean-Marc Vallée's intriguing vision of idyllic suburbia one awry.
The series stars Amy Adams giving a career-best performance as Camille Preaker, an upstart St. Louis reporter sent back to to her small hometown to investigate a string of murders of young girls. While there, she has to reckon with her own traumas: her withholding mother (Patricia Clarkson), her mental health struggles, and the death of her sister.
In Episode 8, "Milk," we see Camille deal with the truth she's been avoiding all show long: her mother Adora has been poisoning Camille, her younger half-sister Amma (Eliza Scanlen), and probably her dead sister Marian. It's a harsh reality, and one that Camille struggles to process through her own trauma — so she lets sleeping dogs lie. At dinner, she willingly swallows the poisoned milk.
Even though the entire show has circled around the murder mystery, the arrest of Adora for the Wind Gap murders is oddly underplayed: what really matters is how Camille finally breaks the cycle of abuse by getting herself and Amma out of the reach of Adora's Munchausen by Proxy. Or so we think.
In the last 15 minutes of the series, we should see each of the characters settle into a quiet life. Amma moves in with Camille, and they both seem to finally start to heal from the horrific abuse both of them faced over their lifetimes. But they are still both Adora's children, and the trauma runs deep. While Camille grants herself kindness, Amma's journey is a bit more complicated.
Without going into spoilers, the last line of the series, "Don't tell Mama," completely throws the rest of the series into a new light, turning what would have been an all-time great murder mystery into a portrait of intergenerational trauma, and how a lifetime of abuse can twist and change a person.
Through Adams' scalpel-like precision in portraying Camille's simultaneous hatred and yearning for her mother's attention, and Vallée's both ultra-realist (with its use of only diegetic music) and surrealist (the multiple flashbacks and split-second cuts) direction, this epilogue becomes the final twist of the knife in a series that had already cut so close to home.
Murder mysteries like this, often referred to as "dead girl shows," continued on, with series like Mare of Easttown capturing the same tone, but only Sharp Objects reaches the level that arthouse films usually achieve. It's more than just a murder mystery. It's one of the best stories of what it means to navigate emotional needs as a mother, a daughter, and a woman in general in a culture that doesn't give you support.
Sharp Objects is now streaming on Max.