If You Loved Nick Offerman in The Last of Us, Check Out the Series He Starred in Right Before the World Shut Down
Before he was Bill, Offerman brought another tender bearded sci-fi man to life in a beautiful and bonkers series.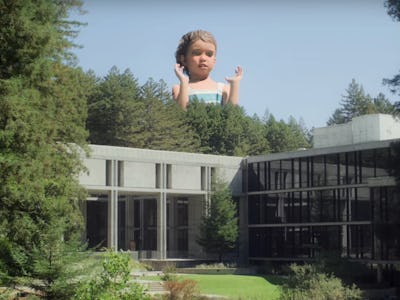 Nick Offerman has a type, and he plays that type well. From his breakout role as gruff mustachioed libertarian Ron Swanson in Parks and Recreation, to his recent masterclass turn as gruff bearded libertarian Bill in The Last of Us Episode 3, his characters tend to have a lot of traits in common. But in 2020, while the world was somewhat distracted, Offerman starred in a sci-fi series from an acclaimed filmmaker that combined Silicon Valley with quantum physics, mystery, and intrigue.
Devs is a science fiction miniseries created by Annihilation and Ex Machina filmmaker Alex Garland, who wrote and directed every episode. Unfortunately, its release on FX through Hulu was poorly timed, as March 5, 2020 was about two weeks before the entire world shut down.
Outside of its less-than-stellar timing, Devs is an insightful story. It follows Lily Chan (Sonoya Mizuno), a young software engineer who works at Amaya, an idyllic Silicon Valley tech company, with her boyfriend Sergei (Karl Glusman). But when Sergei is promoted to the mysterious Devs department and then disappears, Lily becomes embroiled in a massive conspiracy that goes right to the top: Amaya CEO Forest, played by Nick Offerman in one of his greatest roles.
Despite the techy elements, this is still an Alex Garland series, so it doesn't take long for the action to become abstract and philosophical. Lily comes to learn the true purpose of the mysterious Devs studio and, without spoiling it, it involves quantum physics and the question of how we examine the world. Is the future inherently deterministic, or do we have the power to shape our fate?
As the grieving CEO Forest, Nick Offerman paints a complex portrait that isn't unlike Bill. But Forest is a bit more defeated in his tragedy, not satisfied like Bill at the end of The Last of Us. Offerman may be playing similar roles, but he still uses them to exhibit the vastness of his acting range.
Of course, he's helped by Alex Garland's tight script and ethereal direction. There are the almost inevitable pacing issues that come from giving someone the freedom of a miniseries, but the mind behind Annihilation is quick to make up for this with some beautiful images of the forest where the Devs studio lies. His use of circular lights throughout is both incredibly self-indulgent and extremely brilliant.
Devs may cover some of the biggest topics out there, but by solidifying the story through a handful of characters, it never gets blown out of proportion. There are some reveals, like the meaning of the "Devs" name itself, that may seem strange, but it's all par for the Alex Garland course.
Thanks to its inauspicious release date, you may not have realized that Nick Offerman and Alex Garland were even involved with this series. That shouldn't mean it suffers from a lack of attention. It's the perfect follow-up to The Last of Us, and good preparation for what may be a Nick Offerman resurgence.
Devs is streaming on Hulu.