Steven Soderbergh Just Dropped A Great Sci-Fi Miniseries Out of Nowhere
Do you know where you're going to?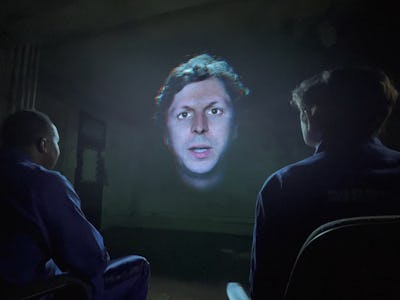 Extension 765
Directors often make their names with personal projects, then cash in on their new reputation with big studio gigs. For every Nomadland, you're likely to see several Eternals. But some lucky directors still have the time, clout, and finances to make projects that exist purely for the passion of filmmaking.
Steven Soderbergh is one such director. After making a name for himself with Ocean's Eleven and Magic Mike, he surprised fans with two miniseries released with little to no fanfare this summer. One, Full Circle, is available on Max. The other is a bit harder to find, but absolutely worth it.
Command Z came out of nowhere. It was filmed in secret, and Soderbergh's website, Extension 765, released a trailer only a few days before its release. It's now available to stream on its own website for $7.99, which is donated to Children's Aid and Boston University Center for Antiracist Research.
Command Z is Quantum Leap meets Being John Malkovich, following three office drones of the future (Chloe Radcliffe, Roy Wood Jr., JJ Maley) as they're given an assignment by the AI avatar of CEO Kerning Fealty (Michael Cera). Using a psychedelic substance, an industrial dryer, and the theme song from the 1975 Diana Ross drama Mahogany, they must insert themselves into the minds of different influencers to change the world.
The series' tone is a delightful mix of serious and comical. Kerning's AI tries out different intro cues in each episode, and events are discussed with levity and gravity in the same breath. Command Z is probably best summed up in Soderbergh's own recommendation for additional material to watch after the first episode on climate change: Soylent Green, The Day After Tomorrow, and Ice Age: The Meltdown.
There are also a host of guest stars, ranging from Liev Schreiber, playing a CEO influenced by his dog, to Succession's Zoë Winters as a politician who bears a more than passing resemblance to Alexandria Ocasio-Cortez. The satire isn't the most cutting, but the point of the show is that everyone involved cares about it so much — stars Roy Wood Jr. and Chloe Radcliffe each wrote episodes — that each message, no matter how understated, is effective.
The world of Command Z seems both slapdash (we never see any of it beyond the underground office where our heroes meet) and detailed. Most episodes begin with an employee watching social media clips of what's going on in the wider world, which are a fascinating element to pause on and examine.
Split into eight episodes varying from 9 to 22 minutes, Command Z as a whole clocks in about 90 minutes. It's perfect for a lazy night at home, and the money goes to a good cause. Soderbergh is a filmmaker's filmmaker, and he doesn't let trends and finances get in the way of a good time.