5 Years Ago, The Rock And Some Monsters Helped Move the Needle on Video Game Movies
Rampage wasn't great, but it was a giant step in the right direction.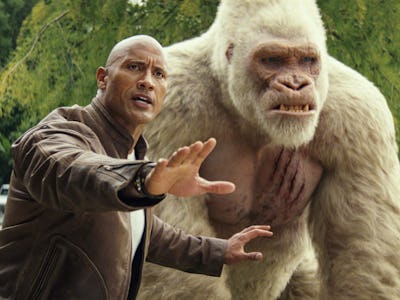 Warner Bros. Pictures
Video games have been a huge part of pop culture for going on 50 years now, and today the industry is worth billions, dwarfing the economic footprint of movies. So it's somewhat surprising that the tide has only recently started to turn for game adaptations, with The Last of Us and The Super Mario Bros. Movie leading a strong 2023. But that upswing has been in the works for a few years now, and it's arguably the Rock who's owed thanks for moving us in the right direction.
In 2018, Dwayne Johnson headlined the feature adaptation of Rampage, a popular arcade game introduced in 1986. Reuniting with director Brad Peyton (San Andreas), the wrestler-turned-actor looked to break the so-called video game movie curse. Hollywood first tried to give games the blockbuster treatment in 1993 with the disastrous Super Mario Bros, a flop that set the tone for decades to come. Even when films found commercial success, like Resident Evil, it was without the support of critics and non-genre audiences. And so it went.
Warner Bros. and New Line Cinema began developing a Rampage movie in 2011 following the 2009 purchase of the game's developer, Midway. It took some time for the stars to align, but coming off the success of San Andreas in 2015, Johnson signed on and got the ball rolling. At the time, Johnson's star power was at its highest point, and the man had all the goodwill in the world. The whole Black Adam debacle wasn't even on the horizon.
Johnson and the crew were well aware of the spotty track record for video game movies. "I'm not quite sure what the secret is," Johnson told Collider in 2018. "I can tell you what we wanted to do was we wanted to collectively get together and put together the best team possible to execute on the script." That script was penned by a small army, including Ryan Engle, Ryan J. Condal, Adam Sztykiel and, curiously, Carlton Cuse of Lost fame.
Oddly, one thing Rampage had going for it was its utter lack of a story. The game simply puts players in control of several giant monsters — an ape (George), lizard (Lizzie), and werewolf (Ralph) — who destroy cities. That's it. That allowed Rampage to be a story about giant monsters without being anchored to a complex mythology.
The film focuses on a primatologist named Davis (Johnson) who shares a bond with an unusually smart silverback gorilla, George, one of several animals infected by a greedy corporation's experiment that goes wrong and mutates them into gigantic, city-destroying monsters. Basically, the filmmakers used that bare-bones premise to craft a big kaiju film with one of the world's biggest movie stars at its center. Peyton, speaking to We Got This Covered in 2016, explained where they were coming from.
"With Rampage, we are using our love of the original game as our inspiration. Then we're going to build a movie…that is really going to surprise people in what it delivers. It's going to be a lot more emotional, a lot scarier and a lot more real than you'd expect. So you look at that original concept about a lab that affects these animals and makes them rampage, and that's the nugget. If they called me tomorrow to do Call of Duty, I wouldn't want to play any of the Call of Duty games. I'd have to come up with something that deserves to be its own thing. That's where a lot of these movies can go wrong."
Warner Bros. opted to release Rampage in the pre-summer window following a Johnson-heavy marketing campaign; posters boasted the tagline "big meets bigger" in reference to The Rock's hulking size being dwarfed only by a chemically altered ape. Despite competition from films like A Quiet Place and Avengers: Infinity War, the movie did quite well, taking in $428 million against a reported $120 million budget, which was certainly enough for WB to put it in the win column.
It was also enough to make it one of the five highest-grossing video game movies ever, outgrossing both Sonic the Hedgehog and its sequel, two films that further helped wash away the sins of video game movies. At the time, no other video game movie had achieved that level of well-rounded commercial success. Warcraft did better worldwide, but it bombed domestically and was bailed out by a huge turnout in China. Detective Pikachu would do a little better in 2019, but it had the strength of the Pokemon brand behind it.
Commercial success is just one piece of the puzzle. Rampage struggled with critics, although it resonated better with general audiences. Outside of the relentless Resident Evil series, audiences had largely rejected most video game movies prior to 2018, with huge flops like Prince of Persia: The Sands of Time and Johnson's own Doom representing the norm.
So while Rampage may not be a classic, it was an outlier. To what degree it influenced the wave of video game adaptations that followed it is up for debate, but it's certainly owed some credit for being among the first films to show Hollywood a path forward for video games on the big screen.