Before She Was She-Hulk, Tatiana Maslany Played A Whole Bunch of Clones
10 years ago, Maslany became a star in a riveting biopunk thriller.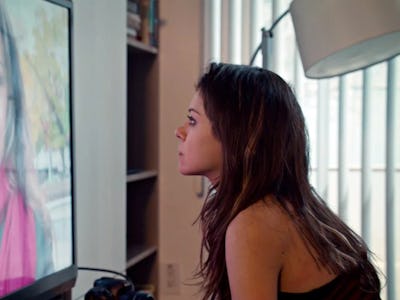 Temple Street Productions/BBC/BCE
In She-Hulk: Attorney at Law, Tatiana Maslany plays two versions of the same character — the brilliant Jennifer Walters and the bodacious She-Hulk — as both get into brushes with Marvel D-listers. But portraying two characters on one show was probably a cakewalk for Maslany after her five-year stint on Orphan Black.
Maslany was lauded for her work on the thrilling and creative Canadian biopunk drama, where she played 11 different clones of Sarah Manning across five seasons. Each had different wardrobes, mannerisms, accents, and personalities, and Maslany showed impressive range in making each of them feel distinct. There have been fake twins and triplets galore on TV, but no other show had taken on such an enormous endeavor upon its March 30, 2013 debut.
Co-created by screenwriter Graeme Manson (Snowpiercer) and director John Fawcett (Xena: Warrior Princess), Orphan Black follows British single mom and con artist Sarah Manning, who discovers she's one of several clones roaming around the world. The clones she meets are often on the run from nefarious organizations and individuals, raising issues about the ethical implications of cloning and its effect on identity.
The first episode, "Natural Selection," is brisk and action-packed, plummeting Sarah and the viewer into the show's core mystery. Sarah, who lives in Toronto, sees a woman jump in front of a train. She's flabbergasted, not so much by the act but by the fact that this woman, Beth, looks just like her, right down to the placement of their nose freckles. Sarah, who never misses an opportunity to swindle, snags the woman's bag before the police arrive and learns that Beth is fabulously wealthy. Sarah immediately plans to steal $75,000 from Beth's account so she can retrieve her daughter, Kira, from her foster mother.
But things hit a snag when Sarah discovers that not only was Beth a police detective, she was suspended for shooting an allegedly innocent woman in the line of duty. Further complicating things is Beth's police partner, Art, who's immediately skeptical of "Beth" and her newly erratic behavior. Sarah's drug-addled ex-boyfriend, Vic, isn't convinced by the act either. Sarah and her foster brother Felix impulsively stage a funeral for Sarah so she can fully assume Beth's identity, but those closest to them call out their elaborate bluff. And just when you think things can't get more befuddling, a second Sarah lookalike materializes.
Maslany revealed to Interview Magazine that she created playlists to help her get in the right mindset for each clone, and that she used dance to develop the physicality of her characters. In the first season, Maslany "only" had seven roles, but new clones were added (and occasionally eliminated) each season.
She also credits much of her success on Orphan Black to her body double, Kathryn Alexandre, as well as the groundbreaking filming techniques used to get multiple clones in the same shot. Maslany would act out a scene with her double, then act it out again as her own clone. Suspended tennis balls helped Maslany and Alexandre keep track of each clone's sightline, and in post-production, those balls were replaced with images of Maslany and Alexandre from alternate shots. The result was more dynamic-looking action and conversation between the clones and no CGI "Uncanny Valley" effect.
Maslany earned an Emmy for her performance (or, rather, performances) in 2016, while Orphan Black made its mark in genre TV as a consistently great sci-fi series that never got lost in its storyline and didn't stick around past its expiration date. "Natural Selection" immediately introduced the majority of its stellar cast, while Manson and Fawcett eventually had the unique privilege of getting to conclude Orphan Black on their own terms. In this bleaker television landscape of cost-cutting measures and quick cancellations, Orphan Black might have died a quick death. But the show came out at just the right time, and Maslany was just the right actor.
Maslany went on to help Marvel launch its first sitcom, and now the MCU is returning the favor, as Jessica Jones' Krysten Ritter will star in the Orphan Black offshoot, Echoes, slated to premiere this year. Per the official logline, the series takes place in the near future and follows "a group of women as they weave their way into each other's lives and embark on a thrilling journey, unraveling the mystery of their identity and uncovering a wrenching story of love and betrayal." If it's even half as good as its celebrated predecessor, it will be a thrilling and thoughtful look at the scientific manipulation of human existence.