Barbenheimer Was a Triumph for Hollywood — Why Are Studios Squandering It?
This should be a celebratory moment, but executives are failing the industry.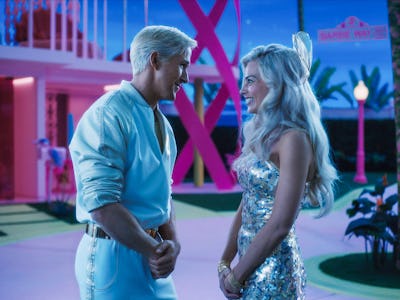 Warner Bros. Pictures
Unless you've lived under a rock for the past two weeks, you've probably heard that things are going surprisingly well for theaters. That's thanks to the same-day release of Barbie and Oppenheimer, which became a pop culture event even bigger than Top Gun: Maverick's summer run last year. Not only is Barbie primed to cross the $1 billion mark in just three weeks, but Oppenheimer, an R-rated 3-hour drama, has already grossed over $400 million.
Together, the two movies led AMC Theaters to its best week in its 103-year history, and have renewed American moviegoers' interest in the shared theatrical experience. Spider-Man: Across the Spider-Verse and Insidious: The Red Door also posted impressive box office returns, as have smaller dramas and comedies like Asteroid City and No Hard Feelings. It's been years since Hollywood had a theatrical lineup this interesting, diverse, and successful.
So why is there so much concern about the industry's future? And why does it feel like Hollywood's studios will squander the momentum built by Oppenheimer and Barbie? The answer goes back to the ongoing writers' and actors' strikes, and the Hollywood CEOs who seem increasingly less interested in the health of the industry they lord over.
Hollywood's writers and actors are striking because the Alliance of Motion Picture and Television Producers (AMPTP) refused to meet their demands regarding basic streaming residuals, AI protections, and other reasonable proposals that shouldn't be as contentious as they've turned out to be. The Writers Guild of America (WGA) has been on strike since early May, and the Screen Actors Guild (SAG) joined them in mid-July. The strikes have halted nearly all of Hollywood's productions, and barred actors from promoting upcoming projects.
Coming off Oppenheimer and Barbie's recent promotional cycles, studios are well aware of what can be gained from actors like Ryan Gosling and Margot Robbie using all their charm to promote their movies. Therefore, the WGA and SAG's strikes have also resulted in delays of completed projects. In July, the thought of releasing its new tennis drama, Challengers, without any promotion from Zendaya made Amazon push the film to 2024.
Other titles have since been pushed back either several weeks or into 2024, including A24's Problemista, Yorgos Lanthimos' Poor Things, Gran Turismo, Kraven the Hunter, Ghostbusters: Afterlife 2, and Ethan Coen's Drive-Away Dolls. These delays, and the fact that actors are unavailable to promote movies, make this fall's theatrical release slate look increasingly uneven.
That is not good. Hollywood has been struggling for years to maintain consumer excitement about going to the movies. Now, at a time when Americans of every age seem genuinely interested in seeing movies together, studios have decided to push some of their biggest and most interesting fall titles.
The strategy of Hollywood CEOs is short-sighted and counterproductive. Their collective decision to move titles rather than negotiate with writers and actors has made the industry's future uncertain at the exact moment it should be bright. CEOs like David Zaslav and Bob Iger seem increasingly interested in chopping up and selling their studios' libraries, including Disney's TV networks and half of Warner Bros.' film and TV assets.
All these choices reek of corporate greed that prioritizes end-of-quarter reports over industry growth. It's naive to think that studios are interested in artistic integrity, but their leaders have never been more divorced from the creative process and seem increasingly interested only in collecting millions in bonuses as perverse rewards for their abject failures. On Thursday, Warner Bros. boasted about its reduced Q2 spending, all while ignoring the uncomfortable fact that the studio probably hasn't saved any money this year. It's simply delayed production costs, which adds unnecessary turbulence to its 2023 and 2024 release schedules.
Captain America: Brave New World star Anthony Mackie put it best when Inverse asked him about Hollywood's strikes. "Once the studios went public and were bought out by major companies, we were f*cked," the actor said. "It's no longer about art. It's no longer about interesting, fun work. It's about end-of-the-quarter profit sharing. It's about shareholders."
It's worth noting the AMPTP has formally reached out to the WGA this week to resume negotiations. It remains to be seen how well talks go, but it's a step in the right direction. It would be in everyone's best interest to resolve these strikes as soon as possible, even if studios don't realize it.
But even if Hollywood's current conflicts come to an abrupt end, the fact there's even been so much trouble during the industry's best summer in years is proof of a serious problem. Those in charge of Hollywood have made it clear they care more about generating impressive quarterly reports than they do about maintaining the industry's health, or paying the creatives that keep them afloat in the first place.
If that doesn't change, then this summer won't be remembered as Hollywood's triumphant post-COVID comeback. It will be the last gasp of a dying industry.