Dark Knight vs. Mamma Mia Defied Hollywood Expectations — Will History Repeat Itself?
15 years before Barbenheimer, two movies battled for the "soul of America."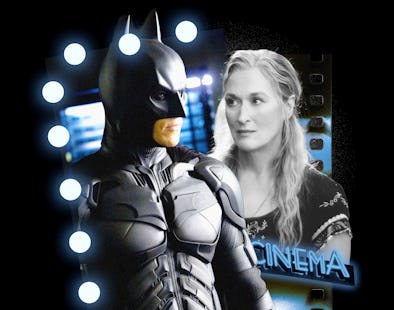 Lais Borges/Inverse; DC Comics; Universal Pictures; Getty
Every so often, a legendary matchup comes along that is destined to etch itself into the history books. Muhamed Ali vs. Joe Frazier in 1971. Roddy Piper vs. Keith David in They Live. Godzilla vs. King Kong (both in 1962 and 2021). It seems this summer is destined to add another faceoff to this list… in the form of Barbie vs. Oppenheimer.
Directors Greta Gerwig (Little Women) and Christopher Nolan (Inception) are about to square off at the box office, with Warner Bros. and Universal respectively opting for a head-to-head battle in the heat of the summer moviegoing season. The showdown has taken on a life of its own, spawning countless memes, discussions, and prognosticating as to which film will come out on top (or delivering the formula for a perfect double feature). But the big question is: can there be room for both? A box office battle from the past involving Nolan and both of these storied movie studios may provide the answer.
Fifteen years earlier, Nolan's seminal superhero classic The Dark Knight swooped into theaters on July 18, 2008, the very same day as the musical sensation Mamma Mia! History seems to remember Batman's duel with the Joker more loudly, but at the time, both films were smash hits.
"Everybody knew that Dark Knight was going to open huge, and that Mamma Mia! was probably going to do OK," Scott Mendelson, a film reporter for The Wrap who has spent years analyzing the box office, tells Inverse. "The big question going into that weekend was, up until that time, there had never been a $100 million opener alongside competition that was genuinely strong. Mamma Mia! represented an unprecedented threat to The Dark Knight breaking box office records."
"I definitely remember people going to see both."
Neither film, in the end, really got in one another's way. Dark Knight grossed $1 billion at the global box office, coming out as the top film of 2008. But Mamma Mia! was a monster hit in its own right, taking in just shy of $610 million and finishing as the fifth-biggest movie of the year in a brilliant stroke of counter-programming.
But there's a key difference in the upcoming duel between the big-screen take on Mattel's iconic doll and Nolan's portrait of the man who gave us the atom bomb, Mendelson notes. "This time I think the big question is, at least on opening weekend, which one is counter-programming?"
The Showdown We Needed, And Deserved
In the summer of '08, it was unmistakable that The Dark Knight was the main event of that weekend.
"It had to have been 100 Dark Knight posters to five Mamma Mia! posters," ComicBook.com editor Spencer Perry, who worked that summer at a Regal Cinemas location in Decatur, Alabama, that no longer exists, tells Inverse.
"It was crazy all weekend," Perry adds, "It was this gigantic movie and we were the only theater in town that had it."
His hometown Regal had showings very early that Saturday morning on opening weekend for the Batman Begins sequel, and people showed up in droves. "There were people that were coming off of third shift at Walmart and were like, 'Oh my God, they're playing Batman and I just got off of work. I'm gonna go watch it.'"
But that's where the counter-programming comes into play.
"I definitely remember people going to see both," Perry says. "It was one of those instances of the mom and the daughter are going to see Mamma Mia! while dad and the sons are going to see Batman."
People absolutely went to see both. And while Batman filled more seats in North America, internationally, it was a much closer race than anyone might have expected. In a 2018 Forbes article about Mamma Mia! Here We Go Again, Scott Mendelson noted that "Mamma Mia!, a $52m musical about/for/by women, made just $5m less overseas than both Indiana Jones and the Kingdom of the Crystal Skull ($469.7m) and The Dark Knight ($469.5m) to be (barely) the third-biggest overseas earner of 2008." In its day, it was an unprecedented box office battle that was watched closely. At the end of that weekend, Box Office Mojo reported that Dark Knight earned a record-breaking $158.4 million, while Mamma Mia! set a new record for a movie musical with $27.8 million.
Looking beyond the raw numbers, Vulture actually positioned the whole thing as a good vs. evil, light vs. dark battle "for the soul of America" ahead of opening weekend.
"It's tempting to look at this weekend, in fact, as a mandate on how Americans feel about the state and future of our great nation," the publication mused at the time. "Is America optimistic? Do we essentially view ourselves as attractive, tan actresses frolicking on the beach to ABBA songs? Or is the soul of America chaotic and violent, like the deranged anti-hero whose electrifying presence animates The Dark Knight?"
For Perry, it was far more simple than all of that. For him and his co-workers, it was a relief to show an actually great movie.
"It's so nice getting to hand someone their ticket and tell them, 'Enjoy your movie,' and actually mean it," Perry says. "It made working easier that weekend. It made being busy easy."
Barbie Vs. Oppenheimer
All signs point to Margot Robbie's Barbie coming out on top in 2023's matchup, with tracking suggesting a debut of around $80 million. Oppenheimer, which boasts an A-list cast led by Cillian Murphy, will have to settle for second place with a $40 million opening, give or take. What's giving Barbie the big edge? Look no further than Warner's marketing campaign.
"Barbie is such a strong brand, there are huge billboards in hot pink that are completely blank except the date in Barbie's font. Can you think of another movie that's gone that bold in its marketing?" marketing veteran David Hughes poses to Inverse.
Hughes has worked in movie marketing for more than 30 years, running the Synchronicity agency for the past 17. Though bullish on Barbie, he's not counting out Oppenheimer by any means. "They're perfectly balanced counter-programming with very little crossover appeal," he says.
"They're perfectly balanced counter-programming with very little crossover appeal."
Mendelson agrees with Hughes. "They're both over/under $125 million pictures that both have a good shot at making $300 or $400 million," he says. "I think they'll both be fine." But would Universal have benefitted by avoiding a head-to-head duel? "There's a case to be made that Oppenheimer would have perhaps benefited from moving a week later so it wouldn't be fighting for premium format screens," Mendelson adds.
"Oppenheimer is an odd pick for a summer flick," Hughes says. "It feels more like an Oscar-season release." Even still, both films seem to be targeting different audiences, and both may thrive.
"There have been quite a few high-profile opening weekend battles in the blockbuster era, but the only time one of the two competing films is a casualty is when they're competing for the same audience," Hughes adds.
In the summer of '08, The Dark Knight and Mamma Mia! both found great success. Will history repeat itself? Will both Barbie and Oppenheimer become the hits they're poised to be on paper? Or will things turn out differently this time around? We'll find out when they both hit theaters on July 21.