Hey, Remember the Time that John Travolta Destroyed MoviePass?
Lemme tell you something...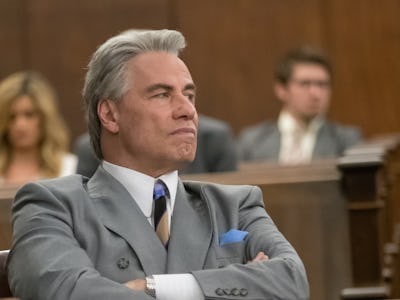 Emmett Furla Oasis Films
The summer of 2018 was an amazing time to be a movie fan. Then, everything imploded. The reason why? MoviePass.
Launched in 2011, the company's sales pitch was simple but effective: why buy individual movie tickets when you can buy a subscription instead? For a reasonable price, MoviePass offered subscribers unlimited access to cinemas for a monthly fee. But in 2017, MoviePass was acquired and the price dropped to $9.95 per month (and then even lower). The goal was to supercharge subscriptions and figure out profits later. Shockingly, it didn't work.
Mission: Impossible - Fallout was arguably the movie that broke MoviePass. The Tom Cruise blockbuster was released in July 2018, but when MoviePass subscribers flocked to theaters they found the service suddenly limited which movies they could see, and Fallout didn't make the cut. But the movie that signaled the beginning of the end came a month earlier, and it's one that most people have probably never even seen.
Gotti arrived in theaters exactly five years ago, on June 15, 2018. Starring John Travolta as the title crime boss, this was the first film that MoviePass didn't just sell tickets for, but acquired. It didn't go well.
Directed by Kevin Connolly (E from Entourage), Gotti tells the story of how John Gotti rose through the ranks of the New York mob. Announced in 2010, the movie spent years in development hell as multiple actors were considered for the role, including Al Pacino. Ultimately, Travolta got the part, while his wife Kelly Preston played Gotti's wife Victoria, in what would be her second-to-last movie.
Gotti opens in 1972 when a young gangster carries out a hit that makes him a made man — and lands him in jail. But Gotti is allowed out for medical furloughs, which he uses to commit more crimes. He's eventually released two years later, and from there we watch our protagonist rise through the ranks of New York organized crime as several decades play out onscreen.
This story is intercut with scenes from the 1990s, where Gotti is back in jail and suffering from throat cancer. We watch as his adult son, also a mobster, visits him, and he considers taking a plea bargain. While the entire movie is riddled with terrible acting, these scenes are particularly unwatchable due to the awful prosthetics used to make Travolta look like a sick old man.
Beneath what is undeniably a bad movie (Gotti has a rare 0% on Rotten Tomatoes), there's an interesting kernel of an idea. The film argues that Gotti was the first mob boss who also became a celebrity — his face shows up on the covers of magazines — and suggests this led to both his own downfall and the decline of organized crime in general. It's an interesting point that's not nearly enough to save a truly horrible movie.
In 2017, Lionsgate was slated to release the movie, but the studio bailed. That should have been a sign, but MoviePass ignored the warnings and stepped in, acquiring Gotti through its newly formed MoviePass Ventures. Bizarrely, the movie debuted at the 2018 Cannes Film Festival.
If you're wondering why MoviePass bought Gotti, here's a quote from then-CEO Mitch Lowe that was included in a press release.
"Gotti is precisely the type of film we established MoviePass Ventures to support," Lowe proclaimed. "We are helping boost traffic to these theaters for people to see these great films. This is an ambitious movie for which we're thrilled to offer exclusive opportunities, such as exclusive tickets to the U.S. premiere event, word-of-mouth screenings, and other Gotti-related events, to our nationwide subscriber base."
Gotti was supposed to be the beginning of MoviePass's new era. After burning a huge pile of money to acquire user data, the company claimed it could crunch that data to engineer the perfect movie. But if Gotti was the result, the plan needed some rethinking.
MoviePass Ventures shuttered almost immediately after Gotti crashed and burned. It later relaunched as MoviePass Films, which released a handful of movies, including Boss Level (released on Hulu in 2021). The entire company declared bankruptcy in 2020, although it was recently resurrected by its original founder with a new business model.
Was Gotti the nail in the coffin? Maybe not, but this disastrous movie is a perfect symbol of everything that went wrong at MoviePass.