Over the Garden Wall Deserves Better Than This
Warner Discovery is ditching the beloved dark fantasy miniseries right before spooky season. But why?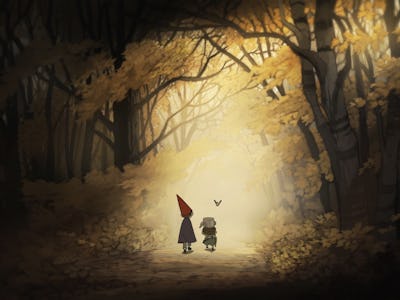 It's August, and, for a certain type of person, that means summer is finally coming to an end and the best time of year can begin: Fall. Autumn. Spooky season. But this year is different. Because this year, one of the most important seasonal traditions is about to be ripped away from its practitioners thanks to the scariest monster of them all: corporate greed.
For many, the start of fall means an annual rewatch of Over the Garden Wall, the beloved animated miniseries that first aired on Cartoon Network in November 2014. But before the leaves can begin to change this year, Warner Discovery plans to pull unceremoniously pull Over the Garden Wall from its streaming service, Max, on August 31. (Thankfully, the series is still streaming on Hulu, but this still stings nonetheless.)
Here's why you need to watch — or rewatch — Over the Garden Wall before it leaves Max at the end of the month. And what you should know before you do.
Created by Patrick McHale (Adventure Time, Guillermo Del Toro's Pinnochio), Over the Garden Wall tells the tale of two brothers (voiced by Elijah Wood and Collin Dean) who find themselves lost in a mysterious, magical woods. The harder they try to get home, the more lost they become, encountering bizarre characters including a talking bluebird (Melanie Lynskey), an ominous woodsman (Christopher Lloyd), and a terrifying Beast who seeks to trap them in the forest forever.
Their episodic adventures (there are 10 episodes total) include a trip to an eerie town full of living pumpkins and a delightful river cruise for frogs, along with plenty of genuinely scary ghosts and monsters. Eventually, Over the Garden Wall reveals itself as something even more clever than you'd expect. I won't spoil the ending, but if you're worried a story that starts with two brothers aimlessly walking in the woods is going nowhere, rest assured it comes to a satisfying conclusion.
The music, most of which is written by McHale and performed by folk band The Blasting Company, is also excellent, instantly transporting you to another world that defies definition but clearly exists in the pre-smartphone era. (Even after it's gone from streaming, you can still get your fix by listening to the soundtrack.)
And, of course, the animation (a mix of hand-drawn pencil work and digital) is gorgeous. You can pretty much pause at any moment and the resulting image would look good on a poster.
As for why Warner Discovery is giving Over the Garden Wall the boot, there's no clear answer — but there are plenty of theories. Streaming platforms like Max, Hulu, and Disney+ have been removing less popular original shows and movies recently, arguing that the cost of hosting them isn't worth it considering their low viewership. But in the case of Over the Garden Wall, Max executives likely know that streams will spike in the next few months. So why remove it now?
It's possible this is also a cost-saving measure, assuming that a spike in streams would force Warner Discovery to pay more residuals to the show's creators. It's also possible the company thinks it can quickly sell the rights to another company just in time for spooky season. If that's the case, then Over the Garden Wall may disappear from Hulu too, only to end up on some other, unexpected streaming service.
We'll just have to wait and find out. But before then, it's probably not a bad idea to watch Over the Garden Wall on Max (or Hulu) while you still can.
Over the Garden Wall is streaming on Max through August 31 and is also available on Hulu.