The Year's Most Underrated Fantasy Epic Just Hit Amazon Prime
You probably missed this one, but better late than never.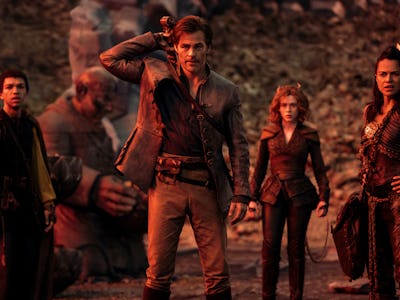 Paramount Pictures
Over the past 20 years, moviegoers have been exposed to a wide variety of takes on the fantasy genre. Peter Jackson's Lord of the Rings trilogy not only boosted the genre's popularity, but showcased the wide array of tones it can contain, from lighthearted whimsy all the way to grim self-seriousness. In the years since Game of Thrones premiered, however, an increasing number of films and shows have stuck disappointingly close to HBO's oppressively dark take on the genre.
That's one reason Dungeons & Dragons: Honor Among Thieves felt like such a tonic when it was released earlier this year. The film, which was written and directed by Game Night directors Jonathan Goldstein and John Francis Daley, is a clever and cheerful fantasy romp. Even more importantly, it managed to capture the unshakeable sense of camaraderie, improvised chaos, and self-awareness of its tabletop game source material without ever losing control of its story. And now it's officially available to stream on Amazon Prime.
Set in a Dungeons & Dragons-inspired fantasy world, Honor Among Thieves follows Edgin (Chris Pine) and Holga (Michelle Rodriguez), a pair of imprisoned criminals, as they escape from their frosty jail to reunite with Edgin's daughter, Kira (Chloe Coleman), and finally claim their most recent score. Their plans are dashed, however, when they realize Forge (Hugh Grant), a member of their band of thieves, has turned Kira against them and secretly allied himself with a dangerous Red Wizard known as Sofina (Daisy Head).
Determined to beat Grant's roguish conman at his own game, Holga and Edgin reunite with bumbling sorcerer Simon (Justice Smith) and recruit shape-shifting druid Doric (Sophia Lillis) to rob Forge of his riches and stop Sofina's nefarious schemes. They also link up with a benevolent paladin named Xenk (Regé-Jean Page), who leads them on a mission into the dangerous, subterranean Underdark that forces Edgin to reassess some of his pre-existing prejudices.
Honor Among Thieves functions as both a traditional heist movie and a big-budget fantasy adventure. In less capable hands, that combination would be sloppy. As they did with Game Night, though, Goldstein and Daley prove themselves equally capable of directing action and comedy. Honor Among Thieves crackles with such an infectious playfulness and tongue-in-cheek spirit that it's nearly impossible not to be charmed by it.
Like any great D&D adventure, Honor Among Thieves understands that it's only as good as its players, which is why it puts so much work into building the relationships between Edgin, Holga, Simon, and Doric. All four actors turn in compelling performances, and their collaboration allows the film's third act to go to some surprisingly emotional places.
Underneath all of its cleverness and tricks, there's a real heart at the center of Honor Among Thieves. Despite that, the film only grossed around $200 million when it was released in March, making it one of the year's most underrated blockbusters. Whether we'll get a sequel is therefore unclear, but anyone who missed it this spring now has a chance to rectify that mistake. Whether you're a D&D player or not, you won't regret giving Honor Among Thieves a couple hours of your time.
Dungeons & Dragons: Honor Among Thieves is streaming on Amazon Prime Video.