13 Years Ago, Community Changed TV With a Fistful of Paintballs
Sometimes, you just need to start shooting.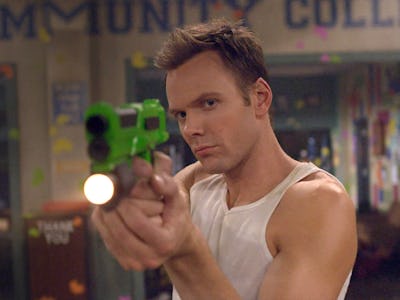 NBC/NBCUniversal/Getty Images
For its first 22 episodes, Community was an above-average sitcom about diverse misfits in a substandard suburban college. But its 23rd episode, "Modern Warfare," is when most of its audience's enrollment at Greendale became permanent.
Written by Emily Cutler and directed by Fast & Furious' Justin Lin, "Modern Warfare" is a blockbuster TV episode if there ever was one. It was a flashpoint not only for Community, with a full-throated demonstration of its prowess to commit to the bit and widen the scope of its flexible environment, but for all of comedic TV to be deadly serious in its unserious stakes.
There's insufficient evidence to say "Modern Warfare" influenced other shows to go big or go home, and it would be wrong to say only Community knew how to break conventions. But upon its premiere in fall 2009, Community slowly garnered a buzzy reputation. Its reputation was largely forged through episodes like "Modern Warfare," and now most comedies, from Brooklyn Nine-Nine to Mythic Quest, have that one episode where everything gets flipped on its head, and a learned knowledge of genre conventions become valued ammunition.
There's an abstract energy to "Modern Warfare," the season's third-to-last episode. Predominant across its half-hour runtime is a playfulness that bears an uncanny resemblance to the last week of school before summer break. The sun is brighter, the grass is greener. All that nice weather can make another lecture drive you stir-crazy. It helps that the episode opens with the often hapless Dean (Jim Rash) informing the study group that the "Spring Fling is on the quad today." Suddenly, our leads look like squares for staying inside at their usual table.
But after Jeff (Joel McHale) wakes from a nap, Community morphs into something else. A school-wide game of paintball plunges Greendale into chaos over its grand prize: priority registration for the next semester. With careful and calculated homages to everything from Die Hard to Hard Boiled, "Modern Warfare" is a sublime representation of Community's ability to not just color outside the lines but vandalize them completely.
Critically, the priority of "Modern Warfare" isn't empty imitations of vintage movies. Its smartest decision is to ground itself in the heart of the show's premise, which is still pure sitcom cliché. Back in the show's pilot, disbarred lawyer Jeff begins a desperate attempt to romance female lead Britta (Gillian Jacobs), a bleeding heart activist, only to wind up overseeing a study group of strangers.
"Modern Warfare" wisely returns to their — as Danny Pudi's Abed indelicately puts it — "Ross and Rachel" flavors of sexual tension and lack of chemistry. Because of this, "Modern Warfare" doesn't exist in a vacuum, although it is compulsively watchable on its own. The episode bears far-reaching consequences, and Jeff gifting single mother Shirley (Yvette Nicole Brown) the priority registration form is a big step for Jeff's own transformation toward becoming a more selfless person.
While the abundant homages in "Modern Warfare" are delicious, it's the ironic approach to paintball that gives the gimmick zest. Although anyone familiar with paintball knows they can hurt, their apparent harmlessness gives Lin's legitimate action direction its charm. The irony that no damage is being done frees Community to unleash the most carnage.
Community is now famous for its homages — Season 2 has a fun Halloween zombie episode and a touching stop-motion Christmas spoof — but "Modern Warfare" knew to organically combine pastiche rather than copy formula. For most of its first season, the show taught its audience that the academically mediocre Greendale was a fluid playground of infinite possibilities. And for a glorious half hour, that playground became a war zone.
Learn something new every day
Subscribe for free to Inverse's award-winning daily newsletter.