50+ amazing home deals from Amazon's Cyber Monday sale that'll seriously upgrade your space
We only recommend products we love and that we think you will, too. We may receive a portion of sales from products purchased from this article, which was written by our Commerce team.
by BDG Commerce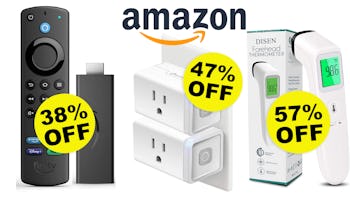 If you didn't get a chance to shop Black Friday sales (or still have a few treats on your shopping list), Amazon's Cyber Monday deals have just launched — and there are some amazing home upgrades included. Whether you're in the market for luxurious bedding, smart gadgets, or wildly popular kitchenware, you can find it for a serious discount right now. And if you're an Amazon Prime member, these items will arrive in no time thanks to faster shipping.
Not a Prime Member? Click here to sign up for a 30-day free trial of Amazon Prime.
Below, the BDG commerce editors have sorted through every Cyber Monday deal to find the absolute best ones for you. Browse these home products now, and be sure to check back — we'll update this list regularly so you don't miss a thing.
60% off a 3-pack of touch-up razors
These Schick Hydro Silk Touch-Up razors are so handy. Not only are they perfect for grooming and shaping your brows, but you can also use them for dermaplaning (aka removing all the peach fuzz off your skin so your makeup glides on more smoothly). Right now, these cult-favorite tools, which boast over 100,000 Amazon reviews, are being sold in a pack of three for a bargain price.
63% off this cult-favorite styling tool
When it comes to hair tools, the Revlon One-Step is an MVP that's garnered a 4.6-star overall rating on Amazon after more than 300,000 reviews. The two-in-one hairdryer and styler amps up the volume, but doesn't damage hair. Grab this, and you can look like you had a salon blowout every single morning.
46% off a 100-pack of disposable face masks
With three layers of filtration, these soft, breathable masks have over 33,000 reviews and 4.7 stars, making them Amazon's choice for black, disposable face masks. And with a pack of 100, they'll last you a while.
51% off a four-slice Belgian waffle maker
You can cook breakfast for the whole family with this four-slice Belgian waffle maker. It has five different browning levels so you can customize your waffles to your preference, and the stainless steel design looks chic whether displayed on. your countertop or tucked away in a cabinet. Over 5,000 Amazon users have invested in this to up their breakfast game, and it has earned 4.5 stars overall.
30% off an easy-to-use cold-brew coffee maker
Step up your coffee game with this Takeya cold brew maker. With over 49,000 reviews and a 4.7 star rating from Amazon shoppers, this easy-to-use coffee maker is a fan favorite.
35% off this precise digital food scale
For precise recipes, this digital food scale clearly displays an accurate weight for any food you put on it no matter what you're measuring. The easy-to-read digital screen zeros out at the touch of a button, so you're ready to move from ingredient to ingredient. With 117,000 Amazon reviews (not a typo!) and a 4.6-star overall rating, this kitchen tool is as useful as it is beloved.
36% off an Oral-B electric toothbrush
Keep your teeth clean and plaque-free with this Oral-B electric toothbrush that has an average rating of 4.6 stars on Amazon. With a two-minute timer that signals every 30 seconds, this toothbrush will make sure that you're brushing for the dentist-recommended length.
46% off this popular handheld garment steamer
Over 13,000 Amazon shoppers love this handheld garment steamer. The steamer heats up in just 90 seconds, so you can quickly smooth out wrinkles in shirts, suits, or other fabric.
15% off an air purifier for your home
Smoke, pet dander, dust, and odors are no match for this air purifier that's earned a 4.6-star rating after 5,400 reviews. It uses a three-stage filtration system — including a HEPA filter — to purify the air, and the quiet operation and compact size make it ideal for smaller rooms.
21% off this smart, connected air fryer
COSORI's air fryer is equipped with 13 cooking functions and 11 preset programs and can be controlled and monitored via your home's smart speaker or the COSORI app. Helpful features like a shake reminder ensure even, consistent browning on your favorite foods, whether you're crisping veggies or frozen snacks.
43% off these two LED headlamps
Stay well-lit and visible while biking or running with this two-pack of headlamps. With over 11,000 ratings and an average review of 4.6 stars, these headlamps have proven to be an essential.
50% off Micro USB cables
Keep your Android devices (and others) fully charged with these Micro USB cables, which have earned over 26,000 reviews and 4.6 stars. The 6-foot cables are braided for durability while the oxygen-free copper wire offers high-speed data transmission. Each pack comes with three different colors.
30% off disposable face masks
These black disposable face masks have earned an overall 4.7 stars from more than 71,000 reviewers. The three-ply fabric is well-made but breathable, while the earloops are stretchy and extra soft. Since you get a pack of 100, you should be set for quite a while.
53% off KN95 masks
Breathable and with a filter efficiency of 95%, KN95 face masks have become a standard in safety. The 3D structure is designed to fit snugly along the sides while giving your nose space, and an adjustable nose clip ensures security. Nearly 1,600 people give this mask 4.6 stars, so you'll be sitting pretty with this 50-piece count.
70% off the Echo Auto smart assistant for your car
Outfit your car with Alexa smart assistant technology with the Echo Auto. You'll be able to stream music, set reminders, ask to hear the news and more — all with simple voice commands. You can also select an option that comes with six months of free Amazon Music Unlimited.
43% off the Instant Pot Duo Plus
Get this cult-favorite kitchen appliance while it's on sale and make meal prep easier for years to come. The Instant Pot Duo Plus has a 6-quart capacity and nine functions ranging from sous vide to slow cook, which is why it's Amazon's best-selling electric pressure cooker.
24% off this beverage chiller that works super fast
This genius invention is the solution if you've ever had watered-down iced coffee. Pop the HyperChiller in the freezer overnight and it'll be ready for your coffee in the morning. Pour any temperature coffee into the HyperChiller and it'll be cold within 60 seconds. Over 12,000 Amazon users have invested in this product and given it a rave, overall rating of 4.3 stars.
44% off a 2-pack of satin pillowcases
With more than 55,000 Amazon ratings, this set of satin pillowcases has earned legions of fans — and for good reason. The pillowcases feel silky soft and look incredibly luxe. Your skin will be convinced these are real silk, but thanks to their durable satin-polyester construction you get the feel of silk with none of the fussy washing instructions.
51% off a 2-pack of certified Apple charging ables
Tired of iPhone charging cables that don't last? That won't be a problem with these super durable 10-foot lightning cables from CyvenSmart, which are made from strong copper wire covered in braided nylon and have an additional protective layer near the ends of each cable. The cords are MFi-certified to work with Apple products, and Amazon reviewers are big fans, with more than 24,000 reviewers giving them an overall rating of 4.6 stars.
33% off this portable carpet cleaner
This incredible cleaner can return a stained and tired carpet to its former glory. How it works: Fill the tank with the antibacterial formula and plug it in. Once it's ready to go, you can literally suck stains out of your upholstery for a satisfying (and really effective) cleaning experience. With 26,000 Amazon reviews and counting, this portable spot cleaner has an impressive, 4.7-star overall rating. And, while sales last, it is available for an unbeatable price.
40% off these best-selling Turkish cotton towels
Snag these number-one best-selling bath towels on Amazon, which come in multiple different colors. Their 100% Turkish cotton construction has earned 29,000 reviews and 4.5 stars because it's soft, plush, absorbent, and luxurious.
26% off on over 65 feet of color-changing LED strip lights
Add some ambiance to your space with these fan-favorite LED strip lights, which have earned an impressive 4.6-star overall rating out of over 52,000 ratings total. These fully customizable, remote-controlled lights feature adjustable brightness and light modes, and their "cuttable" design can easily accommodate the size of your wall. This order also comes with self-adhesive tape and other mounting accessories. Don't forget to clip the coupon before you check out.
30% off the NutriBullet personal blender
The NutriBullet blitzes ingredients in less than 60 seconds, making quick work of shakes and smoothies. A 600-watt motor and razor-sharp extractor blades ensure a smooth drink, and a resealable lid lets you take your concoction to go. It's no surprise this personal blender has more than 31,000 reviews and a 4.7-star rating on Amazon.
39% off this clever Roomba robot vacuum
The Roomba i3+ uses a three-stage system with flexible, dual rubber brushes for powerful and effective cleaning. Smart tracking sensors ensure that every inch of space is covered, and a high-efficiency filter traps 99 percent of dust particles. An automatic dirt disposal function allows to vacuum to empty itself for up to 60 days, making floor cleaning an effortless chore.
37% off Apple AirPods with a charging case
It's a rarity for Apple products to get such a deep discount, so you'll want to grab these Apple AirPods before they sell out. Featuring an overall 4.8-star rating on Amazon with more than 220,000 reviews, these wildly popular wireless AirPods come with a handy charging case that will give you more than 24 hours of battery life. Plus, you'll save an extra $15 at checkout.
30% off a clip-on silicone pot strainer
Clip this silicone strainer to the side of pots and pans to avoid extra dishes and make draining excess liquid or grease so much easier. A best-seller on Amazon, it boasts thousands of positive ratings, and is dishwasher-safe for easy cleanup.
57% off this no-contact thermometer
This touchless thermometer takes quick and accurate temperature readings with the touch of a button. It runs on AAA batteries, which are included, so you can use it anywhere — and if you click the coupon box, you can save an additional 10% off.
54% off a 5-pack of KN95 masks
Suitable for daily travel protection, SupplyAID's KN95 face masks protect respiratory health with 95% filter efficiency. This 5-pack is ideal for stashing in a backpack, purse, or glove compartment so you always have freshies on hand. Over 75,000 reviewers give these an impressive 4.5-stars.
40% off this set of comfy gel pillows
Nab these ultra-comfy, incredibly plush gel pillows for an impressive price now. They come backed by more than 40,000 positive reviews so you can rest assured you're getting a quality set of pillows.
17% off this luxurious set of satin pillowcases
Boasting a 4.5-star overall rating after more than 200,000 reviews, these are Amazon's top choice for satin pillowcases. Not only are they temperature-regulating to keep you cool, but they help prevent hair breakage and pillow creases on your face.
61% off a 3-pack of Scotch Magic tape
Stock up on office supplies with this three-pack of Scotch tape, which is majorly discounted right now. Each dispenser comes with clear tape and a blade for easy cutting, so you can quickly put together projects, mend documents, and more.
40% off a 57-piece first aid kit
With bandages, antibiotic ointments, scissors, guaze, and more, this first aid kit has everything you could need for a sudden injury. The 57-piece set comes in a convenient carrying case you can store in your closet, your desk, or wherever you need to have it handy. Over 8,000 Amazon users have invested in this first aid kit and given it a glowing, 4.7-star overall rating.
57% off a 10-pack of mechanical pencils with a near-perfect rating
Available at a deeply discounted price, these mechanical pencils by BIC are a steal. Each pencil is equivalent to two-and-a-half wood case pencils, and the #2 lead doesn't smudge as you write. The pencils have earned more than 5,000 reviews and a 4.8-star rating on Amazon.
55% off this handy 3-pack of safety scissors
With a 4.8-star overall rating on Amazon along with over 40,000 ratings, this popular three-pack of safety scissors is a great buy. They have sharp stainless steel blades, and comfortable handles that are coated with soft material for pain-free cutting.
25% off some resistance bands
This set of five resistance bands has a little something for everybody, with five different levels of resistance ranging from 5 to 40 pounds so you can build your strength over time. These are made of a natural latex that's durable and that many reviewers swear doesn't roll or pinch your skin. These have earned their 4.7-star overall rating after nearly 3,000 reviews. And, if you act fast, you can get the already discounted price for even less by clipping the coupon at checkout for an extra 25% off.
28% off Apple AirPods Pro
Majorly discounted while the sale lasts, these Apple AirPods Pro are a steal, offering active noise cancellation, a water-resistant design, and a more comfortable, ergonomic fit when compared to previous models. With 206,000 Amazon reviews and counting, these best-selling Bluetooth earbuds have earned a near-perfect, 4.8-star rating overall.
57% off this highly rated mini smart plug
This small smart plug easily syncs with your Google Home or Alexa-compatible device to turn your space into a smart home. Plug in your lamps, coffee maker, or tech to this plug and ask your smart assistant to turn on the plug. Your technology or appliances will turn on like magic. This smart home accessory has garnered 27,000 Amazon reviews and counting and a 4.6-star overall rating for a simple reason — it works so well.
53% off this fan-favorite electric toothbrush
With more than 10,000 five-star reviews, this Oral-B electric toothbrush is a well-loved pick. It features six cleaning modes and is rechargeable. Each order comes with two heads, but this model also works with any Oral-B brush head, if you'd prefer a different shape later on.
48% off this 20-pack of K95 face masks
Individually wrapped for on-the-go convenience, these KN95 masks offer an incredible five layers of protection and are easy to toss in a bag so you always have a clean one to spare. They're designed to provide extra breathing room around the mouth and nose while packing down flat, with an adjustable nose clip and elastic ear loops for a comfortable yet secure fit.
50% off an Amazon Fire TV Stick
This Fire TV Stick comes with an Alexa-enabled remote, so you don't even have to press a button to stream your favorite shows. It boasts over 56,000 perfect five-star ratings on Amazon, and can stream in full HD.
30% off these silicone baking mats
With over 70,000 five-star ratings and reviews from shoppers, these silicone baking mats are some of the most popular products Amazon Basics makes. The simple-but-genius mats will replace parchment paper and aluminum foil for all your cooking and baking needs, and since you can reuse them forever, they're much more eco-friendly, as well.
43% off this smart security camera that streams to your phone
The Blink Mini indoor security camera offers an easy way to keep an eye on your home when you're away, and it's backed by a 4.5-star overall rating after nearly 143,000 reviews. The plug-in HD camera has motion detection, two-way audio, and day and night video, and it'll send alerts right to your smartphone.
64% off a 4-pack of highly rated InkJoy gel pens
These fan-favorite InkJoy Gel Pens glide like butter across the page, but that super-smooth formula dries three times faster than competing gel pens, so the ink never smears or smudges. All four pens in this pack boast medium points and crisp, jet-black ink. Pick up this office essential at a serious discount while supplies last.
50% off this precise digital meat thermometer
This digital meat thermometer takes the guesswork out of meal prep by providing accurate temperature readings in seconds flat. It folds up compactly when not in use, and features a magnet on the back for seriously convenient storage. It's earned thousands of fans on Amazon for being simple yet brilliant, with an LED screen that's easy to read.
42% off the Roomba robot vacuum
The best-selling robot vacuum, the iRobot Roomba 675, is available for a great deal right now. With nearly 76,000 reviews and a 4.4-star rating, this vacuum can clean carpets, hard floors, and hard-to-reach places -- all you have to do is control it using an app or your smart home device.
50% off the Fire TV Stick 4K
The Amazon Fire TV Stick 4K is compatible with Alexa, so you can browse among over 1 million movies and TV shows across several streaming platforms with just the sound of your voice. And hundreds of thousands of reviewers rave about this remote's upgraded model: "It's faster than previous fire sticks," one customer reported. "Things are smoother and faster overall."
69% off a toothbrush that gives feedback on brushing habits
Your teeth will get a deep clean with the five brushing modes of this highly rated Oral-B electric toothbrush. Plus, there's a timer that lets you know when to switch areas of the mouth, a sensor to tell you when you're brushing too hard, and connection to your smartphone for feedback on your brushing habits. And it comes with a travel case so you can bring it wherever you go.
51% off a 12-pack of highly rated felt-tip pens
Amazon reviewers are passionate about these Paper Mate pens, raving that "they are bright, bold, don't bleed through, and you can see all of them (even the yellow and pink)." The felt tip pens have a medium fine point and come in an array of cheerful colors that write so smoothly without smudging. They have a whopping 4.9 stars on Amazon overall, from more than 34,000 reviews, and now that they're on sale, there's never been a better time to stock up (whether you're a student, artist, planner or bullet journal enthusiast).
64% off the Echo Dot with a bonus smart light bulb
There's a seriously deep discount on Amazon's Echo Dot, the smart speaker with a 4.7-star rating. Use this to stream music, check the news, or control things around your home with the use of your voice. This bundle comes with a Bluetooth-enabled lightbulb, which you can connect to your Echo Dot to turn on your lights from afar or change lighting colors, so you'll be well on your way to a smart home.
35% off a TubShroom that will save you from clogged drains
Clogged drains are a bummer — enter the nifty, hair-catching TubShroom, which prevents that from happening. It easily fits into the drain, capturing every hair (and keeping them out of sight, too). Just pull it out and swipe off to clean. Almost 95,000 reviewers rate it 4.5 stars, describing it as "amazing," especially for homes of people with long locks.
43% off this multipack of heavy-duty shipping tape from Scotch
Featuring more than 63,000 ratings and an overall 4.8 stars, this clear 3M shipping tape has strong adhesive that's designed to stay put on all kinds of boxes. Now's a good time to stock up on the popular tape, too — this six-pack of rolls and dispensers is steeply discounted.
43% off a Shark upright vacuum
This upright vacuum by Shark picks up dust, hair, and any other loose debris using a self-cleaning dual brush system. It also traps 99.9 percent of dust and particles using a HEPA filter. The vacuum works on carpet, hardwood floors, and tile, while a separate upholstery tool can be used to clean curtains, lampshades, and furniture. It's no wonder the vacuum has a 4.6 rating on Amazon.
15% off a MacBook Air
If you've been waiting for sale season to buy a new laptop, this is your opportunity to get the 2020 Macbook Air at a solid discount. It boasts an overall 4.8-star rating from over 10,000 Amazon shoppers. This model has a 13-inch retina display, and comes in three color options.
48% off an 18-pack of black pens
Score this 18-pack of popular retractable ballpoint pens from Zebra while they're seriously on sale. They have ergonomic soft grips, so they're comfortable enough for long writing sessions, and boast an overall 4.6-star rating from over 20,000 Amazon shoppers.
58% off this value-pack of moisturizing hand soap
Stocking up on basics like this six-pack of hand soap is always a good idea when sales start. This one is formulated with soothing aloe vera and is paraben and phthalate free. With a near-perfect, 4.8-star overall rating after 38,000 Amazon reviews, this best-selling soap is tried and true, and will leave your hands feeling fresh, soft, and clean.
25% off this best-selling microfiber sheet set
The best-selling sheets on Amazon feature a whopping 260,000 ratings and 4.5 stars overall. The 1,800 thread-count microfiber set is hypoallergenic with supernatural softness that comes out of the dryer wrinkle-free. Queen, full, and twin sizes are all on sale now for a similarly low price.
50% off this Echo Dot smart speaker with Alexa
Get the third-generation Echo Dot smart speaker for an impressive discount right now. This small-but-mighty Alexa-enabled speaker boasts an impressive 4.7-star overall rating with (literally) hundreds of thousands of perfect ratings from Amazon shoppers.
38% off this 2-in-1 robot vacuum from Bissell
Specifically designed to tackle even the toughest messes, this two-in-one robot vacuum also works as a mop. It's recommended for use on hard floors, and can run for up to 130 minutes on a single charge.
36% off an extensive dual-tip marker set
Whether you love to draw, bullet journal, or just write your notes in bold, bright colors, this set of 32 dual tip markers is a great buy. It's Amazon's number one bestseller in the category, and has thousands of positive ratings from shoppers.
50% off the Fire HD 10 Tablet
Majorly discounted right now, this ad-supported Fire HD 10 tablet has racked up over 180,000 positive reviews on Amazon, and for good reason. The wildly popular tablet has a 10.1-inch HD display and comes with your choice of 32 or 64 GB of storage. It boasts an improved battery life so you can read, listen to music, stream videos, or just poke around on the internet for up to 12 hours on a single charge.
30% off this best-selling humidifier
This cool-mist humidifier would be a fantastic purchase even at full price: It features a 2.2-liter tank, works super quietly, and has an automatic shut-off feature for added safety. Join the more than 20,000 shoppers who have made this the top-selling humidifier on Amazon. You can save an additional $2 off when you clip the coupon at checkout.
37% off this rotating makeup organizer with adjustable compartments
This transparent organizer rotates a full 360 degrees so all your items are easy to find. Perfect for makeup, skin-care products, hair accessories, jewelry, and more, this popular organizer has earned more than 5,000 perfect ratings on Amazon.
40% off the classic enameled dutch oven from Le Creuset
If you've been waiting for a Le Creuset enameled dutch oven to go on sale, consider your wait over. Right now, you can get this piece of heirloom cookware for a steep discount. It boasts a near-perfect overall rating of 4.9 stars on Amazon, with hundreds of fans singing its praises.
40% off these LED flameless candles with a remote control
If you want to add some ambiance to your space without dealing with actual candles, get this set of three flameless LED candles instead. They come in pretty gold glass containers, run on AA batteries, and come with a 10-key remote that includes a timer.
50% off the Fire HD 8 tablet
With an impressive 12-hour battery life, the Amazon Fire HD 8 Tablet is perfect for watching movies, reading books, browsing the web, and staying in touch with friends. This portable entertainment system is available for an outrageous discount while sales last.
45% off the Echo Show 8
With an 8-inch HD screen, the Echo Show 8 offers so much functionality in its table-friendly design. Use this to make calls, watch videos, play music, follow a recipe, or curate grocery lists, all with built-in Alexa technology. It can also ask as a smart home hub, controlling your Alexa-compatible smart light bulbs, outlets, or other home tech. This device has earned a near-perfect, 4.7-star overall rating from more than 220,000 Amazon users.
46% off this best-selling weighted blanket
The best-selling weighted blanket has 26,000 Amazon reviews and a 4.6-star overall rating because it's considered a great value under normal circumstances — but right now, you can grab it for cheaper than ever. It has a seven-layer design with glass beads for a calming, weighted sensation, and it comes in your choice of 15 or 7 pounds. Click the coupon box for an extra $10 off.
25% off the YETI tumbler with near-perfect ratings
This best-selling 20-ounce tumbler from Yeti is about as good as it gets for taking coffee on the road. It's made from quality stainless steel with double-wall vacuum insulation for keeping hot drinks piping hot. Plus, it's dishwasher safe for the easiest cleanup.
44% off Beats Flex Wireless Earbuds
These Bluetooth wireless headphones by Beats feature a comfortable around-the-neck cable and magnetic earbuds that automatically stop playing music when they're attached around your neck. With up to 12 hours of playtime on one charge and great sound quality, it's clear to see why these have nearly 19,000 perfect five-star reviews on Amazon.
32% off these outdoor string lights
Perfect for outdoor gatherings or al fresco dining in your backyard, these weatherproof string lights come in a 48-foot length with 15 incandescent light bulbs per string. You can link up to five of these string lights together to outfit your entire outdoor space, and each bulb has a hook above it so you can anchor them to tree branches, posts, or railings — you name it. Over 17,000 Amazon users have invested in this set, and the reviews are rave to the tune of a 4.7-star overall rating. Clip the coupon to save an extra 5% off the sale price, for an even better deal.
47% off a sewing kit
This handy kit neatly holds all the tools needed for basic sewing repairs — there are needles, threads, scissors, buttons, a thimble, and more. Reviewers are big fans of this convenient little set, and 25,000 of them rate it 4.6 stars.
55% off a smart bulb with a 4.7-star rating
With an overall rating of 4.7 stars on Amazon, from more than 9,500 reviewers, it's clear that this Kasa smart bulb is a must-have. The bulb can shine in a bunch of different colors and brightness levels, and you can use a smartphone app, Alexa, or Google Assistant to change settings or even put your lighting on a schedule.
44% off the Kindle with a built-in front light
This Kindle has so many great features that make for a comfortable reading experience anywhere, like a built-in front light, adjustable brightness settings, and a glare-free screen. Other highlights include a long-lasting battery, built-in Audible, and Bluetooth technology, so you can even use this to listen to audiobooks. Over 25,000 Amazon reviewers left this a five-star rating.
47% off the Echo Show 5
Consider the Echo Show 5 your best personal assistant yet: it puts you in control of compatible smart devices like lights and cameras while serving as a streaming device, phone, alarm clock, and more. You can even use it to display photographs.
40% off the Fire TV Stick Lite with Alexa remote control
Shoppers are thrilled with this Lite version of Amazon's Fire TV Stick — it's earned an impressive 4.7-star overall rating and close to 205,000 ratings and reviews total. This affordable device is equipped with Alexa Voice and offers access to virtually every movie, TV, and music streaming platform imaginable. Now's your chance to grab this must-have gadget at a serious discount.
37% off a fingertip pulse oximeter
This highly-rated fingertip pulse oximeter is a great buy, especially while it's on sale. It measures oxygen saturation in mere seconds, and comes with a carrying case, a lanyard, and batteries for added convenience. It boasts an overall 4.7-star rating on Amazon from over 19,000 shoppers.
55% off this soft tape measure
Small but mighty, you'll be shocked by how handy this 60-inch tape measure will be. It's the number-one best-seller on Amazon, and with a 4.8-star overall rating after nearly 40,000 customers have weighed in, it's a tried-and-true option. The vinyl material is soft, so it is easy to use on clothes and more.
36% off the Fire TV Stick 4K Max
Amazon's newest and most advanced streaming device, this Fire TV stick offers the highest-quality 4K streaming experience. This new release is 40% more powerful than Amazon's previous Fire sticks, and turns your television into a glorified smart TV, with access to shows and movies on Netflix, Prime Video, Hulu, Disney+, and Peacock. The remote is also outfitted with Alexa voice control capabilities and TV controls. Over 4,000 Amazon users have upgraded to this device, and the reviews are rave (just look at the 4.6-star overall rating).
40% off the Amazon Echo smart assistant
The brand new Amazon Echo can function as an all-in-one smart home hub, connecting all of your smart devices. The powerful speakers deliver precise sound quality, whether you're asking Alexa to answer a question, play music, read the news, or report the weather. It comes in three neutral colors to match any space, and it's small enough to nest on a shelf or on a tabletop wherever you need it. Over 84,000 Amazon users have added this device to their smart homes, and it's earned its glowing, 4.7-star overall rating.
35% off this ultra-thin wireless charging pad
This sleek wireless charger is only 5 millimeters thick, and it's made of durable aviation aluminum. It features an LED light that glows to signify the charging progress, and it's compatible with various phones (along with AirPods). The platform is available in many different metallic shades, and the charging adapter isn't included.
36% off a 3-pack of space-saving pants hangers
Maximize space in your closet with these clever S-type pants hangers. Made from sturdy stainless steel, the zig-zag hangers can accommodate up to five pairs of pants each, so you can hang up to 15 pairs total. They've earned a 4.4-star overall rating after more than 16,000 reviews.
34% off a Shark robot vacuum
Today only, you can snag a Shark robot vacuum at an unbeatable price. The Wifi-enabled vacuum can be controlled with both Amazon Alexa and Google Home, or simply with your phone, and it even re-docks and recharges itself when it's done cleaning. It can be used on both carpet and hard floors, and it's capable of picking up everything from pet hair to larger messes.
56% off Sony noise-cancelling headphones
With a 4.4-star overall rating after 11,000 reviews, Sony's noise-cancelling headphones let you listen to music and take phone calls without any distraction. The wireless headphones play for up to 35 hours on one charge, and they're smart assistant-compatible.
40% off a best-selling Shark vacuum
With more than 24,000 Amazon ratings (and counting), this best-selling Shark vacuum is a total workhorse. It has an extended hose that you can use to reach all those hard-to-reach spots and a pop-out canister that can easily go up and down stairs. The whole thing weighs less than 14 pounds for the easiest maneuvering. Plus, it can handle everything from plush carpets to hardwood floors.
65% off this robot vacuum for hard surfaces & carpets
Cleaning house just got so much easier, thanks to this robot vacuum that's earned a 4.3-star overall rating after 6,700 reviews. Suitable for use on both hard floors and carpets, it's Alexa- and Google Home-compatible, and can also be operated from an app on your phone. It's on major sale, so get it while this deal lasts.
24% off this 10-pack of reusable dishcloths
Reusable, eco-friendly, and ultra-absorbent, these Swedish dishcloths can be used to wipe down so many things. They dry fast to ward off odors and they are even machine washable. You get a pack of 10 for a really great price — but act fast. This deal won't last long.
26% off this highly rated Shark vacuum mop
With over 12,000 five-star ratings on Amazon, this Shark vacuum/mop hybrid comes extremely highly rated by your fellow shoppers. You can get it for a steal of a price for a limited time only, and it comes with everything you need to get started, like 12 disposable pads and a bottle of the brand's VACMOP cleaning solution.
75% off this silk sleep mask
Made of luxurious 100% silk, this lightweight sleep mask is gentle against the skin while the adjustable strap keeps it in place. Choose from solid colors or a few patterns, and when it comes time for a refresh, it's easy to hand wash.
50% off an air purifier with glowing reviews
This compact air purifier uses a top-of-the-line HEPA filter to remove over 99% of pollen, dust, and dander. It refreshes entire rooms in just about an hour, with whisper-quiet functionality that won't disturb light sleepers who want to leave it on overnight. If you prefer more control, there are multiple speeds and settings — from set timers to aromatherapy — and a small light comes on to let you know when it's time to change the filter. Small yet mighty, it has 4.5 glowing stars from Amazon shoppers.
19% off this outlet extender with USB ports
Plug in all your devices at once with this handy extender. There are six outlets, two USB ports, an LED night light around the edges, and the brand promises 3-level surge protection. And with 43,000 reviews and 4.7 stars, it's a popular choice.
50% off this robot vacuum that empties itself
Why get a standard robot vacuum when you can get a self-emptying robot vacuum that runs on its own for up to 45 days? It works on hard floors as well as carpet, while the app controls and advanced mapping technology keep things efficient. With over 1,000 five-star reviews, buyers are convinced.
30% off a heavy-duty sewing machine
The Singer Heavy-Duty Sewing Machine is nearly all-purpose and can sew quickly through heavyweight fabrics using any of its 23 stitches. This bundle contains the machine, a blind hem foot, an all-purpose foot with spring assist, a sew easy foot, and a clear open toe foot, as well as bobbins, needles, and other notions you'll need to get started.
20% off this comfortable seat cushion
If you're looking to make your everyday chair more comfortable, this seat cushion that uses both gel and memory foam should come in handy. It has a nonslip bottom for stable seating, a machine-washable cover, and even a handle for easy carrying.
25% off a handheld milk frother
Create cafe-style lattes, cappuccinos, frothy hot chocolates, and more with this best-selling handheld milk frother. It has thousands of fans on Amazon who say it works really well with alternative milks, too, and it's the #1 bestseller in its category.
87% off this best-selling citrus squeezer
Make lemonade out of lemons with this aluminum citrus squeezer that is the number-one bestseller in manual juicers on Amazon. It can be used on other small fruit too like limes or kiwis.
36% off this hardside luggage
This carry-on sized hardside spinner luggage by Amazon Basics features a scratch-resistant hard shell so you can be sure your items will travel securely. This suitcase is plenty roomy though, thanks to the expandable zipper and interior that features a divider and three zippered pockets. With over 25,000 reviews and a 4.7-star average rating, this bag proves you don't need to break the bank to have a great piece of luggage.