Vin Diesel's Dumbest Sci-Fi Movie Is Also His Most Fascinating
What happens when a single movie tries to be three films at once?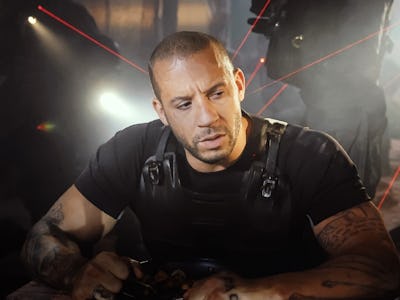 20th Century Fox
The escort mission is a classic storytelling trope. From True Grit to The Last of Us and The Mandalorian, the bond between a gruff soldier for hire and the small but special character he's assigned to protect is a surefire way to turn a story from good to great.
In 2008, this theory was put to the test with a baffling Vin Diesel sci-fi movie that managed to combine the escort trope with religious capitalism, dystopian cybernetics, and artificial intelligence to create a disjointed, abortive attempt to launch a brand new science fiction universe.
Babylon A.D. was the passion project of French director Mathieu Kassovitz, who wanted to adapt Maurice G. Dantec's 1999 novel Babylon Babies. It follows Toorop (Vin Diesel), a mercenary hired by a mobster (Gerard Depardieu) to deliver a young girl named Aurora (Mélanie Thierry) to New York.
Toorop picks Aurora up in a Mongolian convent, where her guardian, Sister Rebeka (Michelle Yeoh), joins the team. As they try to safely navigate overpopulated dystopian slums, Aurora starts exhibiting unexplainable powers. She can sense danger, read minds, and speak more than a dozen languages, leading Toorop to realize he's in over his head.
The direction of Babylon A.D. is impressive, everyone in the cast gives their all, and the large budget is obvious from the get-go. An interesting script explores the ethics of creating human life and the manipulation of religious miracles. And the action alone makes the movie worth watching: you don't combine the talents of Vin Diesel and Michelle Yeoh without getting some truly stellar combat.
So why is Babylon A.D. resting at a cool 7% on Rotten Tomatoes? We'll answer your question with a question; is Vin Diesel the man you turn to for a hard look at religion's role in society? The movie can't decide if it wants to be a parkour action adventure, a dystopian social satire, or a takedown of religious oligarchism. It tries to do everything at once, which makes for a messy but fascinating viewing experience. It's a tangled knot of ideas that are glanced at and then abandoned, but quantity almost starts to make up for quality.
Maybe Kassovitz bit off more than he could chew, but he had so many issues with 20th Century Fox muscling in on his plans that documentarian François Régis Jeanne got an hour-long film about the creation of Babylon A.D. And even if you don't speak French, the chaos borne from Kassovitz vainly trying to make the film he wanted to is obvious.
In the opening scene, he apologizes to his crew for failing to get out of a compromised project. Later, filming gets so hectic that Vin Diesel has to stop and deliver a monologue that feels like he let Dom Toretto take over for a bit to raise crew morale. "We're all in this together," he says. As a viewer, it feels like you're battling through the movie right alongside him.
There's no way to know what Kassovitz's true vision of Babylon A.D. would look like. He hasn't directed a movie since 2011, and Babylon A.D. was his last Hollywood project. But his penultimate film is a manic creation with enough ambition and variety to see that it was meant to be the start of something bigger. Instead, it became a case study of how a project can become too big to succeed.
To quote assistant director Antoine Charreyron in Making of Babylon A.D., "Everyone wanted to make a good film, but nobody made it in the same way, really."