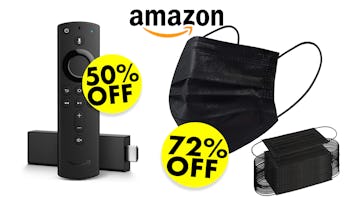 Culture
The best, most deeply discounted deals from Amazon's Cyber Monday sale (50-85% off)
We only recommend products we love and that we think you will, too. We may receive a portion of sales from products purchased from this article, which was written by our Commerce team.
Cyber Monday 2021 is here and it's heralded in some of the best deals yet. But with so many chances to save, where do you even begin? Fortunately, BDG's Commerce editors are working around the clock to unearth all the deepest discounts on Amazon's top-rated products.
Not a Prime member? Click here to sign up for a 30-day free trial of Amazon Prime.
Of course, while you chip away at your holiday shopping list, it doesn't hurt to add a few things to your cart just for you. Smart home accessories, TVs and gaming consoles, and outdoor gear are all marked down right now. Plus, all the items below have been selected by our editors for being worth the hype — so don't miss your chance to lock in the savings (all from the comfort of your couch).
Keep checking back regularly because new deals are constantly being added.
60% off these best-selling touch-up razors
These Schick Hydro Silk Touch-Up razors are so handy. Not only are they perfect for grooming and shaping your brows, but you can also use them for dermaplaning (aka removing all the peach fuzz off your skin so your makeup glides on more smoothly). Right now, these cult-favorite tools, which boast over 100,000 Amazon reviews, are being sold in a pack of three for a bargain price.
63% off a hot air brush that's garnered 312,000+ reviews
When it comes to hair tools, the Revlon One-Step is an MVP that's garnered a 4.6-star overall rating after 312,000 reviews(!). The two-in-one hairdryer and styler amps up the volume, but doesn't damage hair. Grab this, and you can look like you had a salon blowout every single morning.
46% off a 100-pack of 3-ply face masks
With three layers of filtration, these soft, breathable masks have over 33,000 reviews and 4.7 stars, making them Amazon's choice for black, disposable face masks. And with a pack of 100, they'll last you a while.
50% off this AncestryDNA kit
This AncestryDNA kit has a 4.7-star rating on Amazon and is available at a deep, deep discount right now. In addition to helping you find out your ethnicity and build out your family tree, this kit also includes over 35 genetic traits, so you can really discover more about your origins.
53% off KN95 masks
Breathable and with a filter efficiency of 95%, KN95 face masks have become a standard in safety. The 3D structure is designed to fit snugly along the sides while giving your nose space, and an adjustable nose clip ensures security. Nearly 1,600 people give this mask 4.6 stars, so you'll be sitting pretty with this 50-piece count.
70% off the Echo Auto smart assistant for your car
Outfit your car with Alexa smart assistant technology with the Echo Auto. You'll be able to stream music, set reminders, ask to hear the news and more — all with simple voice commands. You can also select an option that comes with six months of free Amazon Music Unlimited.
47% off a cozy 5-pack of wool socks
These cozy socks are made with a breathable blend of wool, cotton, and polyester, and they've racked up nearly 14,000 perfect ratings on Amazon. They come in a convenient multipack with five different colors, so you'll have one for each day of the week.
51% off these iPhone charging cables
Tired of iPhone charging cables that don't last? That won't be a problem with these super durable 10-foot lightning cables from CyvenSmart, which are made from strong copper wire covered in braided nylon and have an additional protective layer near the ends of each cable. The cords are MFi-certified to work with Apple products, and Amazon reviewers are big fans, with more than 24,000 reviewers giving them an overall rating of 4.6 stars.
44% off this 2-pack of luxe satin pillowcases
With more than 55,000 Amazon ratings, this set of satin pillowcases has earned legions of fans — and for good reason. The pillowcases feel silky soft and look incredibly luxe. Your skin will be convinced these are real silk, but thanks to their durable satin-polyester construction you get the feel of silk with none of the fussy washing instructions.
50% off Micro USB cables
Keep your Android devices (and others) fully charged with these Micro USB cables, which have earned over 26,000 reviews and 4.6 stars. The 6-foot cables are braided for durability while the oxygen-free copper wire offers high-speed data transmission. Each pack comes with three different colors.
54% off a 5-pack of white KN95 face masks
Suitable for daily travel protection, SupplyAID's KN95 face masks protect respiratory health with 95% filter efficiency. This 5-pack is ideal for stashing in a backpack, purse, or glove compartment so you always have freshies on hand. Over 75,000 reviewers give these an impressive 4.5-stars.
43% off the Instant Pot Duo Plus
Get this cult-favorite kitchen appliance while it's on sale and make meal prep easier for years to come. The Instant Pot Duo Plus has a 6-quart capacity and nine functions ranging from sous vide to slow cook, which is why it's Amazon's best-selling electric pressure cooker.
57% off a no-contact thermometer
This touchless thermometer takes quick and accurate temperature readings with the touch of a button. It runs on AAA batteries, which are included, so you can use it anywhere — and if you click the coupon box, you can save an additional 15% off.
57% off an ultra-popular concealer
This Maybelline multi-use concealer goes on smooth and comes in 18 different shades so you can easily find your perfect match. It's a cult-favorite beauty product on Amazon with more than 42,000 reviews and a 4.4-star rating, and you can snag it for cheap while it's on sale.
67% off a magnetic eyelash kit
These magnetic eyelashes make applying falsies easier than ever. It comes with five sets of lashes in varying lengths, magnetic eyeliner (so you don't have to worry about messy glue), and a handy application tool.
67% off a 3-pack of medicated lip balm
Winter is the season for dry lips, which is why it's a great time to stock up on a three-pack of Blistex lip balm. This moisturizing beauty product is a classic for a reason: dimethicone is used to moisturize lips and add a layer of protection from the elements, which is why this lip balm has over 20,000 five-star reviews on Amazon. As a bonus, this lip balm also has an SPF of 15, because you need to protect yourself from the sun all year long.
58% off a 6-pack of soothing aloe hand soap
Stocking up on basics like this six-pack of hand soap is always a good idea when sales start. This one is formulated with soothing aloe vera and is paraben and phthalate-free. With a near-perfect, 4.8-star overall rating after 38,000 Amazon reviews, this best-selling soap is tried and true, and will leave your hands feeling fresh, soft, and clean.
40% off adidas Cloudfoam running shoes
Snag these cute and comfy adidas Cloudfoams at a super discount. The breathable, stretchy mesh uppers are ideal for workouts and running, or just being comfortable all day long. Reviewers rave over them, with nearly 53,000 fans giving them 4.6 stars.
50% off the 23andMe Health + Ancestry Service: Personal Genetic DNA Test
This 23andMe ancestry kit has helped thousands of people discover their heritage and health background (just take a look at the 27,000 Amazon reviews and 4.7-star overall rating). Not only does this kit give you a snapshot at your ancestry composition, but it also flags any genetic predispositions you may have toward health concerns and diseases.
60% off Gold Bond healing hand cream
This nourishing Gold Bond hand cream is formulated with seven moisturizers and vitamins A, C, and E to help hydrate skin and prevent moisture loss. The fast-absorbing cream has a light, fresh scent, and it's backed by a 4.8-star overall rating after more than 12,000 reviews.
43% off a 6-pack of heavy-duty packing tape
Featuring more than 63,000 ratings and an overall 4.8 stars, this clear 3M shipping tape has strong adhesive that's designed to stay put on all kinds of boxes. Now's a good time to stock up on the popular tape, too — this six-pack of rolls and dispensers is steeply discounted.
57% off a 10-pack of mechanical pencils
Available at a deeply discounted price, these mechanical pencils by BIC are a steal. Each pencil is equivalent to two-and-a-half wood case pencils, and the #2 lead doesn't smudge as you write. The pencils have earned more than 5,000 reviews and a 4.8-star rating on Amazon.
55% off a 3-pack of scissors
With a 4.8-star overall rating on Amazon along with over 40,000 ratings, this popular three-pack of safety scissors is a great buy. They have sharp stainless steel blades, and comfortable handles that are coated with soft material for pain-free cutting.
42% off this 298-piece first aid kit
Emergencies can feel a little less daunting when you have the right essentials on hand. With over 298 pieces (bandages, gauze, scissors, disposable gloves, aspirin, and more) this #1 best seller in first aid kits has clear plastic pockets and zips up for use on the go. Plus, there are over 50,000 reviews and a 4.8-star rating, touting the combination of "price, portability, and product variety/quantity."
61% off a 3-pack of Scotch Magic tape
Stock up on office supplies with this three-pack of Scotch tape, which is majorly discounted right now. Each dispenser comes with clear tape and a blade for easy cutting, so you can quickly put together projects, mend documents, and more.
51% off a 12-pack of colorful felt-tip pens
Amazon reviewers are passionate about these Paper Mate pens, raving that "they are bright, bold, don't bleed through, and you can see all of them (even the yellow and pink)." The felt tip pens have a medium fine point and come in an array of cheerful colors that write so smoothly without smudging. They have a whopping 4.9 stars on Amazon overall, from more than 34,000 reviews, and now that they're on sale, there's never been a better time to stock up (whether you're a student, artist, planner or bullet journal enthusiast).
64% off this 4-pack of InkJoy gel pens
These fan-favorite InkJoy Gel Pens glide like butter across the page, but that super-smooth formula dries three times faster than competing gel pens, so the ink never smears or smudges. All four pens in this pack boast medium points and crisp, jet-black ink. Pick up this office essential at a serious discount while supplies last.
48% off a 20-pack of black KN95 face masks
Individually wrapped for on-the-go convenience, these KN95 masks offer an incredible five layers of protection that's easy to toss in a bag so you always have a clean one spare. They're designed to provide extra breathing room around the mouth and nose while packing down flat, with an adjustable nose clip and elastic ear loops for a comfortable yet secure fit.
64% off the Echo Dot with a bonus smart light bulb
There's a seriously deep discount on Amazon's Echo Dot, the smart speaker with a 4.7-star overall rating. Use this to stream music, check the news, or control things around your home with the use of your voice. This bundle comes with a Bluetooth-enabled lightbulb, which you can connect to your Echo Dot to turn on your lights from afar or change lighting colors, so you'll be well on your way to a smart home.
50% off a wildly popular digital thermometer
This digital meat thermometer takes the guesswork out of meal prep by providing accurate temperature readings in seconds flat without cutting into your food. It folds up compactly when not in use, and features a magnet on the back for seriously convenient storage. Over 95,000 shoppers gave it 4.6 stars for being simple yet brilliant, with an easily read LED screen that saved so much hassle.
55% off this best-selling bra
Over 28,000 reviewers love this wire-free bra, raving that it's "super comfortable" and the lining is "just thick enough to give a smooth appearance." From XS to XXXL and 17 colors, there are also a lot of options. One fan went so far as to say, "best bra I've ever worn."
46% off a clothing steamer
Over 13,000 Amazon shoppers love this handheld garment steamer. The steamer heats up in just 90 seconds, so you can quickly smooth out to wrinkles in shirts, suits, or other fabric.
52% off these super-popular blackhead removers
Why does this extractor set have 35,000-plus reviews and 4.5 stars? The stainless steel tools are double-sided and designed to remove blackheads and pop blemishes with minimal skin damage — and way fewer germs than your fingernails. All of it comes in a sleek leather pouch, too.
87% off a shaving powder with 16,000+ reviews
Get a smoother shave with this shaving powder specifically meant to reduce shaving bumps. Use while shaving your legs or facial hair without irritation. With over 16,000 reviews on Amazon, this powder is a fan favorite.
70% off these Hanes joggers
Joggers are one of the most versatile pieces of clothing you can get your hands on. You'll be reaching for this pair from Hanes for lounging, yoga, errands, and so much more. They're machine-washable so you can wear them basically every day, and are available in four colors.
47% off a cult-favorite liquid foundation
Maybelline's Fit Me foundation has earned its place in the drugstore foundation hall of fame. Its lightweight formula is great for everyday wear, and leaves a medium-coverage, matte finish that's easy to match to your skin tone, thanks to the 40-color shade range. With 72,000 Amazon reviews and a glowing, 4.5-star overall rating, this foundation is tried and true — and majorly discounted while sales last.
50% off an Amazon Fire Stick with Alexa
This Fire TV Stick comes with an Alexa-enabled remote, so you don't even have to press a button to stream your favorite shows. It boasts over 56,000 perfect five-star ratings on Amazon, and can stream in full HD.
48% off a pack of 18 ballpoint pens
Score this 18-pack of popular retractable ballpoint pens from Zebra while they're seriously on sale. They have ergonomic soft grips, so they're comfortable enough for long writing sessions, and boast an overall 4.6-star rating from over 20,000 Amazon shoppers.
62% off a 5-pair set of cubic zirconia studs
These stud earrings made from Cubic Zirconia sparkly just like diamonds, and there are thousands of positive ratings on Amazon to back it up. They posts and backings are lead-free, making them a solid choice for those with sensitive skin.
66% off this makeup brush set with a vegan leather bag
With elegant walnut wood handles, this kit with 15 makeup brushes has everything you need to shade and line in style. Plus, it has earned an impressive 4.6-star overall rating after more than 4,000 customers have weighed in, so you know it's a high-quality pick. The bonus vegan leather bag makes it super easy to travel with or stash away.
46% off a calming weighted blanket
The best-selling YnM weighted blanket has 26,000 Amazon reviews and a 4.6-star rating because it's considered a great value under normal circumstances — but right now, you can grab its calming glass beads and seven-layer structure for less than $50.
71% off a supportive wire-free bra
Instead of wires and loads of padding, this Bali Comfort Revolution bra uses knit-in zones and foam cups. Over 13,000 reviewers have awarded it 4.2 stars because it's "super comfortable" yet "actually delivers" in terms of coverage and support. It also has thick, non-slip straps and an adjustable hook-and-eye closure.
54% off these vibrant drawing pens
Add vibrance to your writing and drawing projects with this extensive set of colored pens. They come in 36 colors and are made with water-based, acid-free ink. Their 0.4-mm fine tips make them a great choice for journaling and drawing detailed lines.
57% off this mini smart plug
This small smart plug easily syncs with your Google Home or Alexa-compatible device to turn your space into a smart home. Plug in your lamps, coffee maker, or tech to this plug and ask your smart assistant to turn on the plug. Your technology or appliances will turn on like magic. This smart home accessory has garnered 27,000 Amazon reviews and counting and a 4.6-star overall rating for a simple reason — it works so well.
35% off a kitchen scale
For precise recipes, this digital food scale clearly displays an accurate weight for any food you put on it no matter what you're measuring. The easy-to-read digital screen zeros out at the touch of a button, so you're ready to move from ingredient to ingredient. With 117,000 Amazon reviews (not a typo!) and a 4.6-star overall rating, this kitchen tool is as useful as it is beloved.
44% off these Venus razor blade refills
Stock up on these Gillette Venus ComfortGlide razor blade refills while this sale lasts. Sold in a pack of six, each blade refill is packed with moisturizing body butter and has a refreshing tropical scent. Plus, they're individually sealed for easy storage.
47% off these absorbent microfiber hair towels
Dry your hair quicker and more efficiently with this lightweight, microfiber towel two-pack. It's easy to put on, stays in place, and works for any amount of hair (for men, women, or kids), whether fine or thick. Plus, there are a variety of color combinations, over 38,000 reviews, and a 4.6-star rating.
53% off a highly rated electric toothbrush
With more than 10,000 five-star reviews, this Oral-B electric toothbrush is a well-loved pick. It features six cleaning modes and is rechargeable. Each order comes with two heads, but this model also works with any Oral-B brush head, if you'd prefer a different shape later on.
69% off a toothbrush that gives feedback on your brushing
Your teeth will get a deep clean with the five brushing modes of this highly rated Oral-B electric toothbrush. Plus, there's a timer that lets you know when to switch areas of the mouth, a sensor to tell you when you're brushing too hard, and connection to your smartphone for feedback on your brushing habits. And it comes with a travel case so you can bring it wherever you go.
50% off an Amazon Fire TV Stick 4K with Alexa
The Amazon Fire TV Stick 4K is compatible with Alexa, so you can browse among over 1 million movies and TV shows across several streaming platforms with just the sound of your voice. And hundreds of thousands of reviewers rave about this remote's upgraded model: "It's faster than previous fire sticks," one customer reported. "Things are smoother and faster overall."
50% off this wildly popular Calvin Klein bralette
Now is the time to score this popular Calvin Klein bralette for half off. The pullover racerback is available in 32 colors and made from a blend of breathable cotton, ultra-soft modal, and elastane for a comfortable stretch. Find out why it's earned more than 20,000 reviews and a 4.5-star rating on Amazon.
49% off no-show athletic socks
This six-pack of no-show socks has a 4.6-star rating on Amazon. Why? The moisture-wicking, air-mesh venting fabric keeps these breezy and dry, while the smart design of these socks allow for light compression and cushiony support. These are basically everything you could want in a sock, making now a great time to stock up.
58% off a 5-pack of cotton Calvin Klein underwear
With 13 color combinations, packs of five or seven, and sizes ranging from extra-small to extra-large, this pack of soft, cotton bikini underwear comes with a lot of options. Many reviewers love the comfortable fit and breathable material. Plus, the collection has over 7,000 positive ratings.
57% off a LifeStraw water filter
From camping to traveling to emergency prepping, the LifeStraw is a favorite with Amazon reviewers and backed by 4.8 stars after more than 80,000 reviews. The filtering membrane is easy to use and effective, removing 99.99% of parasites and bacteria like E. coli and salmonella, and all you have to do is drink through it. Get two with each order.
53% off this best-selling crossbody bag
Despite the low price, 16,000 reviewers have awarded this crossbody bag a 4.7 overall rating. You can get it for even cheaper today, so you can enjoy the roomy interior, adjustable strap, stylish tassels, multiple pockets, and faux-leather exterior in your choice of countless colors.
48% off an exfoliating CeraVe cleanser
A cult-favorite from the tried-and-true brand CeraVe, this cleanser is packed with salicylic acid, niacinamide, and hyaluronic acid, to exfoliate and cleanse your skin. This fragrance-free and non-comedogenic formula is for normal skin types, but many reviewers of all skin types find this drugstore favorite to be an essential part of their skin care routine. Snag it for less while sales last, and clip the coupon at check out for even more savings.
40% off luxurious Turkish cotton towels
Snag these number-one best-selling bath towels on Amazon, which come in multiple different colors. Their 100% Turkish cotton construction has earned 29,000 reviews and 4.5 stars because it's soft, plush, absorbent, and luxurious.
55% off this highly rated soft tape measure
Small but mighty, you'll be shocked by how handy this 60-inch tape measure will be. It's the number-one best-seller on Amazon, and with a 4.8-star overall rating after nearly 40,000 customers have weighed in, it's a tried-and-true option. The vinyl material is soft, so it is easy to use on clothes and more.
50% off the Amazon Fire HD 10 tablet
Majorly discounted right now, this ad-supported Fire HD 10 tablet has racked up over 180,000 positive reviews on Amazon, and for good reason. The wildly popular tablet has a 10.1-inch HD display and comes with your choice of 32 or 64 GB of storage. It boasts an improved battery life so you can read, listen to music, stream videos, or just poke around on the internet for up to 12 hours on a single charge.
59% off a pack of 24 stud earrings
This highly-rated stud earring set has every basic you could need, from demure pearls to sharp geometric studs. They're made in part from silver, and most reviewers considered them effectively hypoallergenic. Get the full set in both silver and gold right now for a song while the sale lasts.
47% off a sewing kit
This handy kit neatly holds all the tools needed for basic sewing repairs — there are needles, threads, scissors, buttons, a thimble, and more. Reviewers are big fans of this convenient little set, and 25,000 of them rate it 4.6 stars.
47% off the Echo Show 5
Consider the Echo Show 5 your best personal assistant yet: it puts you in control of compatible smart devices like lights and cameras while serving as a streaming device, phone, alarm clock, and more. You can even use it to display photographs.
69% off a 3-pack of wireless sports bras
Whether you're hitting the gym or just lounging around, a good sports bra is essential. This wirefree sport bra 3-pack has got you covered with a variety of cross straps, colors, and sizes S to 3XL. Reviewers say it offers "the perfect amount of support" for every day use and doesn't feel too tight or constricting.
50% off makeup-removing cloths
Just add water to this reusable cleansing cloth to remove makeup and reduce waste. Reviewers say that it's suitable for sensitive skin and even works on waterproof mascara. This microfiber cloth is Amazon's Choice for facial cleansers, and beauty aficionados agree, as it boasts almost 5,000 reviews and has a 4.5-star rating.
51% off Beats wireless noise-cancelling headphones
Whether you're listening to your favorite music or cancelling out the noise around you, these Beats wireless headphones are the way to go. With an average rating of 4.7 stars, headphones are rechargeable with up to 22 hours of battery life.
50% off the Echo Dot with Alexa
Get the third-generation Echo Dot smart speaker for an impressive 38% off right now. This small-but-mighty Alexa-enabled speaker boasts an impressive 4.7-star rating from over a million Amazon shoppers who say it's super useful.
45% off e.l.f. concealer (19 shades available)
Snag this fan-favorite concealer for an unbelievable price while it's on sale. It comes in 19 different shades, so it's easy to find one that works for you, and boasts over 13,000 five-star ratings on Amazon. Fans love that the creamy formula really does last all day.
39% off a 2-pack of blue light-blocking glasses to prevent eyestrain
Amazon's Choice for blue light blocking glasses, these specs have earned a 4.3-star overall rating out of a whopping 87,000 ratings total. These chic-looking glasses can help reduce eyestrain from digital screens and fluorescent lights; and they come in packs of two, so you can keep one at your desk and one on your night stand.
55% off a multi-colored smart light bulb
With an overall rating of 4.7 stars on Amazon, from more than 9,500 reviewers, it's clear that this Kasa smart bulb is a must-have. The bulb can shine in a bunch of different colors and brightness levels, and you can use a smartphone app, Alexa, or Google Assistant to change settings or even put your lighting on a schedule.
57% off this facial tool set made from real jade
Any beauty aficionado would appreciate this jade roller and gua sha set that's earned a 4.6-star overall rating after 29,000 reviews. Running the tools along the face helps stimulate circulation and tighten and firm skin by boosting collagen and elastin production.
48% this Eucerin cream that soothes red, irritated skin
Reduce redness and calm irritated skin with this overnight cream from Eucerin. Formulated with soothing licorice root, it's fragrance- and dye-free and non-comedogenic, making it a great choice for sensitive skin.
56% off these Sony noise-cancelling headphones
With a 4.4-star overall rating after 11,000 reviews, Sony's noise-cancelling headphones let you listen to music and take phone calls without any distraction. The wireless headphones play for up to 35 hours on one charge, and they're smart assistant-compatible.
65% off this robot vacuum with smart assistant compatibility
Cleaning house just got so much easier, thanks to this robot vacuum that's earned a 4.3-star overall rating after 6,700 reviews. Suitable for use on both hard floors and carpets, it's Alexa- and Google Home-compatible, and can also be operated from an app on your phone. It's on major sale, so get it while this deal lasts.
50% off the Fire HD 8 Tablet
With an impressive 12-hour battery life, the Amazon Fire HD 8 Tablet is perfect for watching movies, reading books, browsing the web, and staying in touch with friends. This portable entertainment system is available for an outrageous discount while sales last.
87% off a metal lemon & lime squeezer
Make lemonade out of lemons with this aluminum citrus squeezer that is the number-one bestseller in manual juicers on Amazon. It can be used on other small fruit too like limes or kiwis.
55% off Levi's jeans
A pair of jeans is a key item every wardrobe needs, and these best-selling Levi's come in different washes and lengths. The cotton-blend fabric has a touch of spandex, so they'll feel as comfortable at 8 p.m. as they do at 8 a.m.
60% off a vegan eye cream
Now is the time to score this popular anti-aging eye cream for half off. The vegan formula includes provitamin A and B5, vitamin C ester, and vitamin E; it's also free of artificial fragrances and colors, parabens, and phthalates. The cream is designed for all skin types, including sensitive skin.
25% off this 3-piece Samsonite set
Be prepared on your next trip with this versatile Samsonite luggage set. With an average rating of 4.5 star reviews from Amazon shoppers, this set comes with three hard-shell suitcases and lightweight rotating wheels.
45% off this skin-firming massage oil
Boasting a 4.4-star overall rating after 48,000 reviews, this massage oil is infused with collagen and stem cells to help tighten and firm skin. The lightweight formula won't leave residue behind, and it's scented with invigorating grapefruit and lemon essential oils.
75% off this silk sleep mask
Made of luxurious 100% silk, this lightweight sleep mask is gentle against the skin while the adjustable strap keeps it in place. Choose from solid colors or a few patterns, and when it comes time for a refresh, it's easy to hand wash.
50% off an air purifier with a HEPA filter
This compact air purifier uses a top-of-the-line HEPA filter to remove over 99% of pollen, dust, and dander. It refreshes entire rooms in just about an hour, with whisper-quiet functionality that won't disturb light sleepers who want to leave it on overnight. If you prefer more control, there are multiple speeds and settings — from set timers to aromatherapy — and a small light comes on to let you know when it's time to change the filter. Small yet mighty, it has 4.5 glowing stars from Amazon shoppers.
46% off this fan-favorite detangling brush
This detangling brush works wonders on wet or dry hair, removing knots and tangles without hurting your scalp or damaging your hair. It'd be an understatement to say this is a fan favorite: After 50,000 Amazon reviews, this brush has a glowing, 4.4-star overall rating. If you act fast you can get this hair care game-changer for a super low price while sales last.
50% off a self-emptying robot vacuum
Why get a standard robot vacuum when you can get a self-emptying robot vacuum that runs on its own for up to 45 days? It works on hard floors as well as carpet, while the app controls and advanced mapping technology keep things efficient. With hundreds of five-star reviews, buyers are convinced.
51% off this soft & stretchy bralette
This Calvin Klein triangle bralette is made with a cotton, modal, and elastane blend for a soft, stretchy fit, and it comes in three color combinations. The bra secures with a simple hook and eye and has lightly padded cups for added comfort and coverage.
53% off a ceramic flat iron that reduces frizz
Get shiny and frizz-free hair fast with this classic ceramic flat iron by CHI. Its 1-inch plates instantly heat up to 392 degrees to straighten or curl tresses without leaving them dry or damaged. The hairstyling iron has earned more than 8,000 reviews and a 4.5-star rating on Amazon.
60% off these high-waisted biker shorts
These popular bike shorts have a comfortable high-waisted silhouette, and are made from a silky soft fabric that's designed to help keep you cool. The best part, though, is the fact that these shorts have large side pockets big enough to hold a smartphone. They boast an average 4.7-star rating on Amazon from thousands of shoppers.