Pixar's Andrew Gordon on How He Explains What Animators Actually Do
He doesn't exactly proselytize, but he teaches the metaphysics of the artificial world.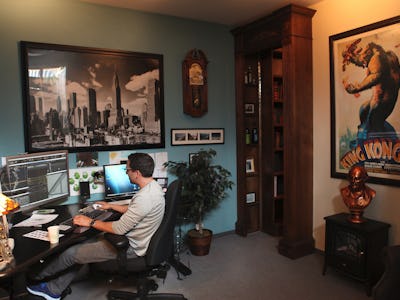 The following article by Victor Fuste originally appeared on Zerply, the platform for finding creative production talent.
You've been a professional animator at Pixar Animation Studios for almost 20 years, but you spend your free time sharing your knowledge of animation in various educational settings. How long have you been doing the VanArts Masterclass program and where can people find your educational content?
I've always been interested in animation and education from an early point. When I was coming up, I had a hard time finding where to get the right information and I even ran into a little bit of misdirection from people suggesting things that just did not apply [to animation]. I always thought, 'If I'm going to do this, I'm going to do it the right way and provide the right information.' So I'm really passionate about teaching. For about 7 years, I taught at the Academy of Art University (in San Francisco) and many animators came out of that program. Then I helped start the animation program at CCA (California College of Arts), which started with 8 people and now they're at 175. I'm actually going back there next semester to teach one class. I enjoy doing the masterclasses because I find that there are a lot of places that just don't get animation education. It's nice to be places where people have not been to talk about specifically character animation and what it takes to make a character really come alive for a feature film and how can that be applied to other media.
That's why I do the masterclasses – I love getting out to different places and sharing. When I was just starting out,VanArts was a place that was called the Vancouver School of Animation and it was then that Alan Phillips started up a school called VanArts. He and I talked about doing a two day long class and then it morphed into different things. I started grabbing co-workers of mine who were in Story, some who were good at Character Design and we tried different things with it.
It takes a special kind of person who can take their expertise and make it accessible to people, especially to other professionals. It's a skillset unto itself and it's a really impressive thing to see someone who is an expert in a subject matter and also good at teaching.
Absolutely. Some people can be really good at what they do, but they can't articulate what they do. I try to find people who are good at both.
What's the trick to being a full time animator (who is subject to the demands of tight production deadlines) and finding the time to devote to education?
I'm fairly lucky in that Pixar is very good about supporting it. As long as you get your work done, it really isn't a problem. Some people might have some down time to go out and teach and travel the world, but I'm actually pretty busy most of the time here and it is admittedly a juggling act. You have to look for a window and just say, "Hey, I'm going to go do this." Bottom line is that you just have to want to do it. But it's not easy. Sure, you do have to make sure you go through all the proper hoops, but the company is pretty positive about wanting people to teach.
You've taught the Pixar animation internship quite a few times. What benefits do you see to the studio in having a structured internship program in place?
I've taught the animation internship four times at Pixar and it's been a great honor as well incredibly educational for me. We've had interns since we started here – even before – and I've been here almost 20 years. Interns are good because you're bringing people in that are fresh, that are learning. We don't look at it as "we have to hire these people." Whether they get hired or whether they leave, it's something that we believe is important for the industry to develop people's skillsets. If they go out and do something else, then that's fine. Yes, it's great if we can hire people that come out of the internship but that's not our main goal. It's more about how do we give back to the animation community, how do we train people coming out of school, how do we take risks on people that wouldn't normally get a chance? There are a lot of things that go into it and it also comes from a good place.
Additionally, I love having not only the skill training but also the chance to bring them into the fold culturally. They have full access to the company's internal stuff, they can go to screenings, they can see whatever anybody else can see for that 12 weeks. It's really amazing. I also love the idea of doing things like themed costumes and intern realated events – some people might call it "hazing", but it's more about having fun with them in such a way that makes them feel like they're part of the studio culture. In the past the interns have told me they enjoy the costumes and many of the other interns outside of the animation department are a little jealous .
If you had unlimited resources and time, what is your ideal internship program?
First off the internship program here at Pixar is great. But if I had to create another one, I really would love to do a film based one, where we work on a short film, where you can develop character. Twelve weeks doesn't give enough time to do that but with more time I would want to do a 3D Animated short.
What sort of things would you recommend for current professionals who are interested in teaching themselves? What resources and outlets are available for them?
Teaching focuses your skills in terms of directing other people so it's a really good thing for people who want to be a manager or lead. Your goal is to try to give clear feedback, so I recommend it for people that want to gain or improve that skill. For people that want to do it, offering your services to schools and places that teach animation is important. Many of the schools that teach animation, many of their teachers are not professionals and they just don't know the current skillsets required in the industry. There are some great teachers out there, but it's also nice to have the professionals who are in it every day because the knowledge is literally up to the second.
I recommend starting with a classroom first. Never, in my opinion, go to online teaching first. I would say get in front of a bunch of students. It's going to be hard – they're coming in with their own problems, you have to understand where they're at skillswise, you have to be patient.
There are a lot of different ways to teach. What is your area of expertise? What do you actually want to teach? What are you passionate about? It's tough. Lately, I've been talking more and more about story because I'm interested in that now and I'm trying to learn it. I've been trying to soak it up and I've been asked to do some lectures on story, so I'm going to do the best job possible by getting people to teach with me, learn the right topics and get the right materials. You end learning so much by teaching and a lot of it is picking up the right things. Animation is one of those things that has so many different layers of things you can teach, so you have to focus on the important things.
What recommendations do you have for professionals who are already established in one career path and who might be interested in doing a lateral move and shifting to a new discipline they're more passionate about?
The best thing to do is practice. You just need to get stuff on your reel that reflects what you really want to do. I think the best way to do that is to force yourself to take a class, participate in a challenge, or find any way to force yourself to just do the work. That's the hardest part. Otherwise you're not going to do it, you're just going to talk about it. For example, if tomorrow I said, "I want to be a story person," what would I need to do? I would have to make a short, maybe take some classes or find the right people and ask the right questions. We had a guy here who was a security guard and was learning animation on the side, showing people stuff and, lo and behold, he became an animator. He worked hard. Anybody can do it. I don't want to say it's brain surgery, but it is possible. That's what's exciting about it.
It sounds like it's a combination of time, dedication and persistence.
Exactly. Anything that's worth it takes time and persistence and there's no two ways about it. What's the phrase? "You don't know what you don't know." So you have to fail really hard in order to learn and I think that has to be a part of it. Knowing that you're going to fail at something, but knowing that you're going to get something out of it is key. It took me a while to figure that out.
Wrapping up, tell us a little more about your latest endeavor, AnimationMasterclass.net.
The idea of the site is to gather the best artists together to teach and customize workshops for people anywhere in the world. If somebody says, "I want Story, Character Design and Animation" for example, it's a tailored model that gets the right people out there to do these workshops. The other goal is to create some kind of community for the people who have gone to the classes. I want to make it so that once people go to one of the classes, you're now a part of this community where you can get feedback on work and get help.
Next year, we have a couple of masterclasses starting off. We're doing one in London on March 19-20, where I'm going to be teaching with Kyle Balda (director on Minions) and the other one is with Character Designer Chris Sasaki in Australia in February, a partnership with the Melbourne Institute of Technology.
To find out more about how to set up a masterclass with Andrew Gordon, please visit AnimationMasterclass.net.