Samira Wiley Has a Warning About 'The Handmaid's Tale'
The magnetic actress recognizes the real-life parallels.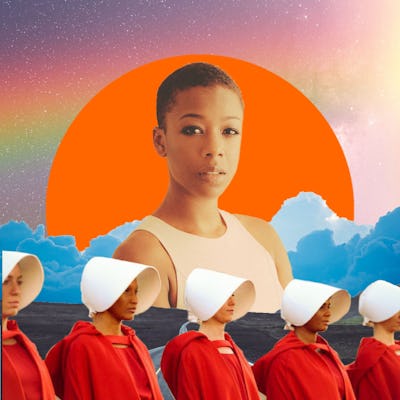 Natasha Chomko, aka POST-WOOK, for Inverse
As I'm sitting in the hallway outside a lower Manhattan hotel room, waiting for a publicist to call my name, Samira Wiley walks by. Even though someone in her entourage is chattering about something, she takes a moment to poke my shoe and say, "Don't you just love those!?"
"Oh, I am obsessed with my Allbirds!" I blurt out, not even realizing who's speaking to me at first. I laugh nervously and instantly realize that Wiley's a natural at this sort of thing. Promoting a show or movie can be exhausting, but she comes off as cheerful and charming. When I walk into the room a few minutes later, I'm greeted like an old friend. "It's you!" she says.
We spend half a minute talking about my animal print shirt: white with navy blue llamas. "My wife would freak out," Wiley says. "She loves animal prints! Where's that from?"
In person, Wiley — Moira on Hulu's The Handmaid's Tale and Poussey on Netflix's Orange is the New Black — is more Poussey than Moira. It's clear why both of the major roles she's played have been fan favorites.
Also read: To Avoid Gilead, We Have to Stay Informed About Our Country
Wiley first became a recognizable face with her breakout role as Poussey Washington on Netflix's Orange Is the New Black, the ensemble series inside a New York women's prison. Poussey was a fan favorite until her untimely death during a peaceful protest in Season 4. OITNB will end with Season 7 in just a few months. After leaving the Netflix series, Wiley found a new home on The Handmaid's Tale, Hulu's adaptation of the Margaret Atwood novel. Season 2 outpaced the book last year, and Season 3 is already forging new ground after the first three episodes premiered on June 5.
The Handmaid's Tale is a gripping cautionary tale of America gone horribly wrong. After fertility rates plummet around the world, an ultra-conservative Christian government takes control of America and establishes the new nation of Gilead. Fertile women are harvested as a resource and forced into sexual slavery as Handmaids. Wiley's character, Moira, went through a harrowing journey into freedom as a refugee in Canada by the end of Season 1 after being forced into becoming an unpaid sex worker.
"I don't worry about Poussey, because she's dead," Wiley told Nylon in a June interview. "But I do worry about Moira. I think about her in this really meta way where I wish she would just go to therapy."
In Season 3, Moira is still living as a refugee in Canada and desperate to help her friend June (Elisabeth Moss), the series protagonist, who is still trapped as a Handmaid in Gilead.
"Moira is not one to step back and not speak up, so I have gleaned a lot of that from just embodying her," Wiley tells me. Activism, sticking up for what's right, and refusing to back down are important lessons Wiley wants us to glean, both from The Handmaid's Tale and from Moira specifically.
Wiley's intensity increases when the conversation turns to how The Handmaid's Tale reflects reality. It debuted less than four months into the administration of President Donald Trump, and has often felt like a dark reflection of the themes that have resurfaced since Trump's campaign began four years ago this week. Gilead society, with its uniforms and caste system, feels impossible, and yet, as the series widens the scope of Atwood's original novel, we begin to see the darker possibilities. What might happen if similarly intentioned people gain increased control of the government?
"There seems to be something in each season that really connects with exactly what is going on [at that time]," Wiley tells Inverse. "Season 2: It was taking children away from their parents."
When Season 2 was still airing in June 2018, Trump's immigration policies actively separated immigrant children from their parents at the US-Mexico border and put them into "tender age" migrant shelters. That same season, Wiley's Moira struggled to adjust to life as a refugee in Canada, while June coped with losing her first daughter to Gilead. In the Season 2 finale, June made the difficult choice to send her second daughter to Canada, where she'd be safe while remaining in Gilead, with the hope of rescuing her first daughter, Hannah.
"You can use words like 'weird' or 'awkward,' but it's actually terrifying."
When both Gilead and the United States split up refugee families, the similarities are pulled into focus. Which one's the fictional dystopia?
"It is a scary, scary thing to be making a show that is supposed to be fiction and then opening your newspaper and seeing a headline that makes you go, "Wait, is this from the script?" It's really, really weird," Wiley, 32, tells me. "You can use words like 'weird' or 'awkward,' but it's actually terrifying."
The Handmaid's Tale Season 3 is perhaps the most prescient and terrifying volume yet, prompting Wiley, who lives in Los Angeles, and other members of the cast to speak out.
Season 3 premiered mere weeks after Georgia passed the anti-abortion "Heartbeat Bill," banning women from seeking abortions in any case where a doctor can detect a heartbeat. That's usually around six weeks, when many women aren't even aware of their pregnancy yet.
"This season is about women having the right to do what they would like to do with their own bodies," Wiley says.
Season 3 visits the heart of Gilead in Washington, DC, where the physical punishment for Handmaids is much more severe, and sadistic corruption runs far deeper than anywhere else.
"Season 3, out of all the seasons, really does show women understanding the strength they have in numbers, and understanding the strength that they have in having alliances across the caste system that is set up for them," Wiley tells me. "I sometimes see it even mirrored in our own society. There's this idea that, 'I'm better than you because of A, B, and C,' or, 'If you succeed that means I can't succeed.' This idea of scarcity, all of that."
Wiley hints at unification, saying that "those walls come crashing down a little bit this season."
Even in the first few episodes, we've seen this happening. The show's tone changes in Season 3 to one of inspiration and hope. Wiley hopes the Season 3 change in Handmaid's Tale also lines up with reality.
As a young actress, Wiley's aware of how her success has made her a role model, a responsibility she says she takes seriously.
"You can look like me, you can live a life like me, and not be at all ashamed. You can be proud."
"It being Pride Month, and this show being released now, I want to be able to be an example of someone who is living a life and is thriving because of who I am, not in spite of who I am," Wiley says.
"I'm a lot of minorities," Wiley says. She's a black, queer woman who's embraced her entire identity, and she encourages everyone to do the same. "I'm a part of a lot of marginalized groups that have been repressed and have been made to feel ashamed because of who they are.
"The thing that is most important to me is showing people that you can look like me, you can live a life like me, and not be at all ashamed. You can be proud."
The journey to becoming an out and proud queer woman always comes with challenge. Last year, Wiley revealed that an Orange Is the New Black co-star accidentally outed her before she had the chance to come out on her own terms. "I had a journey. I wasn't always super open-hearted," Wiley said on the Nancy podcast. "More specifically, that's something that somebody took from me. You should be able to come out on your own terms, so that was probably a little deeper."
Today, Wiley is happily married to her wife, Lauren Morelli, whom she met on the set of Orange Is the New Black in 2012. Morelli is a writer and executive producer on the series. The pair began dating in 2014, were married in 2017, and had their two-year anniversary in March.
Wiley grew up in Washington, DC, with two siblings and a pair of Baptist ministers for parents. They were the first ministers in the city to perform same-sex marriages, and their activism continues today. Her father, Dr. Dennis W. Wiley, offered testimony in front of the House Judiciary Committee to support the Equality Act, which would prevent discrimination based on sexual orientation or gender identity by amending the Civil Rights Act of 1964.
"It was emotionally overwhelming to watch," Wiley told Marie Claire of the experience. "Seeing him up there, putting our family's history on display unashamedly, made me just as proud of him as he is of me." And his daughter has done a lot he can be proud of.
After attending a performing arts high school in DC, Wiley enrolled in Juilliard and was working in the New York City theater scene when she landed her role on Orange Is the New Black at 25.
Now, she's an Emmy-winning actress who became the first queer woman of color to receive the prestigious Vito Russo Award at the GLAAD Media Awards last year.
Samira Wiley is vibrant and sunny in person, chatting about Allbirds and llama shirts, but when it comes to life's heavy topics, she speaks with the confidence of someone who knows what's right, as if by intuition.
"I have a responsibility to speak up — I don't want to speak to anyone else's views — but I definitely feel like if these are my beliefs, and if they're as strong as they are, then I have a responsibility to say something," she says.
Both of Wiley's major roles — Poussey from Orange Is the New Black and Moira from The Handmaid's Tale — are queer black women. "I have, so far, been bringing people to life that really do align with a lot of things that I think and believe," Wiley says. "I also think there's so much power in being able to bring a character to life that is completely different from the things that you are."
Wiley will take up a new role in Bios, a sci-fi film due out in 2020, opposite Tom Hanks. Her role was originally intended for a white man.
"He was initially a John Wayne, saves-the-day-and-gets-the-girl kind of guy," she told Marie Claire. "But I went in and showed them it was actually me they were looking for. I refuse to exist in a box."
When my time with Samira Wiley is up, I'm about to be led out of the hotel room when she stops me. "I really love the llamas," she says. "Can I check the tag?" Even after all the serious discussion of the future and the dark themes of The Handmaid's Tale, Wiley's still thinking about how she can brighten someone's day.
Samira Wiley is a member of the Inverse Future 50.