These Are the Best Waterpiks to Grab Online
Your dental hygiene game is about to level up.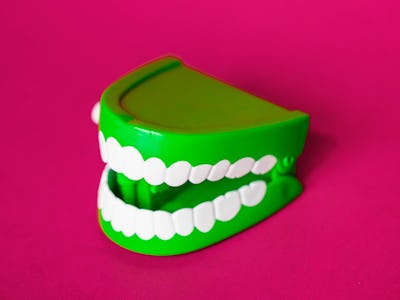 Flossing is a pain, both literally and figuratively. For years dentists have been trying to convince people of how essential flossing is, and for years we've heard how people still aren't flossing enough.
Fortunately, if you're not a fan of flossing the old fashion way, water picks are now affordable enough that you can ditch that dumb old mint-flavored string. We've put together some of the best water picks on the market right now so you can get those gums squeaky clean and finally make your dentist proud.
1. Waterpik WP-660 Water Flosser Electric Dental Countertop Oral Irrigator For Teeth
At the name suggests, Waterpik is synonymous with the water pick, and it's one of the best brands you can buy. The Waterpik WP-660 is a bit more advanced than your basic model and offers many settings and accessories so you can find what's best for you.
The WP-660 has ten pressure settings and comes with seven water flossing tips. The tank holds up to 90 seconds worth of water, and unlike basic models, the wand and tank are separate. This makes maneuvering to get in those hard to reach places even easier.
2. Panasonic EW1211A Dental Water Flosser / Oral Irrigator
IF you're looking for a cordless water pick, the Panasonic EW1211A is one of the best on the market. While you won't find the plethora of options a stationary model provides, you still get three pressure settings and interchangeable wands.
The Panasonic EW1211A is relatively compact, so you will find yourself refilling it often. The battery lasts 15 minutes on a full charge, which is adequate as long as you let it rest on the included charging stand when not in use. These disadvantages are a fair tradeoff given the portability and ease of use this water pick provides.
3. Ginsey Home Solutions ProFloss Waterflosser
The Ginsey Home Solutions ProFloss has a different mechanism than most water picks. Instead of having a reservoir of water and running off electricity, you hook the ProFloss up to your faucet, and it runs off of pressure alone.
The ProFloss is a lot cheaper than most of its competitors, and you never have to worry about running out of water or charge. However, it lacks some of the options seen on more traditional models, and the faucet attachment doesn't have a passthrough, which means you have to attach and remove the ProFloss each time you use it.
4. Oral Breeze ShowerBreeze Water Jet Dental Irrigator
The Oral Breeze ShowerBreeze Water Jet also has a unique action compared to competing water picks. Like the ProFloss it hooks up to a water supply, which means it doesn't need a reservoir or electricity. However, instead of a sink, the ShowerBreeze attaches to your shower.
Some people love to brush their teeth in the shower, and if you're one of them, then the ShowerBreeze can make your dental routine even healthier. The included valve allows you to attach the ShowerBreeze to most shower fixtures while enabling you to retain your preferred showerhead. It's also quite a bit cheaper than electric water picks, though it does lack some of the settings and features found on those devices.