This Alarm Clock Wakes You Up With Coffee or Tea
Wake up to the sound (and scent) of your morning cup brewing up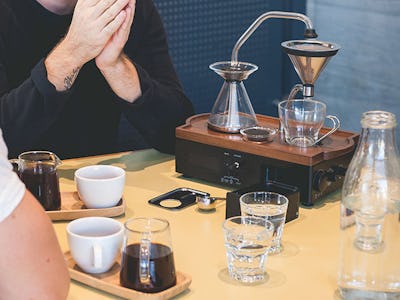 StackCommerce
The Details:
A morning alarm clock that also auto-brews coffee or tea for you
Stores and cools creamer or milk in a thermoelectric compartment
Includes a drawer for your favorite beans or tea leaves
Why You Want It: What if there were a magical machine that woke you up every day to the scent of fresh-brewed coffee or tea? The Barisieur takes in the beans or leaves or your choice, and can even keep creamer cool overnight—just set it for your wake-up time the night before, then rest easy until you're greeted with a fresh cup in the morning.
https://www.youtube.com/embed/HrPF6EE-y0s
The Deal: This is a pretty high-tech gadget, and as a consequence, the MSRP is a lofty $445. Luckily, the Inverse Shop is carrying it at a 10% discount. You can get one of the most luxurious, innovative brewers on the market for $399 instead of the usual $445 if you head over to the shop right now. Keep it on your bedside table, and you don't even have to get out of bed to have fresh-brewed coffee served to you every morning.