The Crunchy (Yup) Hot Sauce That'll Make You Break Up With Sriracha
You'll Put This Spicy Godmother of All Condiments On Everything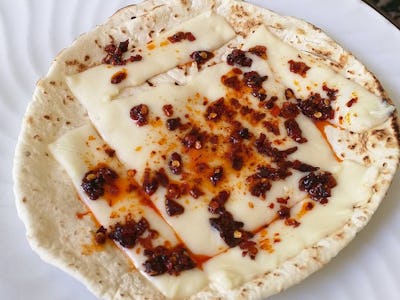 Flickr.com
If you're like me, you already put Sriracha on every meal, from avocado toast to scrambled eggs. But Lao Gan Ma, or spicy chili crisp—the godmother-of-all-sauces—just might make you cheat on your favorite savory condiment. Get ready to get obsessed with this intensely flavorful topping and start slathering it on absolutely everything.
When we say "godmother," we mean it literally: The stern matriarch staring back at you from the Lao Gan Ma jar, Tao Huabi, earned the endearing nickname of Old Godmother from the employees at her first restaurant. Hailing from the Guizhou province of China, Huabi became a self-made billionaire after her jars of spicy chili crisp started flying off the shelves in 1997.
Since its humble beginnings, Lao Gan Ma has earned a global cult following, inspiring zines, an appreciation society, and dubious-but-delicious recipes for everything from sundaes to peanut butter thumbprint cookies.
It's not just the red-orange sauce's savory flavor that inspires Lao Gan Ma enthusiasts to spread it on every snack from fried rice to watermelon, but also its crispy, satisfying texture. Thickly layered with Sichuan peppercorn, garlic, onions, fermented black soybeans, and crushed fried chiles, it makes even Sriracha seem a little predictable.
To top it off, it's packed with a solid hit of MSG for that sweet, sweet umami goodness. It's complex. It's sweet. It's spicy. It burns, but just a tiny bit. It's like an intense fling, except you'll want to put it on your sandwich every day.