Black Friday 2018: 20 Great Amazon Deals
Why get out of bed late at night to be uncomfortable in crowds of people when you could just buy it on Amazon?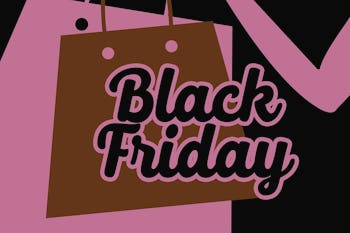 Pixabay
It's true that Black Friday in-store sales have been steadily trending downward in recent years and it's no secret that Amazon has had a lot to do with it. It's also true that catering to the sales of Black Friday at places like malls and department stores often pulls people away from their loved ones and their Thanksgiving meals. What if you could take the moral high ground and continue to contribute to the downfall of violent, crazed-shopping sprees in the middle of night while also getting all your holiday shopping done way early?
This is a list of the best Black Friday sales that Amazon has to offer so far. If you're lazy, or just uninspired in the department of gift ideas, allow this list to serve as the inspiration for getting the best gift and best bang for your buck.
Spontuneous - The Song Game
Why We Picked It: Every few years a game comes around that turns family fun time into an actual fun time. Once upon a time it was Apples to Apples then it was Cards Against Humanity, now it's Spontuneous. It's a party game, fun for all ages. It works by the mention of a word, then you burst out into song with the first tune that pops into your head. The object is to come with a word that no one else can think of a song for, but you can.
Price: Usually $35, now on sale for $29.99
Byindom Keyboard Case for iPad
Why We Picked It: There are some places that it just doesn't make sense to bring a computer, but you still need some kind of Cloud-enabled device to store your work. At least I think that's why people who aren't visual artists own iPads. For these situations, there's nothing more annoying than taking 10 minutes to type up a solid paragraph memo on a clumsy touchscreen keyboard. For these situations, it's essential to have a keyboard-case combo. This particular keyboard case is ideal because it rotates 360-degrees, so you can use your iPad at any angle.
Price: Usually $59.97, now on sale for $47.99
Amazon Fire TV Stick and Alexa Voice Remote
Why We Picked It: Walk into the new year a member of the future. Cut the cord. Minimize your cable bill. Opt for streaming over the $200/month for 150 channels you never actually watch. Do yourself the favor. Feel even more futuristic with the addition of Alexa Voice control so watching TV is as simple as saying, "I want to watch House."
Price: Usually $39.99, now on sale for $24.99
USA Pan Half Sheet Pan and Silicone Mat Set
Why We Picked It: Unless you are locally famous for following those video recipes that circulate on Facebook proclaiming that the perfect meal can be made just on one pan, you probably neglected to buy yourself a sheet pan. If you do own a sheet pan, do you have a silicone non-stick mat for it? Perfectly sized? Machine washable? For this reason alone, you'll never have to buy wax paper or parchment paper again.
Price: Usually $33.99, now on sale for $23.77
Greenworks 20-Inch 13 Amp Corded Snow Thrower
Why We Picked It: No matter how much snow you get where you live, if it snows, you probably have to shovel it. It sucks. If you can avoid doing it, you probably should. Unlike traditional snow blowers, this one is powered by electric rather than gas so you're going to get a little more power with zero fumes. It throws snow up to 20-feet.
Price: Usually $199.00, now on sale for $100.86
Victure 1080p Wifi Indoor Wireless Security Camera with Motion Detection and Night Vision
Why We Picked It: Whether you foster puppies and kittens, have a new baby or have neighbors you suspect are toying with your outdoor plants, this security camera with motion detection promises to deliver stunning 1080p resolution with sound to any WiFi enabled device. With the addition of video encryption technology, even if your camera is stolen, all recordings remain secure and only accessible with your account credentials.
Price: Usually $45.99, now on sale for $31.99
Misc Home 3 Compartment Meal Prep Containers - 20 Pack
Why We Picked It: It's time for you to be the cool person in the office with the best packed lunches, inducing envy in all your coworkers with lackluster or overpriced meals. Become the kind of person who preps for the whole week in one night with these microwave and dishwasher safe reusable BPA free take out containers. Your belly and your planet will thank you. Did I mention that your food doesn't even have to touch?
Price: Usually $17.99, now on sale for $12.59
Amazon Fire HD 8 Kid Edition Table with Kid-Proof Case
Why We Picked It: We love an all-in-one package. It's always a little annoying and tedious to pick out the best case for a new technology purchase—and there's no way you can go without a case—so to have one included is a big plus. Whether you still can't be trusted to carry a tablet without breaking it or you have tiny hands around devices often, this kid-proof case is a must have for protecting your investment. This is a full-featured tablet and not specifally designed for kids, but purchase will come complete with 1 year of FreeTime Unlimited with access to all kinds of free content.
Price: Usually $129.99, now on sale for $89.99
AICOOK Multifunctional Commerical Blender
Why We Picked It: Like anything, there's a difference in quality between professional and amateur kitchen appliances. If you've ever had a bad blender you know this fact intimately. Rather than shell out another $50 for a blender that may or may not be able to actually crush your ice into your smoothie, minimize the risk and opt for a slightly more expensive option that promises to crush your ice every time. With 8 presets ranging from smoothie to nut better to juice, you'll get the result you want every time without the guesswork.
Price: Usually $149.99, now on sale for $99.99
Dyson AM10 Humidifer
Why We Picked It: If you've ever owned a humidifier, you know the absolute essential praxis of deep cleaning it every other day to avoid an overgrowth of mold that then gets dispersed into the air you breathe. Dyson is the leader in home technology for a reason—they respond to the concerns of their consumers. With Ultraviolet Cleanse technology, this humidifer kills 99.9% of all bacteria and mold that could grow within it. Because of this amazing technology, it's been certified as asthma and allergy friendly by the Asthma and Allergy Foundation of America.
Price: Usually $499.99, now on sale for $349.99
PetSafe ScoopFree Original Self Cleaning Cat Litter Box
Why We Picked It: There's no one that actually likes to scoop litter, so if you can avoid it, you probably should. Made with you and your cat in mind, this litter box self-cleans for weeks without additional attention from you. With low-tracking crystals, you'll find less litter on the floor around the litter box and with a disposable plastic tray lining, you'll be guarded from smell and leaks as long as you remember to change out the tray every couple weeks.
Price: Usually $139.95, now on sale for $99.99
Wealers 11 Piece Camping Cookware Mess Kit
Why We Picked It: Whether you are going camping for the first time this weekend or you camp often, if you don't own a compact mess kit, you need to. Camping can be rough but you don't have to fully rough it by foregoing hot meals out of masochism. Prepare whatever quality meal suits your camping and hiking needs without adding much weight to your pack with this stackable set of pots, pans, dishes and perfectly designed cleaning sponge. It all stores well in the included mesh bag.
Price: Usually $29.99, now on sale for $25.49
Amazon Fire TV Cube
Why We Picked It: For all the reasons the Amazon Fire Stick made this list, the Fire Cube checks all those same boxes. In contrast to the former, the Fire Cube acts fully as an Alexa device with 8 built-in microphones for far range voice detection while also delivering 4K/UHD picture quality. You know cable is dead.
Price: Usually $119.99, now on sale for $59.99
Carhartt Women's Extremes Cold Weather Boot Sock - Merino Wool
Why We Picked It: Merino wool is the leader in long lasting quality wool that never itches and always insulates. While it comes with a slightly larger pricetag than ordinary wool, if you walk to work, camp or spend any amount of time outside in the cold weather months, your toes will thank you for investing in high quality Carhartt socks that will last you a lifetime.
Price: Usually $14.99, now on sale for $8.99
LILLEbaby Six-Position, 360 Degree Baby and Child Carrier
Why We Picked It: For moms and caregivers of all kinds, it can be challenging to not overwork your body and get anything done with a little one around. Innovative mommies all around have worn their babies for decades. With this ergonomic child carrier, a baby can be carried in 6 possible ways including front facing and back facing, front wearing and back wearing, and all combinations in between. Give the gift of hands to the mother in your life.
Price: Usually $139.99, now on sale for $77.00
Andre Lorent Daily Rehydrating Sunscreen - SPF 30+
Why We Picked It: One of the highest rated beauty products on Amazon and an absolute essential for anyone who spends any length of time near a window or the outdoors, it's no mystery how this product ended up on this list. Being a multitasker—it also works as a moisturizer—only adds to the benefit of this sunscreen. Minimize your morning routine while also upgrading your self-care regimen and stay looking 29 forever.
Price: Usually $24.95, now on sale for $17.45
Skywalker Trampolines Jump and Dunk Trampoline with Enclosure Net
Why We Picked It: One of the happiest days of my entire life was the day I was given the trampoline I had been asking for my entire 7 years of life. As such, I hope that every child gets to one day experience the joy of owning a trampoline without the pain of being double bounced off of it. With a net included in purchase of this made-to-last trampoline, joy and safety are possible in one fell swoop.
Price: Usually $349.99, now on sale for $259.99
Majestic Pure Clary Sage, 4 fl oz
Why We Picked It: While not necessarily scientifically backed, anyone who has ever used essential oils knows how quickly they prove to be truly essential, especially in areas of relaxation and pain relief. But they run expensive and seldom can you find a bottle bigger than 0.5 fluid ounces. For 8 times the amount without 8 times the cost, opt for this 4 ounce bottle of Clary Sage essential oil.
Price: Usually $25.00, now on sale for $23.73
MaryRuth Organics Liquid Sleep Multimineral Sleep Aid
Why We Picked It: A lot of America struggles to sleep, but if you've ever taken a sleep aid, you know it can be a big trade off to sleep well if you wake up feeling drowsy or hungover. That's why MaryRuth Organics designed this melatonin free, non-GMO, celiac, paleo and ketogenic friendly, vegan nighttime supplement. Just take it before bed and essential nightly minerals will lull you into the best night's sleep and easiest wake up you've had since youth.
Price: Usually $39.95, now on sale for $37.95
Lark and Ro Women's Faux Fur Puffer Coat
Why We Picked It: It can seem impossible to dress cute and warm throughout the winter months. Lark & Ro says nevermind to that and allows you to look stylized while also insulating your body heat down to your mid thigh. The faux fur hood adds intrigue to a utiliarian ensemble.
Price: Usually $99.99, now on sale for $69.30