'Madden' Players Were "Low-Key Geeked" for Tournament Before Shooting
David Katz is confirmed as the shooter by police in Jacksonville shooting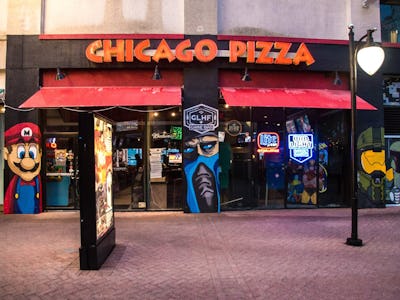 facebook.com/GLHFGameBar
Ahead of this weekend's Madden 19 tournament, enthusiasm was palpable, as players of the mega-popular esports game were primed for the play-in competition at a shopping center in Jacksonville, Florida.
The two-day tournament — the first of four scheduled through September 22 — saw players in the hours before sharing that enthusiasm and a little nervous energy on social media. They would compete for their share of a $165,000 prize pool.
One such player was Abbott Lopez, a 22-year-old Madden player who goes by the gamer handle "Blocky."
"Best part of these tournaments, playoffs. Game at a time, let's go," Lopez commented on Twitter.
But the competition at GLHF Game Bar turned tragic on Sunday when a gamer apparently opened fire around 1:30 p.m. on his fellow competitors, according to tweets from gamers in the room.
Sheriff Mike Williams said three people died at the scene, including the suspect. The two victims of the shooting are Taylor Robertson, 27, and Eli Clayton, 22. Eleven other people were injured. At outpouring of support from the gaming community arrived on Sunday night.
David Katz is Named as the Suspect in the Jacksonville Shooting
David Katz, 24, of South Baltimore, Maryland, was the shooter, Williams said on Sunday night, and confirmed he was a gamer in the competition. Katz reportedly shot himself. He used a single handgun during the shooting, Williams said, but wouldn't comment on motive. A Twitch video showing the shooting was being circulated on social media on Sunday, and Williams said the GLHF Game Bar had security video. Katz went by the gamer handle "Bread" and can be seen in this Youtube video playing Madden 17.
The New York Times reported Sunday on the Twitch stream of the shooting this way:
A live-stream of the tournament caught the chilling moment when the shooting began. A red laser dot appeared on the chest of one of the players, who was wearing white headphones and a red sweatshirt. The video of the players then disappeared. Twelve gunshots rang out.
In the past several years, esports has ballooned in popularity as faster internet speeds have taken the games out of bedrooms and living rooms and put them on the internet. Live-streaming sites like Twitch sprang up, as did slick TV-style production sets that make the events look like the professional sport they've become.
Ahead of each tournament, gamers share their excitement for what's ahead: the competition, a reunification with friends who live states away, and the camaraderie that comes from the shared experience.
Tony Montagnino, a Madden player from Austin, Texas, shared on Twitter his boarding pass for his flight to Jacksonville, and lamented its delayed status this way: "Flight delayed because they're fixing the bathroom smh. I don't know why I'm stressing…no madden tourney in the history of mankind has ever started on time right ?" He then tweeted, "I'm sick" with the nauseated face emoji, about his delayed status.
At 4:28 p.m. Eastern on Sunday, Montagnino shared that he had was "good" after being shot: "I'm good… got hit twice. Lower body. One went through. The other was lodged." He added a note of support for his fellow gamers he said were involved:
"Me cole guru and Larry are all gonna be good. From the people with me Larry got the worst of it but he's super fuckin tough. Others got the worst of it and I'm literally sitting here crying thinking about their friends and family."
"Larry" is Timothy Anselimo, aka @oLARRY2K. He's best-known as a player for Bucks GG, an esports team that plays within the EA basketball franchise NBA2K.
Anselimo too was looking forward to the tournament on Sunday, retweeting this sentiment from another user: "Lowkey geeked about this Madden tourney today!"
Anselimo's mother, Sujeil Lopez, posted on Sunday on her Twitter account, "My son was shot 3 times please keep him in your prayers." A few hours later, she posted a photo of her son giving a thumbs up in his hospital bed.
Drini Gjoka, a 19-year-old gamer, was preparing himself for tough competition on Saturday: "Just seen the brackets. Time to lock in. Gotta play my best Madden tomorrow," he posted on Twitter. By Sunday, three tweets later, he updated his more than 12,000 followers: "The tourney just got shot up. I'm leaving and never coming back." He added a few minutes later, "I am literally so lucky. The bullet hit my thumb," and "Worst day of my life."
Another player, 22-year-old Stephen Javaruski, who goes by the handle Noble SteveyJ, took part in the tournament on Saturday, advancing to Sunday's single elimination round.
A few minutes before 2 p.m., Javaruski posted this update and a criticism of the event's lack of security: "I got out. Police escorted me. I'm done going to any Madden events not EA Majors with security." Sheriff Williams told reporters that his department would have to look into whether there was security at the event.
Rod Breslau, a veteran gaming journalist, commented Sunday that the tragedy would be one the esports and gaming community would unite over.
"The gaming, esports community has shown it can come together as a positive force to support each other through the darkest of times," he posted on Twitter. "In the wake of the tragedy in Jacksonville, gamers are here for the Madden community, all those affected, and to show the world that unity."
Lopez, aka "Blocky," posted another tweet on Sunday afternoon, seven hours after his enthusiastic pre-tournament one:
"Safe and been allowed by the police to go back home. Bout to be a long drive back to Miami. Prayers to everyone, still can't believe this happened."
Reach the author at nick@inverse.com.