Mom of Jacksonville Shooting Survivor Shares Hospital Room Photo of Gamers
"God was with these guys today"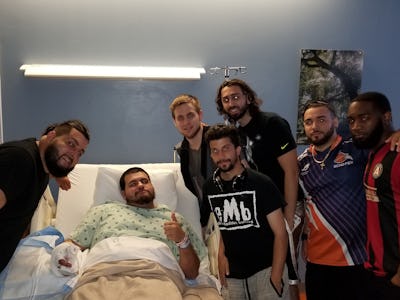 twitter.com/olarrysmom
The mother of a 25-year-old video gamer shot in Sunday's fatal shooting in Jacksonville, Florida, posted on Twitter a photo of her son giving a thumbs up in a hospital bed, surrounded by six other gamers who were at the tournament.
"God was with these guys today," reads the caption on the photo by Sujeil Lopez, the mother of Timothy Anselimo, who goes by the handle oLARRY2K. He's best-known as a player for Bucks GG, an esports team that plays within the EA basketball franchise NBA2K, but was entered in Sunday's Madden 19 tournament at the GLHF Bar at Jacksonsville Landing shopping center.
Police identified David Katz, 24, as the shooter in the incident. Three people, including Katz, died at the scene. In total 14 others were injured, 12 with gun shot wounds from Katz's handgun.
Anselimo was looking forward to the tournament, retweeting this sentiment from another user before it began: "Lowkey geeked about this Madden tourney today!"
A few hours later, Lopez posted this plea on her Twitter account: