Is Ivanka Trump a Secret Kendrick Lamar Fan? A Twitter Investigation
Despite being a senior Trump advisor, Ivanka has recently been active on liberal Twitter.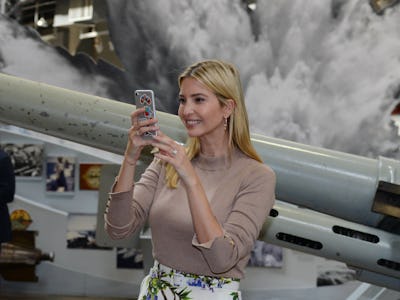 Wikimedia / U.S. Navy photo by Mass Communication Specialist 1st Class Clifford L. H. Davis
Ivanka Trump, President Donald Trump's daughter and White House advisor, has been raising eyebrows on social media, but not in the same ways as her father. Instead, Ivanka has recently begun to follow figures and personalities that many would consider falling far left of center.
The mysterious follows add to the speculation that Ivanka is serving as a liberal voice, and liaison, to liberal Americans, or at least provide insight into Ivanka's personal interests in liberal figures.
We Love Kendrick, Too
The series of follows came on Sunday, when @TrumpAlert, a bot that tracks and publicizes the Twitter activity of the Trump family, notified users that Ivanka had followed rapper Kendrick Lamar, Vox's Ezra Klein, FiveThirtyEight's Nate Silver, and journalist Ben Casselman — all of who have been critical of President Trump.
Trump's Kendrick Lamar follow was confusing, to say the least.
Kendrick Lamar has devoted numerous songs to America's police brutality problem, and also openly derided President Trump for lacking "morals, dignity, principles, [and] common sense." His song "Alright" became an unofficial song of Black Lives Matter as protesters across the country begin to sing it while marching.
President Trump has set himself politically on the opposite end of the spectrum from Black Lives Matter, saying "they're looking for trouble," in a Fox News interview. In a speech to police academy graduates, Trump joked about police brutality, telling officers "don't be too nice."
Ivanka herself has illustrated a tone-deafness (at least) around racial issues. In February, she was criticized for issuing a Black History Month tweet that appeared to echo the "all lives matter" sentiment, writing "we resolve to continue to bring greater equality, dignity, and opportunity to all Americans, regardless of race or background."
For a senior member of an administration grounded in moblike loyalty, the Twitter follow is confounding because it sends the opposite message of Trump's Blue Lives Matter rhetoric.
So, what's going on?
It's possible, but not extremely likely that Trump recently stumbled upon Lamar as a musician. Ivanka doesn't follow Lamar on Instagram or Spotify, but according to her public Spotify profile, she does listen to the "Get Turnt" playlist, which added several Lamar songs in July. She also listens to a playlist called "Willa's Twerk Out Mix," which features one Lamar song from 2015.
Most of her playlists are… extremely white. From "Acoustic Hits: Oldies but Goodies," to "Joshua Kushner: Fall," which features Sam Smith and Troye Sivan, we're guessing Trump doesn't get that much rap in.
Another possibility is that Trump is interested in Lamar as a political figure. Ivanka follows numerous liberal-minded people on Twitter, including Rihanna (who slammed Trump for his response to the devastation in Puerto Rico following Hurricane Maria), Rachel Maddow, and numerous liberal politicians and journalists.
While Ivanka Trump has certainly not been the great liberal hope that many, assuming she would bring a New York native sensibility to her job, thought she could be, it's been reported that she hasn't been shy about reaching out across the aisle and at least advocating for more liberal causes.
According to Planned Parenthood's Cecile Richards, Ivanka Trump reached out to her for an "explainer" meeting on the group. Although, later, Richards said she felt like Ivanka was trying to bribe her, offering funding in exchange for the company stopping abortion services.
Ivanka has also supported paid family leave and was reportedly involved in killing an order that would have rolled back Obama-era LGBT protections. Jared Kushner, Ivanka Trump's husband and White House senior adviser, has been a lifelong Democrat and the pair has run in liberal circles, suggesting a lack of natural aversion to Lamar's political beliefs than her father's administration might suggest.
Of course, none of this indicates a willingness to intervene with an executive order, but it may signal an interest in Lamar's pet issues.
It's also possible that this could simply be an Anthony Scaramucci or Taye Diggs situation — where a social media manager follows random influencers to build some sort of Twitter influence, but that seems doubtful considering Ivanka's sizable real influence and even more sizable Twitter following of 5.6 million people (and we're sure some bots).
A more likely scenario is that Trump's social media manager is turning to social media follows for PR purposes. As President Trump's brand (somehow) becomes increasingly toxic, racist, homophobic, broadcasting some sort of alignment or relationship, even if it's just a Twitter follow, can show some commonality of cause.
If that's the case, it may not be long until Lamar gets a retweet.