InfoWars Shoots to Fourth Place in Apple News App Rankings Ahead of Google
One day before, it was in 45th place.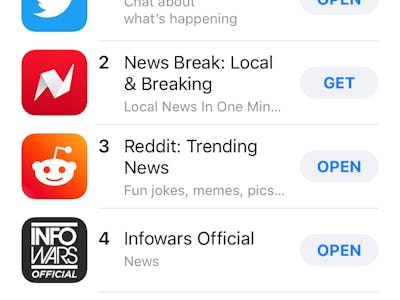 Screenshot / Ben Goggin
On Monday, Apple was widely praised for its decision to remove most of conspiracy theorist Alex Jones' and his InfoWars Network's podcasts from iTunes, but Tuesday, a disturbing reality emerged as InfoWars' app, which was not banned, climbed to Number 4 on Apple's news app list.
The app, which allows access to all of the shows and content that Apple banned, was in the 45th spot the day before, and now sits above Google News, CNN, Fox News, BuzzFeed, and The New York Times.
Barely Banned
The rapid ascension of 41 spots on the chart comes a day after large tech companies including Facebook, Spotify, Apple, and YouTube all took efforts to take down Jones' content in what was a cascading decision that Jones and InfoWars violated each company's respective hate policy.
The app allows for continued access to Jones' podcasts, articles, and products, which were the subject of Jones' podcasts ban, raising the question of how the app remains if it's dictated by a similar hate policy.
The Apple iteration of the InfoWars app, however, is just one example of selective filtration and enforcement on Jones' content by tech companies that appear to be eager to be taking steps against Jones.
InfoWars remains listed on the Google Play app store with a 4.9 star review. When reached for comment, Google referred Inverse to their content guidelines, saying "If an app violates our policies, we take action." Google appears to have robust guidelines against hate speech, but has not applied them to InfoWars.
Additionally, multiple InfoWars-adjacent or actual InfoWars channels still exist on YouTube, including InfoWars Documentaries, Infowars Store, and Paul Joseph Watson, who is largely considered InfoWars' number two personality behind Alex Jones. Inverse has reached out to YouTube about these channels and will update this post with any response.
Spotify also left some InfoWars material intact. Still available on the platform are "Infowars.com Freedom Nuggets" — one minute long audio clips based on InfoWars articles. Inverse has reached out to Spotify and will update this post with any response.
Similar to YouTube, Facebook has left up numerous pages and profiles related to InfoWars, including Paul Joseph Watson, Infowars LIVE, Infowars Store, Infowars Podcasts, Infowars oz, and Infowars Magazine. When reached for comment, a Facebook representative told Inverse that the pages removed were only taken down after Facebook received numerous reports on them. Facebook says they haven't received reports on content from the remaining pages that violate their community standards.
While these exceptions to tech's crackdown on InfoWars are glaring because they are by the companies that participated, even more noticeable was Twitter's explicit refusal to participate, telling CNBC that InfoWars and Alex Jones had not violated their community standards.
The massive rise of the InfoWars app in the App Store shows that as long as InfoWars is made available, its followers will come. The exceptions to what seemed like a wave of bans may seem insignificant, but just by being available, it's probably that InfoWars followers will flock to them.