'House of Cards' Can Be the Blueprint for TV Series Returning After #MeToo
In the last season, Robin Wright is expected to take center stage.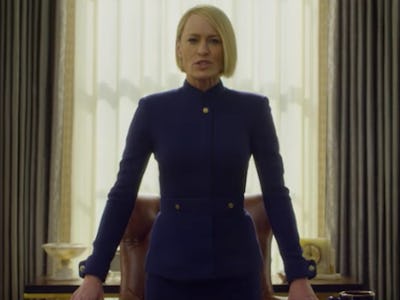 YouTube / Netflix
When a critical mass of stories of sexual assault and harassment perpetrated by actor Kevin Spacey began to build, many thought that "House of Cards," a flagship Netflix show in which he played the lead (Frank Underwood), would fizzle. But Netflix has committed to forging ahead with the series, releasing the premiere date and a poster for season 6 on Tuesday, and is set to become the first high-profile TV drama to return without a lead that was taken down by the #MeToo movement.
The endeavor obviously presents some challenges. How do you address the absence of the character from the plot? How do you justify the continued serialization of a show and business that has become defined by scandal?
While the answers certainly aren't easy, it appears as if "House of Cards" is proceeding with a clever strategy that may justify the existence of its final season to fans and activists alike.
The Future Is Female
In terms of plot and restorative media justice, the only future for "House of Cards" revolves around actress Robin Wright, who plays Kevin Spacey's on-screen wife and political powerhouse in her own right, Claire Underwood.
"House of Cards" spoilers lie beyond this point.
Seemingly out of coincidence, the show was set up in the last season for a feminist takeover. In the final episode of Season 5, Claire occupies the presidency as her husband resigns, but Frank selfishly takes all the credit.
Claire swears to pardon Frank for his crimes, but hasn't done so by the time the show ends with her in the Oval Office saying "my turn."
What seemed like it would probably turn into the feminist revenge story everyone was hoping for took on a whole other tinge following the firing of Kevin Spacey in November.
The show had just started production of Season 6 when Spacey was fired, meaning that he will probably not appear in the show at all, truly giving the reigns to Wright. What's more, Wright is serving as executive producer this season
While the details of the season are still unclear, everything points to an effort to make the wrongs of giving men with unsavory histories too much power, right — on and off screen.
Publicity for the season has decidedly leaned into the narrative empowering Claire and and Wright herself.
On July 4, "House of Cards" published a video of Claire saying "Happy Independence Day… to me." Text displays "#MyTurn." The sentiment applies to the show's on and off screen narratives. Where Claire and Wright are taking over.
Now, Claire has conniving and murderous tendencies just like Frank, so it's doubtful that her ascendancy will be pure, but for her character and for Wright, the more central role gives retribution for so much space provided for someone who by many accounts created a toxic and unsafe workplace.
If done correctly, "House of Cards'" navigation of Kevin Spacey's alleged misdeeds could provide a blueprint for future shows, like Transparent, that face future seasons without their leading character in the wake of sexual misconduct allegations.
How Not to Do It
While "House of Cards" is set to be one of the biggest shows to face such a dilemma with their next season, they're not alone, and they're not the first.
In June, Netflix's "The Ranch" bid farewell to Danny Masterson after multiple women accused him of rape, but many weren't happy with how that show ended Masterson's run.
Two of Masterson's accused victims ripped into Netflix after it continued to release new episodes of the show after their accusations and allowed reshoots to proceed that allowed Masterson to end his run on his own terms (he was co-executive producer).
Besides the staffing issues, reviewers took issue with the plot.
"The Ranch" spoilers come below this point.
Masterson's character was essentially given an open-ended departure, allowing him to come back if deemed possible by production. Despite his character sleeping with his ex-girlfriend, who is currently dating someone else, in the same episode, Masterson's character eventually gets the boot in a somewhat positive way — he exits after he steals a generator to save a farm and his brother takes the fall for the theft.
The departure allowed Masterson not only to continue with the show, but also cast his character in a semi-positive light despite Masterson's own misdeeds.
While at this point, it doesn't look like this type of departure is at all possible for "House of Cards," it provides a great model for what not to do when one of your lead actors gets outed as an alleged predator. Hopefully "House of Cards" can provide us with the opposite example.