YouTube HQ Shooting: Everything We Know About the Incident in San Bruno
The headquarters in San Bruno, California, are locked down.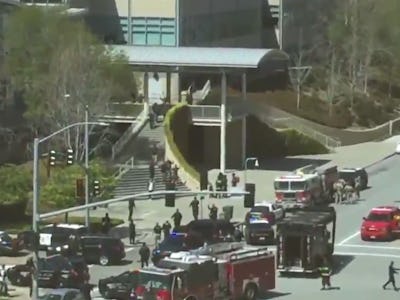 twitter.com/s1yce
Police responded to reports of an active shooter inside YouTube headquarters on Tuesday. The video-sharing website is based in San Bruno, California, in a facility that can house up to 2,800 employees.
San Bruno Police confirmed in a press conference that four victims were being treated. Police chief Ed Barberini told reporters that the suspected shooter is female and confirmed dead, possibly from a self-inflicted gunshot.
News of this story broke when a YouTube employee tweeted that he and coworkers were barricaded inside a room while a shooter was at large. "Active shooter at YouTube HQ," Vadim Lavrusik wrote in a tweet. "Heard shots and saw people running while at my desk. Now barricaded inside a room with coworkers."
YouTube employee Todd Sherman on Tuesday said in a series of tweets that employees "were sitting in a meeting and then we heard people running because it was rumbling the floor" and thought it was an earthquake.
"After existing the room we still didn't know what was going on but more people were running. Seemed serious and not like a drill," he said. "We headed towards the exit and then saw more people and someone said that there was a person with a gun. Shit."
He added: "At that point every new person I saw was a potential shooter. Someone else said that the person shot out the back doors and then shot themselves."
Sherman tweeted he was able to escape.
Police then asked local residents to avoid the area of 901 Cherry Ave, near YouTube HQ, citing police activity. Employees in the surrounding area began tweeting their own testimonies, recounting the sound of gunshots and confirming their own offices were on lockdown.
More tweets from the scene surfaced Tuesday, including images of police escorting YouTube employees outside of the building with their hands raised.
A spokesperson for Zuckerberg San Francisco General Hospital says the hospital has received patients from YouTube incident, NBC Bay Area reports.
Stanford Health Care says it is treating patients from the shooting, but offered no indications of their conditions, according to ABC News.
Responding to the news, Google Communications tweeted that the company is working with authorities and would provide official information from Google and YouTube as it becomes available.
"Was just briefed on the shooting at YouTube's HQ in San Bruno, California," President Donald Trump tweeted on Tuesday. "Our thoughts and prayers are with everybody involved. Thank you to our phenomenal Law Enforcement Officers and First Responders that are currently on the scene."
This story is developing.