Data Reveals the Best and Worst Days to Fly This Spring
Air travel can be hell, but a new data may help ease some of the pain.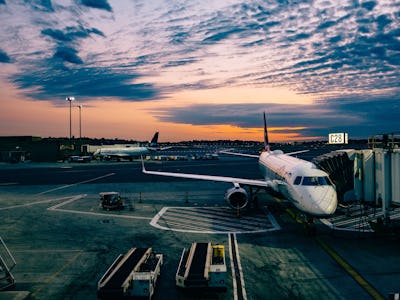 Unsplash / Ashim D'Silva
What's so special about April 22 or May 28, you ask? Besides being Earth Day and Memorial Day, respectively, these are two of the best days to fly this spring, according to a new report.
Spring is one of the busiest travel times of the year, and it can be tough to predict which days will be the least hellish at the airport with schools spring-breaking at different weeks and Easter, Passover, and Memorial Day enticing many three-day weekends. But it doesn't have to be a crapshoot. Here are the best and worst days to fly this spring.
Based on criteria like delays, airport crowds, and flight capacity, the data was laid RewardExpert, a website specializing in frequent flier programs and credit card rewards, took a look at data from the U.S. Department of Transportation Bureau of Transportation Statistics over the last five years to determine the best and worst days to travel between March and May.
What Are the Worst Days to Travel?
Overall, March is the most treacherous month, with six of the ten worst days to travel falling on the calendar. "Avoid flying on March 1st, 12th or 13th, which are historically among the worst days for travel this season, and are expected to be worse this year," the report advises.
Passover (March 31) is traditionally a day to avoid, along with the first week of April with "some of the steepest declines in average on-time performance over the past five years," according to the report.
It's also worth noting that the days following daylight savings, which is March 11, seem to wreak havoc.
What Are the Best Days to Travel?
The top ten days to fly this spring are April 11, 15, 16, 18, and 22, along with May 2, 14, 27, and 28.
Interestingly, Easter Sunday, which falls on April 1 this year, has a "very good" ranking, and after the first week of April, the month looks pretty clear for travel. With Tax Day on April 17 (mark your calendars!) the second half of April might be a good time to put that refund to use.
Generally speaking, if you have to fly, shoot for a Sunday or a Wednesday.
As mentioned, two of the best travel days fall on holidays. Earth Day (April 22) has an 85 percent on-time arrival record, and although Memorial Day (May 28) tends to see flight delays, flight and airport volumes are relatively low so your wait time will be less agonizing.
Good luck out there!