Why Russia Hacked the Olympics and Tried to Blame North Korea
Russian hacking and trying to influence the Olympic Games is nothing new.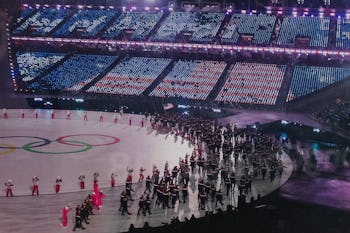 Flickr / The White House
As the U.S. grapples with the reality of Russian hacking in its 2016 presidential elections, Russian military spies have moved on to bigger, and more international targets: the 2018 Winter Olympics' Opening Ceremony. And, what's more, they did so while using North Korean IP addresses, trying to plant a "false flag" that would implicate the isolated country.
As the Washington Post reported on late Saturday, Russian military spy agency GRU penetrated as many as 300 computers used by or otherwise affiliated with the International Olympic Committee. This is in addition to hacking routers in South Korea and using malware on opening day.
The result of the attacks included interruptions in broadcast and Internet access, and lower turnout than expected on opening night, when some attendees were unable to print out their tickets. The International Olympic Committee had already known of the disruptions — and that they were the result of hacking.
American intelligence officials believe that the attacks were in direct response to the banning of Russia from competing under its own flag, due to the widespread doping scandal in the Sochi Olympics. Interestingly enough, intelligence officials also believe that the revelation of widespread government-run doping of Russian athletes at Sochi, and Russia's subsequent humiliation, was a factor in Russian strongman president Putin order to hack the American elections. Shame and vengeance go a long way in motivating Russian hacking, it seems.
However, neither Russia's hacking of the opening ceremonies at this year's Olympics nor its hacking of American electoral systems is anything new. As per the Washington Post, GRU previously revealed personal medical information about American athletes like Serena and Venus Williams and gymnast Simone Biles, likely as payback for revelations of the government-run doping scheme that got Russia's entire track-and-field team banned from the 2016 Rio de Janeiro Olympic games. Going back even further, Russia produced fake leaflets ahead of the 1984 games in Los Angeles suggesting that the Ku Klux Klan would be targeting African athletes. (The U.S. caught wind of this attempt early on, and was able to prevent the scheme from working.)
With the Olympic closing ceremony taking place earlier today — and seeming to have gone off without a hitch — it remains to be seen what Russian spies were up to, behind the scenes. One unnamed U.S. official said, "We're watching it pretty closely," adding, "we will help the Koreans as requested."