Brilliantly Original Spring Break Trip Ideas, 2018 Edition
Itineraries that don't include crowded beaches or racks of Natty Light.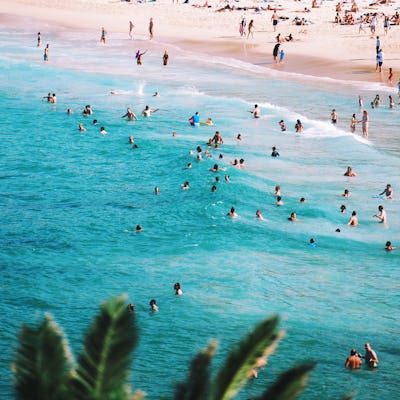 Unsplash / Annie Spratt
Spring break, in the traditional American fashion, conjures up images of large groups of co-eds partaking in boozy beach parties during the day followed by an alcohol-fueled night. It's a familiar scene that reeks of tanning oil, cheap liquor, and even cheaper beer, but if that's what you're into, go for the gold.
But sometimes you're looking for something more than the #SB09 vibes. Beyond airbrushed T-shirts, there's a whole world of trips, activities, and adventures to embark on. If you have a week or even a long weekend, don't waste it. Venture off the beaten path, learn how to do something new, or get some quality recharge time.
7. National Parks
With scenery that will blow your mind and entry fees that can cost less than a handle of cheap vodka, national parks are incredibly beautiful and affordable spring break options. There are 59 national parks in the U.S., so it shouldn't be too hard to locate one within a reachable distance. Take part in outdoor adventures like hiking, kayaking, and spelunking, or opt for a less strenuous day and snap pictures with the best backdrops nature has to offer.
Here are six magnificent national parks to visit:
6. History Museums
Don't let being away from school keep you from learning something new over break. The U.S. has some of the most extensive and weird history museums in the world, from the all-encompassing to the hyper-niche. Take some time to learn about the history of things that make America so dang American, like the Civil Rights Movement, baseball, and rock music.
Check out these museums for a particularly historical slice of American pie:
5. Cemeteries
Though spring is a time to celebrate things coming back to life, it can also be a time to appreciate those who have passed.
Often designed with Sunday picnicking in mind, cemeteries are notoriously neat in the U.S. and are often decked out with incredible tombstones and fascinating mausoleums. From Johnny Ramone's statue in L.A.'s Hollywood Forever Cemetery or Nick Cage's pre-emptive pyramid in New Orleans' Saint Louis Cemetery, these sites double as sculpture parks and museums.
Here are six graveyards worth exploring on your time off:
4. Mountain Towns
Don't underestimate the perks of taking your break up in the mountains instead of down on the shores. Renting a cabin in the hills is the perfect way to relax and rejuvenate with clean air, wild animals, and cozy fireplaces. And while these mountain towns are certainly scenic (Ouray in Colorado has been called the "Switzerland" of America), they also offer plenty of recreation like hiking, zip-lining, skiing, and even hot springs to warm up in.
Check out these six rentable cabins for your spring break:
3. Houseboats
For some people, a beachside hotel is where it's at for spring break. But what if your accommodations were in the water instead of next to it? Renting a houseboat can be surprisingly affordable when split between a group, and with plenty of lakes and rivers around the country to choose from, you can pick the climate that best suits you and your mates.
Here are six houseboat rental companies to help you plan your trip:
2. Cooking Classes
One of the best parts of traveling is eating. But rather than just pigging out on regional cuisine, why not learn to make it yourself? You're guaranteed a great souvenir, and when your friends all return with sunburns and hangovers, you'll be able to whip up world-class ribs or authentic hand-rolled sushi.
Check out these six awesome cooking classes you can book:
1. Road trips
Sometimes, it's really not about the destination; it's about the journey. There's really nothing quite like filling up the tank and hitting the open road, especially when the U.S. has so much to offer when it comes to roadways. You can go from a forest to a coast to a major urban center in a matter of miles, and if you don't like where you are, then you can leave!
Here's five routes to try out on your trip: