Twitter Outraged Over Campbell Soup's Wet Noodle Stance on Racism
Their refusal to leave Trump's business council is getting people steamed.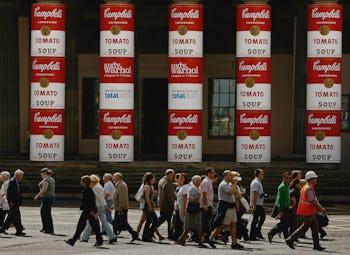 Getty Images / Jeff J Mitchell
Campbell's Soup is feeling the heat on the internet.
The company is under fire for its reluctance to exit President Donald Trump's American manufacturing council, despite widespread outrage over President Trump's initial refusal to condemn the white supremacists and neo-Nazis that fueled riots in Charlottesville, Virginia, over the weekend. The Camden, NJ-based canned soup conglomerate's CEO, Denise Morrison, is one of over two dozen executives who joined the council in an effort to assist Trump as he took office.
A Charlottesville counter-protestor, Heather Heyer, was killed when a white nationalist terrorist crashed a car into a group of anti-Nazi protestors. Nineteen others sustained injuries in the crash.
"We believe it continues to be important for Campbell to have a voice and provide input on matters that will affect our industry, our company and our employees in support of growth," the company said in a statement on its website.
That rationale was not greeted kindly by activists and Twitter users, who urged the company — which produces one of the most recognizable products of any organization on the council — to disassociate itself from Trump. A precedent had already been set: On Monday, Merck CEO Kenneth Frazier announced that he was resigning, and three other CEOs have since followed. Trump, predictably, has reacted with his own outrage, taking shots at Merck and Frazier — who is black — in particular.
Campbell added in its carefully worded statement that "racist ideology at the center of the protests is wrong and must be condemned in no uncertain terms," but that did not cool off the anger. Twitter's ire, however, was only further stirred.
As expected, several memes emerged, including the hashtag #CanCampbells along with references to the Soup Nazi of Seinfeld fame.