Scripps National Spelling Bee Champions: Where Are They Now?
A look at where a few of the kid geniuses ended up.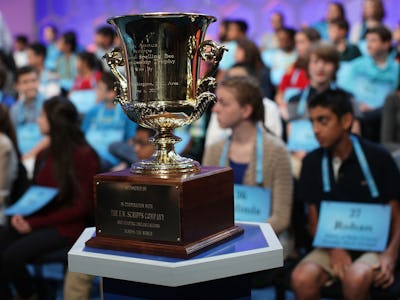 Getty Images / Alex Wong
The 90th Scripps National Spelling Bee concluded last week, where 12-year-old Ananya Vinaya was crowned champion having correctly spelled "marocain." For winning, she gets a cash prize, talk show appearances, and a set of encyclopedias.
Like the many champions before her, Vinaya's future seems bright. How could it not with past brainiacs going on to successful and lauded careers in science, medicine, journalism, and law. Yet, some winners have taken a somewhat different tact since hoisting the loving cup. Here's a look at a few past champs who've grown up to pursue unique and interesting careers.
Rebecca Sealfon
The Brooklyn native became a media sensation by scream-spelling the winning word, "Euonym." She went on to found Research Match, a startup that helps professors and students collaborate, and is currently a software engineer at Google.
Since her victory, however, Sealfon has become the black sheep of sorts of the national spelling bee. The origins of her animosity towards the undue pressures and exhaustion it forces upon its participants is difficult to pin down, but it is evident only moments after winning the 1997 title where she told an interviewer there should be no more spelling bees as "many children are in grief because they lose — and everyone gets nervous."
Her burst of nervous energy, for instance, was the inspiration for an unflattering character on "South Park." And in 2012, she published an excoriating essay in The Daily Beast, comparing the Bee to The Hunger Games. "Competitive spelling is a very American contest; Americans particularly enjoy watching winners win and losers lose."
Pratyush Buddiga
2002 champion Pratyush Buddiga won on the correct spelling of the word "prospicience," a noun which means "the act of looking forward." In the decade-and-a-half since winning, Buddiga has moved on to an altogether different competitive circuit as a professional poker player. He picked up the sport while as a student at Duke University, where he applied his adept memory and pattern recognition skills to excel at the card game.
In moments of intense strategizing, fretting over nerves and financial stakes at the poker table, or in life, really, Buddiga thinks back to his spelling bee days to steel himself. "Okay, I was the best in the country at something, I can do it again," he told the Washington Post in a recent interview. On balance, however, he doesn't mind the paydays of his current gig, where he won $840K at a tournament in Macao for coming in third place.
Dan Greenblatt
Greenblatt, the 1984 champion whose winning word was "luge," prefers to work behind the scenes nowadays. While his victory lap included a spell-off with Johnny Carson, it ultimately made him wary of the limelight. "It's a wake-up call for people who think, 'When I become rich and famous, my life will change, and it's all going to be wonderful, and I'll live like Kim Kardashian,'" he told Time.
That's not to say that Greenblatt's retired from pop culture altogether. He is currently a software engineer who moonlights as a voice actor, where he does work for radio ads and video games. Infamously, you can hear him on the point-and-shoot Big Game Hunter 2012 yelping the catchphrases "Top-notch shooting!" and "Top of the food chain, baby!"
Srinivas Ayyagari
He's not a champion, but Ayyagari placed third twice at the spelling bee. The second instance occurred in 1994 which also happened to be the first year ESPN broadcast the contest. "The lights were incredibly bright and that sort of changed the dynamic about it," he told NPR, recalling the experience. "Seeing someone from ESPN commenting on your style and strategy was bizarre and weird. But it's the closest I'll ever come to being an athlete."
In terms of mental athletics, however, Ayyagaris wasn't quite finished. While in law school he would go on to win $27,400 in a "Jeopardy!" Teen Tournament in 2008. ("This will be a better highlight for you," Alex Trebek supposedly told him.) Ayyagari is also a prolific blogger, which allows him to pursue his passion for writing and design. In fact, he even live-blogged the most recent spelling bee with a "#HotSportsTakes".
Barrie Trinkle
"Vouchsafe" was Trinkle's winning word and while winners cannot compete in future competitive spelling bees, that doesn't mean their enthusiasm for the sport diminishes. Along with her fellow winners Carolyn Andrews and Paige Kimble, Trinkle co-authored of How to Spell Like a Champ, an A-to-Z spelling guide recognized by Scripps as an all-purpose resource for aspiring spellers.
After the bee, Trinkle attended MIT, spent over a decade at NASA's Jet Propulsion Laboratory, worked as an editor at Amazon, and currently spends her time volunteering and freelance writing. Busy as she is, Trinkle still finds the time to watch — and live tweet — the National Spelling Bee.