The Best Words From the 2017 Scripps National Spelling Bee
The championship turned on the word 'marocain.'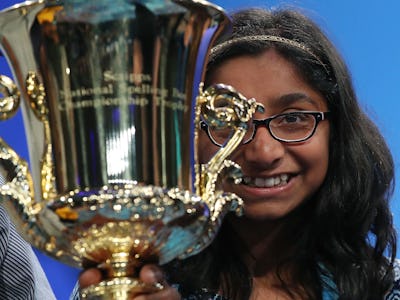 Getty Images / Mark Wilson
Marocain (pronounced \MAR-uh-kane) is "a ribbed crepe fabric used in women's clothing." This according to Merriam-Webster which saw a spike in lookups following 12-year-old Ananya Vinay's successful spelling of the now somewhat less obscure word. "I knew them all," she told reporters following her win, the first since 2013 where the competition has ended in a tie the previous three years.
Still, the syntax showcase, which aired on ESPN, brought a mixture of feelings towards words from the outer edges of the English language. As the 90th occurrence of the competition progressed and the spelling challenges increased in difficulty, the internet reacted with glee, surprise, and incredulity, as each Seussian-looking word's chyron flashed across national television. Nevertheless, Vinay and runner-up Rohan Rajeev persisted, handling each challenge with steely nerve going head-to-head for 21 rounds.
True to its scholastic and competitive nature, the Spelling Bee was filled with suspense, excitement, and tears as American kids ages 15 years or younger schooled viewers in the art of spelling.
Besides the winning word, of French-Moroccan origin and first used in the 1920s, here are some of the best words from the final rounds of this year's Spelling Bee and their definitions according to Merriam-Webster.
Gifblaar: (pronounced \ˈgifˌblär) a perennial shrub (Dichapetalum cymosum) of southern Africa that is deadly poisonous to stock.
Marram: (pronounced \ˈma-rəm-) any of several beach grasses (genus Ammophila and especially A. arenaria).
Wayzgoose: (pronounced \ˈwāzˌgüs) a printers' annual outing or entertainment.
Naassene: (pronounced \nāˈaˌsēn) a member of one of the Ophite group of Gnostic sects noted for its worship of the serpent as the principle of generation.
Struldbrug: pronounced \ˈstrəl(d)ˌbrəg) one of a class of imaginary persons who can never die but who are declared dead in law at the age of 80 and live on wretchedly at state expense.
Durchkomponiert: (pronounced \¦du̇rḵˌkȯmpō¦ni(ə)rt) having an individual musical setting for each stanza or strophe—used of a song or aria.
Spiegeleisen: (pronounced \ˈspē-gə-ˌlī-zən) a composition of iron that contains 15 to 30 percent manganese and 4.5 to 6.5 percent carbon.
Cecidomyia: (pronounced \ˌsesədōˈmī(y)ə) a very large genus (the type of the family Cecidomyiidae) of gall-forming midges.
Mogollon: (pronounced \ˌmə-gə-ˈyōn, ˌmō-) a prehistoric American Indian people inhabiting the mountains of eastern Arizona and western New Mexico.
Our faith in the youth heartened, though obscure, for at least a moment, these words out of the 490,000 defined by Merriam-Webster, were brought back into the popular imagination. Vinay's victory presents her with numerous spoils including a $40,000 cash prize, an engraved trophy, a $25,000 savings bond, trips across the country for talk show appearances and, most touchingly, a collection of encyclopedias. Yet, for her part, Vinay now plans to focus her energy cheering on the other hometown champions, the Golden State Warriors.