How to Stream James Comey's Testimony on Thursday, June 8
The former FBI director's hearing will be public.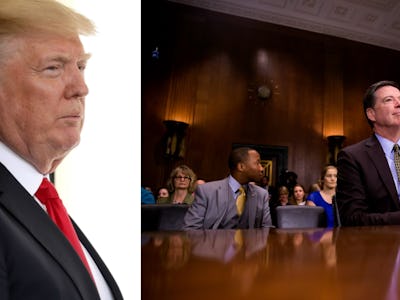 Getty Images
Former FBI director James Comey is set to testify before the Senate Intelligence Committee on Thursday, June 8, regarding his firing and the Russia investigation into President Donald Trump's campaign. His testimony, at Comey's insistence, will be public, as was the case with other hearings before the Intelligence Committee.
To prepare for his verbal testimony tomorrow, Comey submitted on Wednesday his opening statement to the Senate Select Committee on Intelligence. Over seven pages long, Comey details five of his nine discussions with the president and will serve as a primary source as Senators ask the former FBI director about his dealings with Trump regarding various allegations against the president.
In the statement, Comey details several notorious exchanges between himself and Trump, including his habit of writing memos after speaking with then President-elect and, later, President Trump; the tense dinner where he was asked to pledge his loyalty; and Trump's obsession that the "golden showers" incident in Russia be publicly denied.
"I need loyalty, I expect loyalty," Trump allegedly told Comey.
Particularly intriguing are his passages on the multiple times the president seemingly attempted to obstruct Comey's ongoing investigation into former National Security Adviser Michael Flynn. In a one-on-one meeting, the president told Comey, "I hope you can see your way clear to letting this go, to letting Flynn go. He is a good guy. I hope you can let this go."
The testimony is highly anticipated, as Comey's firing was widely seen as a blatant attempt at retaliation by the Trump administration. Add to which the president tweeted this morning that he has nominated Comey's successor.
The hearing starts at 10 a.m. Eastern and will likely be one of the most-watched congressional testimonies in recent memory. Washington, D.C., bars are even opening early. It will be on television and is streaming online; here's a live feed from The Washington Post:
Reports that Comey will testify were confirmed on June 1, and when it happens it will be live-streamed and public. It will not occur behind closed doors. The 13-person committee is comprised of seven Republicans and six Democrats.
The Intelligence Committee announced on May 19 that Comey would testify after Memorial Day. That date is now set for June 8. Stream Senate Intelligence Committee hearings here.
Update (9:50 a.m. Eastern, June 8): This story has been updated with new information throughout.