The Internet Hilariously Reacts to the SpaceX Launch Announcement
'Is it too much to hope for the passengers to be Trump and Bannon?'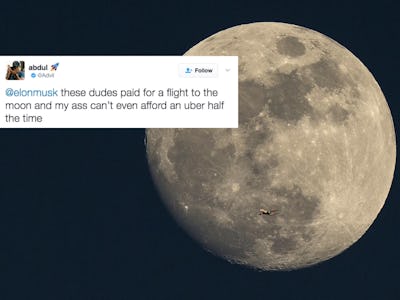 Getty Images / Dan Kitwood
SpaceX will launch two rich people into the stars next year, and people on ~ The Internet ~ are pretty damn jealous. On Monday, Elon Musk announced that a duo of private citizens paid for a private trip to orbit the moon, a mission that will expectedly take about a week and happen sometime in late 2018. Expectedly, people on Twitter had plenty of thoughts and feelings about the entire thing.
The news is major in itself — non-NASA individuals are going on a getaway like nothing before. People with buttloads of money already get to casually drop things like, "Oh we stopped by Richard Branson's private island on our way to Aruba" or, "we took Tucker's private jet to Tokyo for the weekend," while us peons search for coins in the couch. Now they'll get to be all like, "Oh wow the view of the Earth was just lovely up in the sky."
Musk's announcement tweet was cheeky in itself, straight out of the dad jokes handbook.
People generally appeared to be blown away by the news — the fact that SpaceX will be cruising these people around good ol' Luna. But plenty of other people were also salty about missing out on such an adventure.
Perhaps SpaceX should consider SpaceXPOOL, a cheaper alternative to its galactic rides.
The fake moon landing truthers came out of the woodworks.
Some were hoping to dump the current leaders of the United States up in space.
Meanwhile, others had a good idea to dispel all those flat Earth theories that have once again been making the rounds.
The announcement let some put on blast working at a company owned by Musk.
Really though, we're all wondering how much these intrepid space explorers are paying.
There were some guesses about who would be filling those seats.
A few were just excited about the sport of hurling the wealthy away from Earth.
Benny, get in line buddy.
Don't think we heard this in the press conference.
Could this all be part of Musk's master plan?
Guess we'll have to wait until 2018 to see how this all pans out.