Rarely Seen Footage of the B-2 Bomber Goes on YouTube
Age makes this jet no less breathtaking.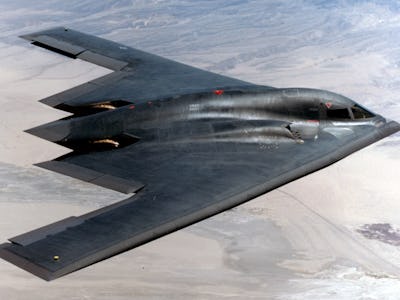 YouTube
Just a week after concept designs for a futuristic B-21 Bomber were released, defense contractor Northrop Grumman has released some rare (vintage?) footage of the B-2 Aerial Stealth Bomber as if to remind everyone who's still top gun.
The B-2 has been in service since 1997, and age makes it no less breathtaking in action. Between the percussive soundtrack and the classic double-W shape tearing through the atmosphere, we now know what Michael Bay sees when he closes his eyes at night.
As you can see in the video, the B-2 is built for all attacks at all altitudes up to 50,000 feet and has a range of more than 6,000 nautical miles without a refuel, meaning it can be basically anywhere in just a few hours with a refuel. The wing's leading edges are angled at 33 degrees, giving it its signature silhouette. Its first combat missions involved dropping ordnance in the Kosovo War.
And because time is unrelenting and swift as this stealth bomber, this will soon be footage of the old model. Last month, we saw concept art and designs for the B-21, a similar model in terms of its high altitude capabilities but made to counter low-frequency, stealth-aircraft-detecting radar. Progress leaves us all behind eventually. Somehow, Adele's "Hello" just wouldn't sound as sweet on this footage.