Even HBO Executives Admit That 'True Detective' Season 2 Sucked
HBO's President of Programming admits he did not 'allow the writing to find its own natural resting place.'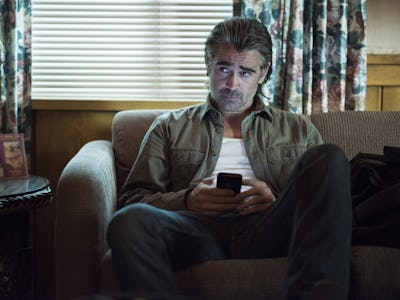 Lacey Terrell
If you recall, the second season of HBO's noir crime drama True Detective — often affectionately known as #TrueDetectiveSeason2 — sucked. It was a major disappointment for viewers, as the first season was something unique — a crime drama that played with the occult but wasn't exactly Twin Peaks — and featured stellar acting chemistry between co-stars Matthew McConaughey and Woody Harrelson. In Season 2, unfortunately, only Colin Farrell (and often Rachel McAdams, too) could act; they also portrayed the only interesting characters. Showrunner Nic Pizzolatto simply tried to do too much with four (hapless) protagonists and multiple storylines.
Well, it turns out that HBO executives thought it sucked, too.
Michael Lombardo is the President of Programming at HBO. He recently had an interview with Southern California Public Radio's The Frame during which he talked about the overall disappointment — from viewers and network execs alike — in #TrueDetectiveSeason2. Said Lombardo when asked "When a show doesn't work, how do you figure out what went wrong?":
"I'll tell you something. Our biggest failures — and I don't know if I would consider True Detective 2 — but when we tell somebody to hit an air date as opposed to allowing the writing to find its own natural resting place, when it's ready, when it's baked — we've failed. And I think in this particular case, the first season of True Detective was something that Nic Pizzolatto had been thinking about, gestating, for a long period of time. He's a soulful writer. I think what we did was go, 'Great.' And I take the blame. I became too much of a network executive at that point. We had huge success. 'Gee, I'd love to repeat that next year.'
"Well, you know what? I set him up. To deliver, in a very short time frame, something that became very challenging to deliver. That's not what that show is. He had to reinvent the wheel, so to speak. Find his muse. And so I think that's what I learned from it. Don't do that anymore.
"And I'd love to have the enviable certainty of knowing what my next year looks like. I could pencil things in. But I'm not going to start betting on them until the scripts are done."
So Lombardo, of course, is not willing to completely declare #TD2 a failure — although it was — but he's more or less acknowledged the general reception. Combined with the recent success of true crime shows — including HBO's own documentary series The Jinx — this could mean that #TrueDetectiveSeason3 may not arrive in 2016. Pizzolatto needs to return to some of the original season's successes without going for a carbon copy. Lombardo's admission could be exactly what he needs to take his time and discover something new while retaining the show's original, flat-circle-spouting charm.