Marvel Comic Books You Should Read in 2016
Some ongoing -- Iron Man, Deadpool -- some beginning anew, all should be added to your weekly Marvel pull list.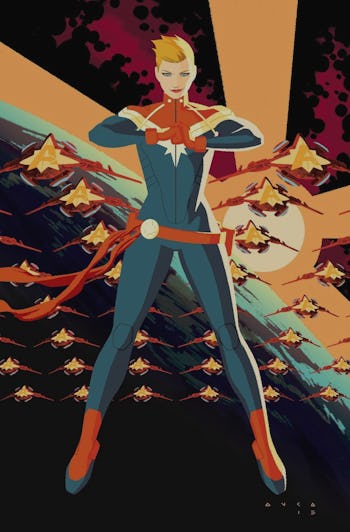 Marvel
In 2015, fans of the Marvel Universe witnessed the Earth-shaking "Secret Wars" which ushered in the All-New, All-Different era of Marvel. The Avengers have reassembled with Ms. Marvel, Jane Foster's Thor, Nova, and Miles Morales' Spider-Man. There's a new Hulk, and a new Wolverine. The Guardians of the Galaxy are running amok while the Fantastic Four have quietly left in the night.
So what will Marvel deliver next in 2016? Keep an eye on these titles releasing this January until April, before Marvel's next big summer event.
Invincible Iron Man
Few things in Marvel remained the same after the world-changing "Secret Wars," and that includes Tony Stark as Iron Man. The new series from Brian Michael Bendis continues in January with issue #5 and will continue through March in #7, which will contain hints to Marvel's summer crossover.
'Old Man Logan'
Set in an alternate universe and fifty years in the future, an apocalyptic western starring the mutant once known as Wolverine wanders a wasteland where everything went wrong. First published in 2008, the story was revisited in "Secret Wars" and will once again become a monthly series this January.
Captain Marvel
While Kamala Khan continues to rock as Ms. Marvel, Carol Danvers is back as Captain Marvel who will step-up as the leader of the new Alpha Flight, a frontier program that will act as Earth's first defense against alien attacks. But can a soldier really fill in as a diplomat? We'll know when the series debuts in January.
Spider-Man/Deadpool
2016 will be the Year of Deadpool if Ryan Reynolds doesn't fumble his take in the movie. There will be a new solo Deadpool title (more on that later), but January will introduce the monthly team-up Spider-Man/Deadpool. Marvel's solicitation for the title hints at a "smattering of romance." Ooh la la.
'The Totally Awesome Hulk'
Greg Pak's and Frank Cho's new Hulk with genius teenager Amadeus Cho as the green guy has so far been a hit. Hopefully the team will continue their streak in the next issue coming January, when Amadeus will face his first villain: Lady Hellbender.
All-New, All-Different Avengers
There are several Avengers teams in the new Marvel, but only one carries the traditions of the first. The 'All-New, All-Different' Avengers led by Sam Wilson's Captain America continue to struggle to really assemble, but issue #4 releasing January shows Sam Wilson and Jane Foster getting on just fine. But in issue #5 coming February, Ms. Marvel is kicked off the team. What gives?
Sam Wilson: Captain America
In Issue #5 coming January, a new Falcon will be unveiled. Who is he? Is he even a he? And whose side is he on? Marvel has kept mum on the identity, but we'll know soon enough.
Spider-Man
Writer Brian Michael Bendis will fill in Miles Morales' eight month gap set between "Secret Wars" and the launch of the All-New Marvel in the new Spider-Man, releasing in February. How did Miles become a full-fledged Avenger? His new solo series will answer that question.
Avengers Standoff: Welcome to Pleasant Hill
Marvel is taking a dip into the horror and thriller genre with Avengers Standoff: Welcome to Pleasant Hill which will be a prelude to "Standoff," the major Avengers event of spring 2016. What is Pleasant Hill, and why is the sun always shining?
Power Man and Iron Fist
After the high profile Jessica Jones on Netflix, Luke Cage will reunite with an old friend and the next hero to get his Netflix series, Iron Fist. A throwback to the old buddy cop adventures they had in their original team-up books, Power Man and Iron Fist will take readers back to the streets to bust goons and encounter weird magic happening right around the corner.
Ms. Marvel
G. Willow Wilson's spectacular Ms. Marvel will continue in 2016, with issue #4 coming in February. Living out her dream job as an Avenger isn't what it's cracked up to be, but how will she deal when she's kicked off the team following the events of All-New Avengers #5?
Deadpool #7
The 25th anniversary for Deadpool will feature writers and artists from the character's past together to tell new stories celebrating the sarcastic superhero, who is gracing the world with fart jokes in his new movie.
International Iron Man
While Tony Stark flies high as Iron Man in Invincible Iron Man, Brian Michael Bendis is exploring Tony Stark's humanity in International Iron Man, releasing in March. Says Bendis in an interview: "[I]t's kind of like a super hero James Bond story, really. It's a way to dig deep into his character. It's not really hard to imagine him wanting to put on the white tuxedo … here and there and across the world! He's drawn to the romanticism of adventure in all of its forms."
Hyperion
In March, Marvel gives some shelf space to their take on DC's Superman in Hyperion. While he's featured in the ongoing Squadron Supreme series, Hyperion will have the high-powered hero wandering the U.S. heartlands in a truck on a road trip to learn about the planet. In his first issue, he'll befriend a lone runaway named Doll who is kidnapped by a gang of lunatics calling themselves The Carnies. Expect mayhem.
Black Widow
Chris Samnee and Mark Waid reunite for Black Widow #1 releasing in March. After some of the secrets she's gathered goes public, S.H.I.E.L.D. has turned against their best operative and Natasha is now on the run. Enemies will become allies as Black Widow attempts to survive while uncovering the truth.
Black Panther
Ta-Nehisi Coates of The Atlantic will enter the comic realm in April with his take on Black Panther, the genius warrior prince of Wakanda.
Based on Steven Hahn's 2003 Pulitzer Prize-winning book A Nation under Our Feet, Coates' Black Panther will challenge a superhuman terrorist group known as the People who have set off violent uprisings in Wakanda. With his celebrated 2015 memoir Between the World and Me still fresh, Marvel's new Black Panther will be a prime book to look forward to when it's released in April.