'Star Wars' Fans Offer Tribute to Jason Wingreen, Voice of Boba Fett
'Star Wars' actor Jason Wingreen dead at age 95.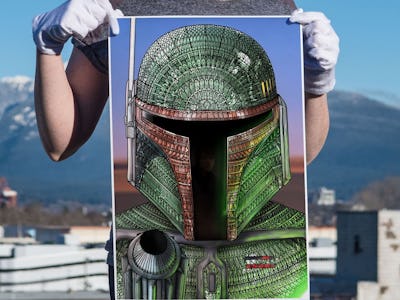 twitter.com/Pellvetica
Though Jason Wingreen only had four lines as bounty hunter Boba Fett in The Empire Strikes Back, his character is remembered as one of the coolest by Star Wars fans even 35 years later. After Darth Vader and Han Solo, Boba Fett was ranked number three in Rolling Stone's list of "50 Best 'Star Wars' Characters." That's pretty impressive considering how rad Yoda's syntax is.
Sadly, Wingreen passed away this Christmas at the age of 95 in Los Angeles. He also appeared in Star Trek, All in the Family, Seinfeld, and The Twilight Zone, but fans on the internet are remembering him this weekend in his role as the voice under the green helmet.
Three interesting facts about Wingreen are: He said all his work on Star Wars only took him about 10 minutes in total, he auditioned for the role of Yoda, and the poor guy never got residuals for this role. It was rumored that his character (who died in the 1980 film) returns in the newest in the saga, Star Wars: The Force Awakens, but he never returned from the grave.
The Boba Fett Fan Club took to Twitter to invite fans to share their feelings on Wingreen's passing in the comments on a YouTube tribute.
An equally enjoyable salute to the late actor and his role came in the form of Star Wars fan art. It's hard not to be touched by this level of veneration and commitment.
And though we're not entirely sure what's happening here, it's clearly the thought that counts.
And finally: