One of Dubai's Biggest Hotels Is Engulfed in Flames
The 20-story fire sent hordes of people running for safety.
by Sam Blum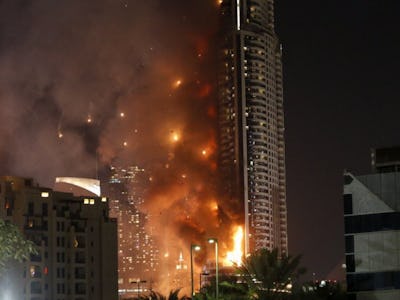 Twitter
An enormous fire engulfed a Dubai skyscraper on Thursday night, and has been filling an otherwise celebratory New Year's Eve in the Persian Gulf city with reports of injury, explosions and thick, blackened smoke.
Reports from the scene note that the blaze erupted at the 63-story Address Hotel before New Year's Eve celebrations began in downtown Dubai, and 20 stories of the skyscraper have been all but destroyed. The hotel sits adjacent to the Burj Khalifa, the tallest building in the world.
CNN noted that multiple explosions have rocked the building and that 14 injuries have been reported:
Despite the massive eruption that's filled the United Arab Emirates' second largest city with anxiety, Dubai officials have urged that the usual New Year's Eve celebrations continue as planned.
In modern industrial societies, devastating fires don't happen with the same frequency that they used to, and they certainly don't kill quite as many people as they once have.
The cause of the massive blaze is still unknown.