The Super-Rich Are Buying Ice-Busting Yachts to Explore the Canadian Arctic
The North Pole is the new lower Alaskan coastline.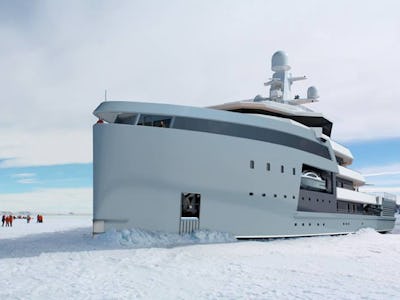 SeaXplorer Facebook
To the super wealthy, tropical islands have become the muzak of the natural world. To dull the psychic pain of that endlessly boring serene beauty in perfect temperatures, they're willing to pay as much as $100 million for the latest thing in leisure vessels — yachts that can smash their way through ever-softening hunks of Arctic ice.
Canada's High Arctic is beautiful in its own way to be sure, but like any exclusive club has developed its own velvet rope with the ice-choked waters of the Northwest Passage. Dutch ship builder Damen's ice-busting SeaXplorer (the website includes a tab labeled "Life Changing") is the monied traveler's way of palming the bouncer a $100.
"We see a demand among super-yacht owners, particularly younger people, to go on adventures and do different things with their yachts," Damen marketing manager Victor Caminada told Maclean's. "They're tired of just sitting around in the Mediterranean and Caribbean seas."
The customizable super boat can be ordered in three sizes, topping out at 328 feet. Its top speed is 16 knots, or 18 mph for those of you without sea legs. The king-sized version, the one you want, can carry as many as 30 guests and 50 crew members, and yeah, you read that ratio correctly.
This is a long way from Jack London exploring the Klondike with a rucksack and a pocket knife, but the Arctic is still a treacherous place and a glut of tourists is going to be a pain for anyone charged with keeping them from dying. The Royal Canadian Navy is having to send out more and more ice-escorts to bring back ships that get jammed up. Fortunately, for the stranded, vessels like the SeaXplorer can store food and water lasting 40 days. If they don't want to drink their cocktails at room temperature, they can always lower a crewman with a rope, a pick, and bucket.