Movie Piracy Surges in 2015, But Does It Matter?
The most pirated movies of 2015 are nearly the exact same as the top grossing movies at the box office this year.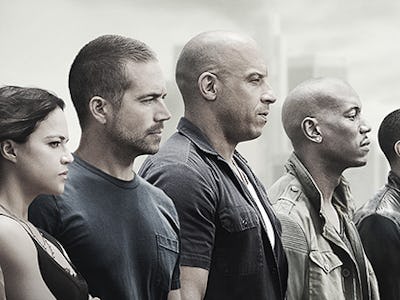 www.facebook.com/FastandFurious
There's one list that studios and filmmakers don't want to see their movies on at the end of this year: the most-pirated movies of 2015. You mean you paid to see these? Tens of millions of people didn't. Variety reported that piracy tracking firm Excipio monitored activity on total downloads from January 1 through December 25, and arrived at these totals:
1. 46,762,310 - Interstellar (2014)
2. 44,794,877 - Furious 7 (2015)
3. 41,594,159 - Avengers: Age of Ultron (2015)
4. 36,881,763 - Jurassic World (2015)
5. 36,443,244 - Mad Max: Fury Road (2015)
6. 33,953,737 - American Sniper (2014)
7. 32,126,827 - Fifty Shades of Grey (2015)
8. 31,574,872 - The Hobbit: Battle of the Five Armies (2014)
9. 31,001,480 - Terminator Genisys (2015)
10. 30,922,987 - Kingsman: The Secret Service (2014)
These rankings are based on the total number of downloads, which means films that opened earlier this year or last tended to have a head start. The most recently released 2015 movie on the list is Minions at 13th, while the No. 1 slot is occupied by Christopher Nolan's 2014 epic space drama, Interstellar. Expect bigger, later 2015 movies like The Force Awakens and Spectre to show up towards the top of the 2016 list.
The list suggests that pirates are just like us, and most of the movies on the pirated list are also some of the highest-grossing movies of the year. In fact, pirating didn't seem to prevent any of these from earning huge receipts. Three of the top five most-pirated movies of the year also happen to be among the highest grossing movies of all time. Together, just those top 10 movies grossed — you ready? — $8.57 billion worldwide. Pirates weren't exactly shearing Still Alice and He Named Me Malala.
After being downloaded 2.9 million times in its first weekend of release, Furious 7 was then downloaded some 42 million more times in the eight months since. Meanwhile it cruised to a $1.5 billion worldwide box office gross. The 41.5 million times Avengers: Age of Ultron was pirated didn't stop it from becoming the sixth-highest-grossing movie ever made. And the 36 million-plus downloads on Jurassic World came as it racked up a $1.6 billion worldwide take, enough to make it the third-highest-grossing movie ever.
Could they have made still more in a world without piracy? Undoubtedly. You have to wonder, for instance, whether the Will Smith caper dramedy Focus, could have used a nudge. That particular movie was still a hit, earning over $159 million worldwide on a $50 million budget, but you have to imagine that with 27 million illegal downloads, nearly as many people saw it on the sly as paid for the privilege. Maybe pirates just have a thing for Will Smith.
The numbers about exactly how much piracy costs Hollywood studios are a little shaky. Some say it costs them as much as $20.5 billion per year, while a seemingly more reliable number puts that amount at $6.1 billion annually. If that's true, it's still dwarfed by 2015's potential $11 billion in ticket sales at the domestic box office alone. Does piracy pay? Maybe it does.