An Underwater Museum in Egypt Might Show Off Ruins of Cleopatra's Palace
A dream since the '70s might finally have found its funding.
by Sam Blum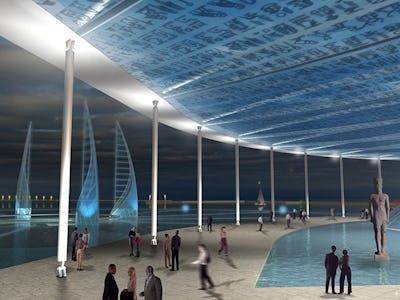 Jacques Rougerie 
Many of the ancient city of Alexandria's relics — including the alleged remains of Cleopatra VII's palace — are submerged under 20 feet of water, and have sat placidly beneath the surface of Abu Qir Bay for more than 1,000 years. The ruins, both mysterious and integral to Egypt's rich history, have been publicly known as hidden artifacts, but might become part of a fantastical tourist attraction in the coming years. That's if the bold ideas of a certain architect oceanographer from France gets his way.
In Smithsonian Magazine is a captivating story about the Egyptian government's plan to bolster its beleaguered tourism industry by way of a sprawling underwater museum, meant to thrust some 2,500 artifacts into the plain view for the first time. Officials from the Egyptian Ministry of Antiquities have been working with Jacques Rougerie, an architect renowned for outlandish seafaring designs, and hope to complete the task relatively soon, although no official deadlines have been set so far.
Rougerie is something of an architectural pirate, noted for spectacular designs, like this concept of a floating oceanic research facility, called the La Cité Des Mériens:
The ambitious museum project wouldn't necessarily be the first of its kind — Smithsonian notes that a smaller underwater museum already exists in China — but it would certainly be the most wondrous and extensive: Rougerie's design would see fiberglass tunnels that shuttle tourists 20 feet below the ocean's surface, where they'd meet a stunning amount of history, and perhaps at a moment when Egyptian history is enjoying a deserved revival.
The idea for such a museum has been around since the 1970s. Different impediments — lack of funds, the Arab Spring — have presented setbacks. Chinese venture capital might finally make this thing happen. Speaking with Smithsonian, Mohamed Abdel-Maguid, the head of the department of underwater activities at the Ministry of Antiquities, said: "The Chinese are coming in force… But part of the feasibility study would be how to finance the museum."